SPEAK UP ! 雙語會話
I'm a real culture vulture (1/5) 我超愛藝文(一)
A: Wow! That's a real work of art!
B: It's beautiful, isn't it? It's a wonderful combination of simplicity and grandeur. And this is just the bridge over to the main building. The entire gallery was designed and built by a renowned Japanese architect.
A: I must say I cannot wait to see some great art. I'm a real culture vulture. I love visiting galleries and museums around the world, but this year that's impossible.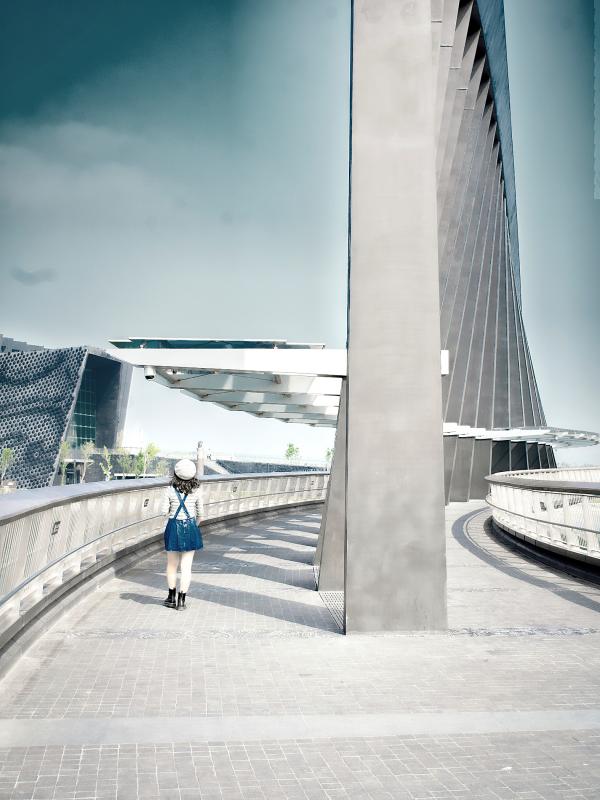 A woman walks along the bridge leading to the National Palace Museum Southern Branch in Chiayi County in this undated photograph. 一名女子在嘉義縣的國立故宮博物院南部院區,走過通往館內的橋。拍攝日期不詳。
Photo: Paul Cooper, Taipei Times 照片:台北時報古德謙
B: Think of this year as an opportunity to explore what you have at home.
A: 哇!這就叫做藝術!
B: 真是美啊,你說是吧?這是精簡和宏偉的絕妙組合。而且這只是連接主建築的橋而已。這整座美術館是一個有名的日本建築師設計建造的。
A: 我真的等不及要看看一些偉大的藝術作品了!我超愛藝文。我很喜歡到世界各地去逛美術館、博物館。但是今年是不可能的了。
B: 你就把今年想做是探索國內藝文的機會好了。
(Paul Cooper, Taipei Times/台北時報林俐凱譯)
English 英文:
Chinese 中文:
Publication Notes
Language Tip 語文小提示
"I must say"
The modal "must" here signals enthusiasm, not obligation, to express something.
Comments will be moderated. Keep comments relevant to the article. Remarks containing abusive and obscene language, personal attacks of any kind or promotion will be removed and the user banned. Final decision will be at the discretion of the Taipei Times.