SPEAK UP ! 雙語會話
Let's dine out tonight (4/5) 今晚我們去餐廳吃飯吧(四)
A: Have you tried the tandoori king prawns? There are layers of flavor dancing around the palate of my mouth.
B: I haven't tasted it yet. I'm just about to sample the beef vindaloo. I've never tried a vindaloo curry before. . . Aargh! My mouth's on fire!
A: Are you alright? Quick! Drink some water.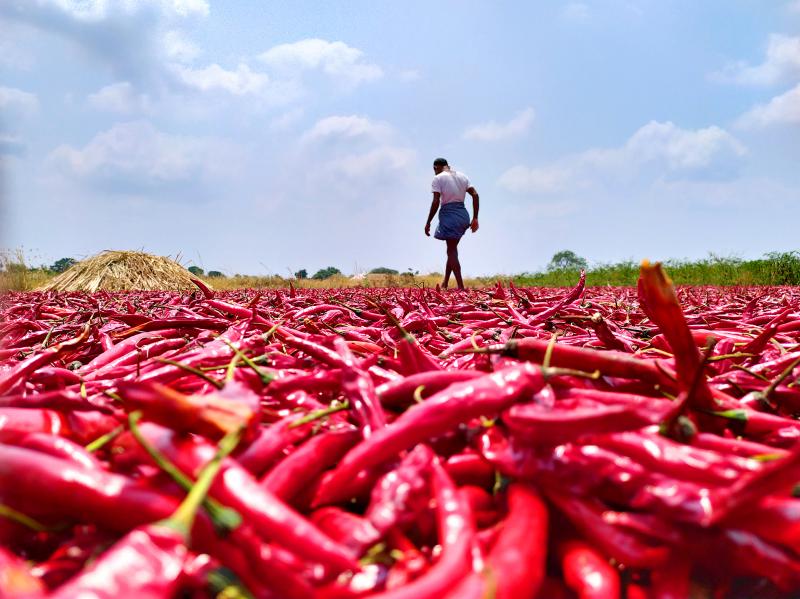 A farmer walks beside a field of harvested chilies in India in an undated photograph. 一位農夫走在印度一處已收成的辣椒田旁邊,照片日期不詳。
照片:維基共享資源 Photo: Wikimedia Commons
B: I'm in agony. I've. . . never. . . eaten. . . anything. . . so hot. . . before. . . in my life!
A: I'll ask the waiter to bring some ice cubes. Waiter!
A: 你有試試這道坦都里香料烤明蝦嗎?層層疊疊的味道在我的味蕾上跳舞呢。
B: 我還沒試,我正準備要來試吃辛辣香料牛肉咖哩,我以前從來沒試過辛辣香料的咖哩……啊!我的嘴燃燒了!
A: 你還好嗎?快!先喝一點水。
B: 我好痛苦。我……從來……沒有……吃過……這麼辣……的東西。
A: 我來請服務生給你一些冰塊。服務生!
(Edward Jones, Taipei Times/台北時報章厚明譯)
English 英文:
Chinese 中文:
Publication Notes
Language Tip 語文小提示
"the palate of my mouth"
The palate is the roof of the mouth. Although you actually taste food through taste buds on your tongue, the word palate is used to refer to a person's sense of taste or preference for certain tastes or flavors.
Comments will be moderated. Keep comments relevant to the article. Remarks containing abusive and obscene language, personal attacks of any kind or promotion will be removed and the user banned. Final decision will be at the discretion of the Taipei Times.