SPEAK UP ! 雙語會話
Let's go for a spin in my new set of wheels (5/5)
坐我的新車去兜風吧(五)
A: Can you hear a strange noise?
B: Now you mention it, I can hear a faint whirring sound. Also, there's a slight whiff of burnt rubber.
A: Uh-oh! I'd better pull over and take a look... OK, sit tight. I'll pop the hood and take a look at the engine.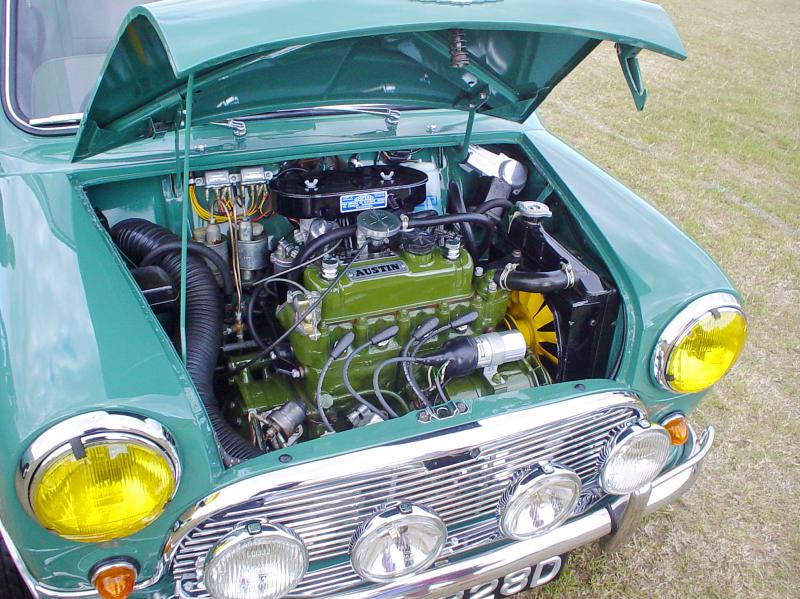 The hood of a Mini is left open to display its engine in an undated photograph. 一輛迷你汽車的車蓋掀起,以展示其引擎,照片日期不詳。
Photo: Wikimedia Commons 照片:維基共享資源
B: What's the prognosis?
A: I think the fan belt has worn out and caused the engine to overheat. I'd better call a mechanic...
A: 你有聽到一種奇怪的噪音嗎?
B: 既然你說了,我確實有聽到微弱的低沉呼呼聲。另外,我還聞到一點點燒焦的橡膠味。
A: 哦哦!我最好停車檢查一下……。好,你坐穩,我要把引擎蓋打開,看看引擎有沒有問題。
B: 你推斷的病情是什麼?
A: 我想應該是風扇的皮帶破損了,導致引擎過熱。我最好打個電話給維修人員……。
(Edward Jones, Taipei Times/台北時報章厚明譯)
English 英文:
Chinese 中文:
Publication Notes
Language Tip 語文小提示
"hood"
Definition: the cover at the front of a car that covers the engine compartment.
American English: hood
British English: bonnet
Comments will be moderated. Keep comments relevant to the article. Remarks containing abusive and obscene language, personal attacks of any kind or promotion will be removed and the user banned. Final decision will be at the discretion of the Taipei Times.