SPEAK UP ! 雙語會話
How was Father's Day? 父親節過得如何?
A: Did your dad enjoy the balloon festival?
B: He loved it, although I was initially a little worried, because he doesn't have a head for heights.
A: Wow, he's so brave to have gone for a ride in a hot air balloon. I have a fear of heights, too.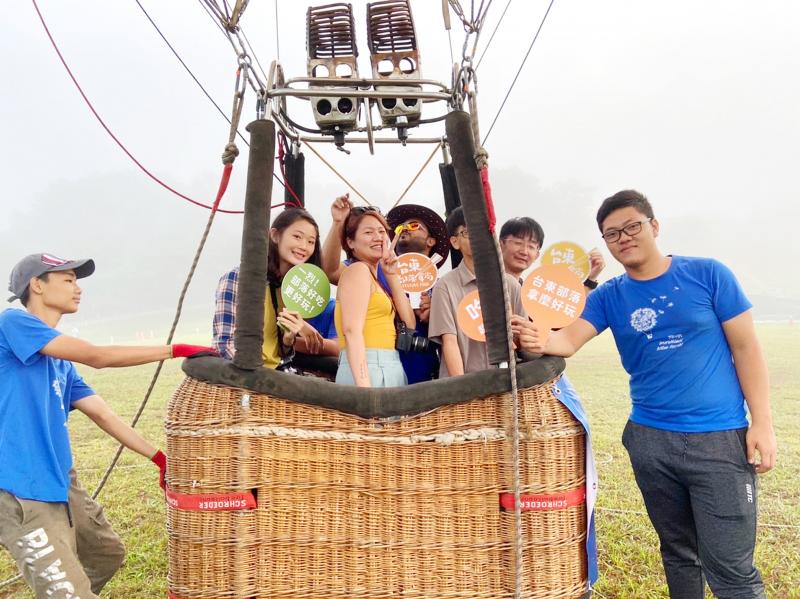 Visitors to the Taiwan International Balloon Festival in Taitung County prepare for a balloon ride on Aug. 3.台東縣臺灣國際熱氣球嘉年華的遊客乘熱氣球準備升空,攝於八月三日。
Photo: Huang Ming-tang, Liberty Times 照片:自由時報記者黃明堂
B: He's actually only on the lower end of the spectrum: he doesn't suffer from acrophobia or vertigo: he just feels a little anxious. Also, it was a tethered balloon, so that provided an extra feeling of security.
A: Even so, I don't think I could stomach a balloon ride myself: just standing on the observation deck of Taipei 101 gives me the heebie-jeebies.
A: 那你爸爸喜歡熱氣球嘉年華嗎?
B: 他超愛,雖然我本來有一點擔心,因為他好像有點怕高。
A: 哇,那他還去搭熱氣球真的很勇敢,我也很怕高。
B: 我爸爸其實沒有那麼嚴重啦;他沒有懼高症或是暈眩,只是會感覺有一點緊張。而且啊,那天搭的是繫留熱氣球,所以多了一點安全感。
A: 就算是這樣,我還是不覺得我承受得了熱氣球:光是站在台北一○一的觀景台上就讓我感到神經緊張。
(Edward Jones, Taipei Times/台北時報章厚明譯)
English 英文:
Chinese 中文:
Publication Notes
GRAMMAR TIP
文法提示
Heebie-jeebies
Heebie-jeebies is used to describe a state of nervous fear or anxiety. "Standing inside this haunted house gives me the heebie-jeebies."
Comments will be moderated. Keep comments relevant to the article. Remarks containing abusive and obscene language, personal attacks of any kind or promotion will be removed and the user banned. Final decision will be at the discretion of the Taipei Times.