'Spectacular' jawbone discovery sheds light on ancient Denisovans 下顎化石「讓人驚嘆」 揭開遠古人類謎團
A human jawbone found in a cave on the Tibetan Plateau has revealed new details about the appearance and lifestyle of a mysterious ancient species called Denisovans. The 160,000-year-old fossil, comprising a powerful jaw and unusually large teeth, suggests that these early relatives would have looked something like the most primitive of the Neanderthals. The discovery also shows that Denisovans lived at extremely high altitude and, through interbreeding, may have passed on gene adaptations for this lifestyle to modern-day Sherpas in the region.
Jean-Jacques Hublin, the director of the department of human evolution at the Max Planck Institute for Evolutionary Anthropology in Leipzig and senior author of the find, described this element as "spectacular." He said: "Until today, nobody imagined that archaic humans could be able to dwell in such an environment." The dating of the mandible suggests that temperatures on the plateau would have been even harsher than today, when temperatures could plunge to minus-30°C. "It's a time period colder than now which blows my mind," said Hublin. "If you find it a challenging environment today, I recommend you try it [then]."
Previously, the only known Denisovan fossils came from a cave in Siberia, and amounted to a finger fragment, some teeth and a few jagged pieces of bone. Crucially, though, scientists were able to extract DNA from inside the ancient bone and by comparing this with other ancient DNA and present-day populations they learned that the species must once have been widespread across Europe and Asia.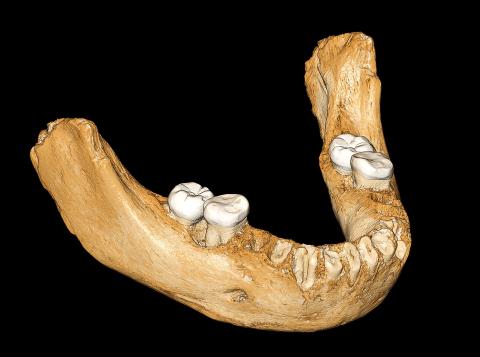 A handout photo released by the Max Planck Institute for Evolutionary Anthropology on May 1 shows a view of the virtual reconstruction of the mandible.
這張馬克斯普朗克演化人類學研究所於五月一日發布的照片,展示電腦虛擬重建後的丹尼索瓦人下顎。
Photo: AFP
照片:法新社
The latest fossil represents a crucial link between the Siberian specimens and other Chinese fossils, from which scientists had previously failed to extract DNA, but which show remarkable anatomical similarities to the Tibetan specimen. The fossil was discovered by a monk in Baishiya Karst Cave on the Tibetan Plateau in China's Gansu province. After finding the jaw in the 1980s, the monk passed it on to a living Buddha, who passed it to one of the scientists behind the latest analysis.
The scientists were not able to obtain DNA from the sample, but managed to extract proteins from one of the molars. Proteins, like DNA, could be sequenced and the analysis placed the fossil firmly on the Denisovan branch of the evolutionary tree.
The discovery indicates that Denisovans adapted to high-altitude, low-oxygen environments much earlier than the regional arrival of modern humans about 40,000 years ago. It also helps explain how present-day Sherpas and some Tibetan populations came to carry a gene of Denisovan origin — presumably acquired through ancient interbreeding — that allows these populations to cope with hypoxia. "This has been quite puzzling because the [Siberian] cave was not at high altitude," said Hublin.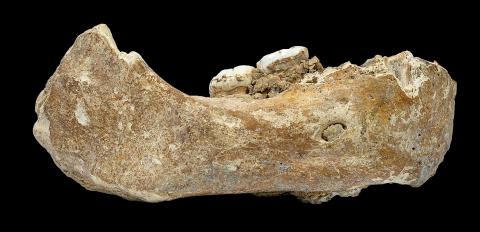 Denisovan, an extinct human species, that was found in Xiahe County, Gansu Province, China, is seen in this picture released from Lanzhou University on May 1.
蘭州大學於五月一日發布的這張照片,展示一名已滅絕的丹尼索瓦人下顎右半部化石,該化石出土於中國甘肅省夏河縣。
Photo: REUTERS
照片:路透
Previously scientists had assumed that the gene most probably served a different purpose in Denisovans, such as helping cope with intense physical activity, and that it was later coopted for a different purpose. Prof Chris Stringer, the head of human origins research at the Natural History Museum in London, UK, said: "Now it seems more likely that it originated in high altitude-adapted Denisovans, and could have been passed on directly in the region." Scientists could not be certain of this, though, because they were unable to extract a genome from the new specimen.
The paper, published in Nature, is one of the first to use protein analysis to determine an ancient human species and the technique is seen as hugely promising because protein tends to be preserved better than DNA. The team said they were hopeful that further fossils in China would be able to be tested using the method.
(The Guardian)
在青藏高原一處洞窟中發現的人類顎骨,披露出神秘遠古人類物種「丹尼索瓦人」的面貌和生活方式。這份化石有十六萬年的歷史,由一個強而有力的下顎以及大得不尋常的牙齒組成,表示這些早期人類近親可能看起來像是最原始的尼安德塔人。這項發現也顯示丹尼索瓦人居住在極高海拔地區,而且可能藉由跨種繁殖,把適應這類生活方式的基因傳承給該地區的現代雪巴人。
萊比錫馬克斯普朗克演化人類學研究所的人類演化部門主任尚-雅克.胡柏林,是這份研究的主要作者,他描述這件化石「讓人驚嘆」。胡柏林說:「直到今天,都沒有人能夠想像古代人類竟能夠居住在這樣的環境中。」該研究測定出下顎化石的年代,結果顯示當時高原上的溫度比今日還要來得惡劣許多,有時甚至會驟降到攝氏零下三十度。「讓我震驚的是,那是一個比現在還要冷的時代,」胡柏林說,「如果你覺得這個環境在今天算是很有挑戰性的話,我推薦你去試住看看(當時的青藏高原)。」
先前唯一知道的丹尼索瓦人化石來自於西伯利亞的一個洞窟,其中包括一小塊手指碎骨、幾顆牙齒,以及幾塊缺角的骨骼碎片。然而,關鍵的地方在於,科學家先前已成功從這些老骨頭裡面萃取出DNA,和其他遠古人類以及現代人類進行比較後,發現這類人種一定曾經廣泛分布於歐亞兩洲。
最近期的這件化石,呈現出西伯利亞標本和其他中國化石之間的關鍵性連結。雖然科學家先前無法從中國化石中萃取出DNA,但它們在解剖學上卻和西藏樣本呈現出多種相似性。該化石由一名僧侶在中國甘肅省青藏高原邊緣的白石崖溶洞中發現。該名僧侶在一九八○年代發現這塊下顎之後,將其傳給一位活佛,那位活佛再將它交給這份最新研究幕後的一名科學家。
雖然科學家無法從該樣本中獲取DNA,但他們仍設法從其中一顆臼齒中萃取出蛋白質。正如同DNA,蛋白質可以被定序,而分析結果則確認這些化石屬於演化樹的丹尼索瓦人分支。
研究發現,丹尼索瓦人適應於高海拔、低氧氣的環境,遠早於現代人類在大約四萬年前抵達該區域定居時。這項發現同時也有助於解釋今日雪巴人和一些西藏人口如何帶有丹尼索瓦人來源的基因──據推測,應該是藉由遠古時代的跨種繁殖──讓他們能夠對付缺氧狀態。胡柏林表示:「這個問題困惑我們已久,因為(西伯利亞)洞窟並非位於高海拔地區。」
先前,科學家認為該基因在丹尼索瓦人種中具有不同的目的,像是協助他們應付高強度的體能活動,然後才被納入另一種用途。英國倫敦自然史博物館的人類起源研究主任克里斯‧史廷哲教授表示:「現在看起來,這個基因更像是起源自適應高海拔環境的丹尼索瓦人,而且可能直接在當地傳承下來。」不過,由於科學家無法從新樣本中萃取出基因體,因此不能確定這項推測。
這篇發表於《自然》期刊上的文章,是第一篇利用蛋白質分析來確定古老人類物種的研究,而這項技術也被認為大有可為,原因在於蛋白質跟DNA比起來保存情況普遍較佳。研究團隊表示,他們希望中國日後出土的化石也能夠利用這個方式進行測驗。
(台北時報章厚明譯)
Publication Notes
TODAY'S WORDS
今日單字
1. altitude n. 海拔 (hai3 ba2) 2. interbreed v. 跨種繁殖 (kua4 zhong3 fan2 zhi2) 3. adaptation n. 適應 (shi4 ying4) 4. mandible n. 下顎骨 (xia4 e4 gu3) 5. extract v. 萃取 (cui4 qu3) 6. sequence v. 定序 (ding4 xu4)
Comments will be moderated. Keep comments relevant to the article. Remarks containing abusive and obscene language, personal attacks of any kind or promotion will be removed and the user banned. Final decision will be at the discretion of the Taipei Times.