Large-scale cemetery in Africa points to shared workload without social hierarchy 非洲大型古墓出土 揭露不分階級的合作社會
Herders in east Africa 5,000 years ago lived in peaceful communities that shunned social hierarchies, communicated intensively and worked together to build massive cemeteries, new research by archaeologists has revealed.
Work by a team of US-based experts on a remote site near Lake Turkana in Kenya contradicts longstanding beliefs about the origins of the first civilizations. It suggests that early communities did not inevitably develop powerful elites or compete violently for scarce resources, but may have worked together to overcome challenges instead.
The study, led by Elisabeth Hildebrand, an associate professor of anthropology at Stony Brook University, New York, is based on more than a decade of work in the northwest of Kenya at the "Lothagam North pillar site," a communal cemetery constructed and used over a period of several centuries between 4,000 and 5,000 years ago.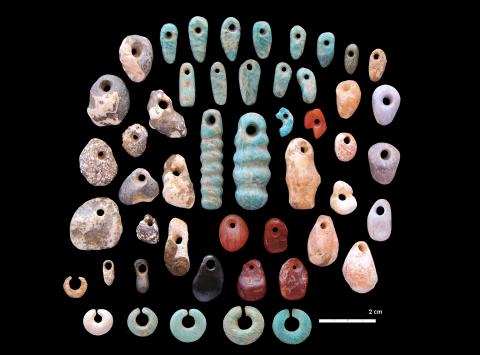 Stone pendants and earrings from the communal cemetery of Lothagam North, Kenya. 磨石垂飾與耳環,出土於肯亞北洛沙岡的社群墓園。
Photo courtesy of Carla Klehm
照片來源:Carla Klehm教授提供
The archaeologists discovered a platform 30m in diameter marked by megaliths. It had a large cavity in its center where the remains of at least 580 individuals had been placed close together.
Researchers studying the early history of agricultural societies believe large groups of people built permanent monuments to reinforce identities based on a sense of shared history, ideals and culture. This allowed communities to grow in size beyond immediate family or the relatively small number of individuals well known to one another, leading to greater specialization, technological advances and prosperity.
However, the Lothagam cemetery was constructed by mobile pastoralists — or nomads — and contains no evidence for the existence of social hierarchies. Human remains were tightly packed and their arrangement did not suggest any ranking or social priority. Men, women and even small children were buried with elaborate personal ornaments, for example.
"When agrarian societies started to develop, hierarchies started to develop too. Some people became more powerful and disparities in wealth and health and social circumstances emerged. So the big question is: Did the same thing happen in pastoral societies?" said Hildebrand.
Hildebrand further indicates that "Lothagam North pillar site is the earliest known monumental site in eastern Africa and gives us solid evidence that these pastoralists did indeed follow a different trajectory of social change. People came together in large numbers, probably expending blood, sweat and tears to build these large structures, but we have no evidence for hierarchy or social difference."
The discovery will prompt researchers to re-examine similar examples elsewhere in Africa and on other continents. It challenges established ideas on how and why large groups of people come together to form complex societies.
The exact role played by monuments like the Lothagam North site is unclear, but they may have served as a place for people to meet, renew social ties and exchange vitally important information. This would have been particularly important to a population that had become increasingly dispersed as they sought food for themselves and fodder for cattle, goats and donkeys over an increasingly large area.
Lothagam North's architects seemed to have faced highly uncertain environments as rainfall decreased and Lake Turkana receded, possibly leading to economic and social instability. Yet the burial of even small children with ornaments indicates that "every one in the society was valued," said Kate Grillo, the co-director of the excavations.(Guardian)
考古學家的新研究顯示,五千年前東非的牧羊人們居住於不分社會階級的祥和社群,彼此溝通密切,同心協力建築出規模巨大的墓地。
在肯亞圖爾卡納湖附近一處偏遠的考古遺址,由美國學者組成的研究團隊獲得一項成果,反駁長期以來對於最初文明起源的看法。這份研究認為,早期人類社群並不必然會發展出有權的菁英階級,或一定要激烈地競爭稀少的資源,反而可能一起合作克服種種挑戰。
由紐約大學石溪分校考古學副教授伊莉莎白‧希爾德布蘭主持的這份研究報告,成果根基於十多年來在肯亞西北部「北洛沙岡圓柱遺址」進行的考古工作。該遺址建於四千到五千年多前,長達數世紀的期間被用來作為社群的墓園。
考古學家在當地發現一個直徑達三十公尺的平台,以數塊巨石作為標記。位於平台的中心處有一個巨大凹洞,其中緊密放置著多達五百八十名人類的遺骸。
研究農業社會早期歷史的學者相信,大批群聚的人們建造永久性的石碑,為的是強化他們奠基於共同歷史、思想和文化的認同感。此舉讓社群規模成長,超越直系的家族結構或是人數相對少的熟識社交圈,最後達成更大規模的專業化,並帶來科技進步與繁榮。
然而,洛沙岡墓園卻是由流動的放牧者──或是遊牧民族──所建,其中並沒有任何社會階級存在的證據。在洞穴中,人類骨骸被緊密地塞在一起,遺骨的排列順序也未顯示出任何地位差異或是社會優先地位。舉例來說,男性、女性,甚至於小孩下葬時同樣都附有精緻的個人裝飾物件。
希爾德布蘭表示:「當農耕社會開始發展時,階級也開始形成。有些人會變得更有權力,遂開始浮現財產、健康狀態,以及社會條件的差距。所以,最大的問題在於:同樣的情況也會發生在放牧社會中嗎?」
希爾德布蘭更進一步指出:「北洛沙岡圓柱遺址是目前所知東非最古老的石碑遺址,此處提供確切的證據,顯示這些放牧者確實遵循著不同的社會變遷軌跡。大批人們一起來到此處,或許揮灑著大量血液、汗水與淚水,建造出這些大型建築結構,但我們並未發現階級或社會差異的證據。」
這個發現將促使學者們重新審視非洲與其他大陸上的類似例子。關於大批人類群體聚集在一起並形塑出複雜社會的方式與原因,學界已有既定的概念,卻受到這份研究結果的挑戰。
北洛沙岡遺址的石碑在當時究竟扮演什麼樣的角色,至今仍然未能釐清,但這些石柱可能被用來標識人們聚會的地點,更新社會聯繫,並交換至關重要的資訊。當地的人們為了尋覓自己的食物,以及給牛隻、山羊、驢子的秣草,在一片愈來愈大的地區擴散開來,對這個變得更加分散的族群而言,石碑的這項功能可能特別重要。
由於降雨減少,圖爾卡納湖內縮,可能導致經濟與社會的不安定,北洛沙岡的這些建築師們似乎曾面臨非常不穩定的生活環境。然而,挖掘行動的共同主持人凱特‧葛瑞羅指出,連小孩下葬時也附有裝飾品的現象顯示出:「社會中的每一個人都受到重視。」
(台北時報章厚明譯)
Publication Notes
TODAY'S WORDS
今日單字
1. social hierarchy phr.
社會階級 (she4 hui4 jie1 ji2)
2. communal adj.
社群的 (she4 qun2 de5)
3. pastoralist n.
放牧者 (fang2 mu4 zhe5)
4. agrarian adj.
農耕的 (nong2 geng1 de5)
5. disperse v.
擴散 (kuo4 san4)
Comments will be moderated. Keep comments relevant to the article. Remarks containing abusive and obscene language, personal attacks of any kind or promotion will be removed and the user banned. Final decision will be at the discretion of the Taipei Times.