Taiwan's 'green-collar' economy trumpeted as new gold rush 綠領人才鑲金邊 月薪七萬起跳
Phase one of Taiwan's offshore wind project, earmarked for completion by 2025, is expected to create 20,000 high-income job openings. According one headhunter's estimates, the basic monthly salary for future "green-collar" jobs in Taiwan will be NT$70,000, while middle-tier positions will start at NT$100,000. Developers are currently actively cultivating talent in Taiwan and assisting with the establishment of training courses. For instance, Danish company Copenhagen Infrastructure Partners (CIP) have coordinated a partnership between National Taiwan University (NTU) and leading research institution for wind energy, Technical University of Denmark (DTU). In September, NTU will begin offering an educational program in offshore wind. In addition, Orsted and National Kaohsiung University of Science and Technology have partnered together to produce a PhD course in offshore wind, which is scheduled to begin enrolling students next year.
The NT$900 billion investment in offshore wind has caused some of the world's largest overseas companies to flock to Taiwan and triggered a wave of labor demand. Adam Wade, a director at Singapore-based headhunting agency Next Wave, says he is bullish about Taiwan's offshore wind potential and plans to open an office in Taiwan later this year. Wade says there are also a large number of developers that currently do not have a presence in Taiwan but have set their sights on entering the Taiwanese market, and expects a demand for labor will be sky-high as a result. Wade says that at any one time he has 30 positions in urgent need of being filled.
The director of another headhunting company says that the burgeoning industry's rapid development means that Taiwanese salaries will approach European levels and predicted that entry-level "green-collar" positions such as installers, operators, operational maintenance workers, construction workers and occupational health and safety specialists will earn at least NT$70,000 per month. Medium and high level positions such as within the fields of investment decision-making, project financing, legal affairs, supply chain and technical engineering can expect to take home NT$100,000 and above per month. Also, jobs paying salaries of NT$60,000 in the public sector for engineering PhD graduates are already extremely in demand, and those jobs in the offshore wind sector are sure to be regarded as "green collar with gold braiding."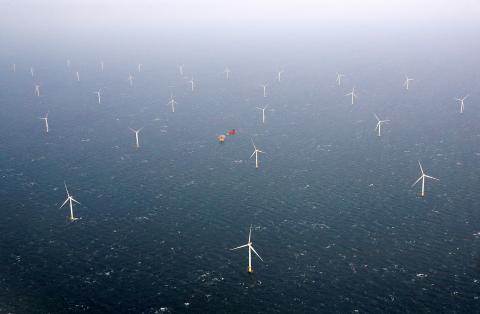 A view of Dudgeon Offshore Wind Farm near Great Yarmouth, UK. 位於英國大雅茅斯的Dudgeon離岸風場。
照片:路透
Photo: Reuters
As for how to get hold of one of these positions, a large number of developers have signed memoranda of agreement with colleges to joint-run courses as a way to foster new talent. Some developers are even offering on-the-job training programs. CIP is currently working with NTU's Department of Engineering Science and Ocean Engineering and Denmark's DTU under a trilateral memorandum of agreement.
(Liberty Times, translated by Edward Jones)
台灣離岸風電第一階段將於二○二五年全部完成,預計創造兩萬多個高薪就業機會。一位獵人頭業者評估,未來在台「綠領」基層薪資可達七萬元,中層則可有十萬元以上。目前各開發商正積極在台培養人才並協助開設課程,例如丹麥哥本哈根基礎建設基金(CIP)就牽線台大與丹麥風電首席學府丹麥科技大學(DTU)合作,台大將於九月開設離岸風電相關學程;沃旭與高雄科大合作的離岸風電碩士學位課程,也預計明年就會開始招生。
台灣離岸風電九千億元投資,全球最大外商雲集,引發一波人力需求。新加坡獵才公司Next Wave董事韋艾德表示,看好台灣離岸風電潛能,今年將在台設辦公室,且有多家「目前未在檯面上」的開發商有意進入台灣市場,招兵買馬的需求很強烈,光是他自己手上就隨時有三十個職缺急需人才。
另一家本土獵頭公司的主管也說,這個新興產業發展速度相當快,可以為台灣帶來接近歐洲水準的薪資。他評估,綠領基層如安裝、運轉、操作維護及施工、勞安衛等領域,月薪至少七萬元;中高階人才,如投資決策、項目融資、法務、供應鏈、技術工程等,月薪十萬元以上不是問題。他說,國營事業的工科博士月薪六萬元就已搶破頭,離岸風電領域絕對是綠領鑲「金邊」。
至於如何加入綠領行業?目前不少開發商為了培養人才,與台灣的大學院校簽署備忘錄合作開設課程,甚至也即將有在職進修的課程。CIP日前就牽線台大工科海洋系與丹麥科技大學合作,簽署三方備忘錄。
(自由時報記者黃佩君)
Follow up
讀後練習
Reading comprehension
A wind farm is a group of wind turbines installed in the same location used to produce "clean" electric power. A large wind farm may consist of several hundred turbines and take up an area encompassing hundreds of square kilometers.
Wind farms are located either onshore or offshore. Offshore wind farms are able to take advantage of more powerful and more frequent offshore winds. However, construction and maintenance costs are considerably higher than land-based wind farms.
According to the latest statistics, in 2016 over 61 percent of the world's total energy was produced from thermal energy. Hydropower accounts for 18.6 percent of global energy, while wind power is the second largest source of renewable energy and produced 7.6 percent of global power capacity in 2016.
Denmark generates more of its power from wind than any other country in the world. As of 2015, 40 percent of the country's electric power was generated by wind.
(Edward Jones, Taipei Times)
Publication Notes
TODAY'S WORDS
今日單字
1. offshore wind phr.
離岸風電
(li2 an4 feng1 dian4)
2. headhunter n.
獵人頭業者
(lie4 ren2 tou2 ye4 zhe3)
3. developer n.
開發商
(kai1 fa1 shang1)
4. flock v.
雲集
(yun2 ji2)
5. potential n.
潛能
(qian2 neng2)
6. memorandum of agreement phr.
備忘錄
(bei4 wang4 lu4)
7. wind farm phr.
風場
(feng1 chang3)
Comments will be moderated. Keep comments relevant to the article. Remarks containing abusive and obscene language, personal attacks of any kind or promotion will be removed and the user banned. Final decision will be at the discretion of the Taipei Times.