One in three fish caught never makes it to the plate: UN report 聯合國報告:全球漁獲三分之一遭浪費
One in three fish caught around the world never makes it to the plate, either being thrown back overboard or rotting before it can be eaten, according to the UN Food and Agriculture Organization (FAO).
Its biannual report on the state of the world's fisheries, released on July 9, also shows that total fish production has reached a record high thanks to more fish farming, particularly in China, with over half the fish eaten in the world now coming from aquaculture.
In contrast, the amount of wild caught fish has barely changed since the late 1980s and a third of commercial fish species are overfished, the FAO says. Fish farms will continue to expand and the FAO projects that almost 20 percent more fish will be eaten by 2030, helping sustain the growing global population. However, farmed fish can harm wild populations because often their feed, made from wild fish such as sardines and anchovies, is caught at sea and they can cause pollution.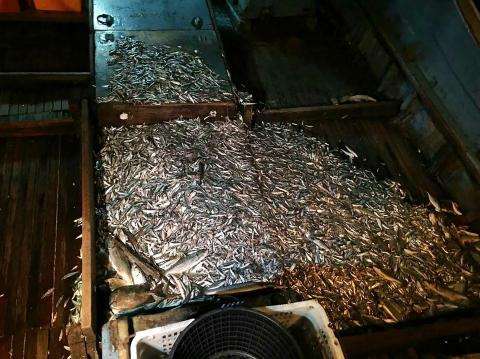 Fish caught by a trawler pictured on June 9, 2017 in Kaohsiung. 拖網魚獲。二○一七年六月九日攝於高雄。
Photo: Huang Hsu-lei, Liberty Times
照片: 自由時報記者黃旭磊
Fish are a crucial source of nutrition for billions of people around the globe, but overfishing is rife in some regions, with two-thirds of species overexploited in the Mediterranean and Black Seas and the Southeast Pacific.
"Since 1961 the annual global growth in fish consumption has been twice as high as population growth, demonstrating that the fisheries sector is crucial in meeting the FAO's goal of a world without hunger and malnutrition," said Jose Graziano da Silva, FAO director general.
The FAO reports that 35 percent of global catches are wasted. About a quarter of these losses are bycatch or discards, mostly from trawlers, where unwanted fish are thrown back dead because they are too small or an unwanted species. But most of the losses are due to a lack of knowledge or equipment, such as refrigeration or ice-makers, needed to keep fish fresh.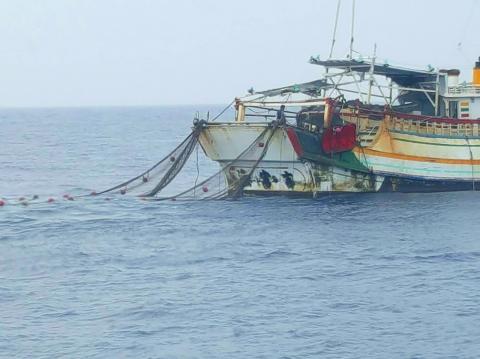 A fishing boat seized by the Penghu Fleet Branch of the Coast Guard Administration. Fry grow in coastal waters, and dredge fishing causes permanent damage to fishing resources. 一艘進行違法拖網作業的漁船,遭澎湖海巡隊查獲。拖網漁船大小通吃,在沿岸魚苗繁衍處拖網捕魚,會造成魚類資源永久破壞。
Photo: Liu Yu-ching, Liberty Times
照片:自由時報記者劉禹慶
The FAO has worked with developing nations to cut losses, including the use of raised racks for fish drying, which resulted in a 50 percent cut in losses of fish from Lake Tanganyika in Africa. Around the Indian Ocean, better facilities for handling the crab harvest cut losses by 40 percent.
The FAO report sets out the huge scale of global fishing: it employs 60 million people and there are 4.6 million fishing vessels on the planet. This huge effort is worrying in many places, the FAO says, with too many boats chasing too few fish.
As a result, the number of species being overfished has trebled in the last 40 years. The report also states climate change will drive fish away from warm tropical waters, where nations are often especially reliant on seafood, towards more temperate regions.
Lasse Gustavsson, executive director of Oceana in Europe, said huge improvements were needed across the fishing industry. "Food waste on a hungry planet is outrageous," he said. "The fact that one-third of all fish caught goes to waste is a huge cause for concern for global food security."
(The Guardian)
根據聯合國糧食及農業組織的調查,全球所捕獲的魚有三分之一從未上桌,不是被丟下船就是還沒來得及吃就腐壞了。
糧農組織本月九日公布的世界漁業狀況雙年報告也顯示,由於養殖魚業的擴增,特別是中國的養殖業,全球魚類產量已達到歷史新高,目前世界上有超過一半的食用魚來自水產養殖。
糧農組織表示,相較之下,自一九八○年代後期以來,野生魚捕獲的數量幾乎沒有變化,三分之一的經濟魚種被過度捕撈。養殖魚場將繼續擴增,糧農組織推估,到了二○三○年,為了養活全球不斷增長的人口,需要吃的魚會比現在的數量多近百分之二十。然而,魚類養殖可能會對野生魚群不利,養魚的飼料通常是由沙丁魚和鯷魚等野生魚類所製成,是在海中捕獲,並可能造成污染。
魚類是全球數十億人口的重要營養來源,但過度捕撈的情形在一些地區普遍存在,例如在地中海、黑海以及東南太平洋地區,有三分之二的魚種被過度捕撈。
「自一九六一年以來,全球魚類消費量的年增長率一直是人口增長的兩倍,這表示要達到糧農組織的世界無飢餓和無營養不良的目標,漁業扮演了至關重要的角色」,糧農組織總幹事何賽‧格拉齊亞諾‧達席瓦說。
糧農組織報告說,全球所捕的魚獲,有百分之三十五被浪費掉了。這些浪費約四分之一是因為誤捕(又稱「混獲」),或是被丟棄,主要來自拖網漁船──由於這些被一起撈到的魚太小,或並非目標魚種──這些魚被扔回海中時已死亡。但大部分的浪費是由於缺乏魚類保鮮的知識或設備,如冷藏設備或製冰機。
糧農組織已與發展中國家合作,以減少浪費,包括用架高方式曬乾魚獲,因此使非洲坦干依喀湖的魚獲浪費減少了百分之五十。在印度洋周邊國家,改良的螃蟹處理設備也減少了百分之四十的浪費。
糧農組織的報告說明了全球漁業的巨大規模:它有六千萬個從業人口,全球有四百六十萬艘漁船。糧農組織表示,這種大規模捕撈在很多地區都令人擔憂──太多船隻追逐太少的魚。
結果在過去四十年裡,有多了三倍的魚種被過度捕撈。該報告亦指出,氣候變化將驅使魚類遠離變暖的熱帶水域,而這些熱帶國家往往較溫帶地區的人更依賴海產作為食物。
國際海洋保育組織Oceana歐洲區執行董事拉賽‧古斯塔夫松表示,漁業需要大幅改善。「在這飢餓的星球上,食物的浪費令人憤慨」。他並說︰「所有捕獲的魚有三分之一被浪費掉,這 是攸關全球糧食安全的極重要問題。」
(台北時報林俐凱編譯)
Publication Notes
TODAY'S WORDS
今日單字
1. fishery
漁業 (yu2 ye4)
2. fish farming phr.
養殖魚業
(yang3 zhi2 yu2 ye4)
3. aquaculture n.
水產養殖
(shui2 chan2 yang3 zhi2)
4. overfish v.
進行過度捕撈
(jin4 xing2 guo4 du4 bu3 lao1)
5. trawler n.
拖網漁船
(tuo1 wang3 yu2 chuan2)
Comments will be moderated. Keep comments relevant to the article. Remarks containing abusive and obscene language, personal attacks of any kind or promotion will be removed and the user banned. Final decision will be at the discretion of the Taipei Times.