Hawaii becomes first US state to ban sunscreens harmful to coral reefs 夏威夷禁用有害珊瑚礁之防曬油 成美國第一州
Coral reefs and sunshine keep tourists flocking to Hawaii but, add sunscreen to that holiday mix, and the result can be serious damage to the marine environment that makes the islands so attractive to visitors in the first place.
On July 3 Hawaii Governor David Ige signed legislation that will ban the sale of sunscreens containing two chemicals believed to harm coral reefs, making Hawaii the first US state to ban sunscreens that are harmful to coral reefs. The ban will come into place in January 2021.
The bill focuses on two chemicals – oxybenzone and octinoxate – that are found in many sunscreens and notes that they "have significant harmful impacts on Hawaii's marine environment and residing ecosystems." It indicates that high levels of these chemicals have been found at popular swimming beaches and reef areas, including Waimea Bay, Hanauma Bay, and Waikiki Beach on Oahu and Honolua Bay and Ahihi-Kinau natural area reserve on Maui.
In this March 13, 2017 file photo, people relax on the beach in Waikiki in Honolulu, Hawaii, USA. 遊客在美國夏威夷檀香山的威基基海灘上休憩。攝於二○一七年三月十三日。
Photo: AP
照片:美聯社
A study in 2015, published in the journal Archives of Environmental Contamination and Toxicology, found the chemicals have a range of effects on coral, including mortality in developing coral, bleaching of coral and genetic damage to coral and other organisms. It also found both chemicals can induce feminization in adult male fish and increase reproductive diseases in creatures from sea urchins to parrotfish and mammal species similar to the Hawaiian monk seal. The chemicals can also induce neurological behavioral changes in fish and have possible impact on the many endangered species found in Hawaii's waters, including sea turtles.
The study found oxybenzone had a toxic effect at a concentration of 62 parts per trillion – equivalent to one drop in six-and-a-half Olympic-size swimming pools.
"This is the first real chance that local reefs have to recover," said Craig Downs, a scientist whose 2015 peer-reviewed study found oxybenzone was a threat to coral reefs. He found up to 14,000 tonnes of sunscreen lotion ends up in coral reefs each year. "Lots of things kill coral reefs but we know oxybenzone prevents them from coming back."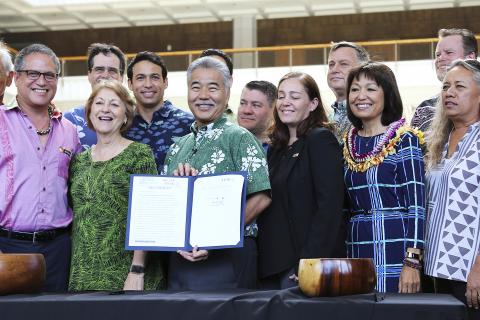 Hawaii Gov. David Ige, center, and surrounded by lawmakers, displays legislation he signed in Honolulu on July 3, banning the sale of sunscreens containing two chemicals believed to harm coral reefs. 夏威夷州州長大衛·伊藝(中),本月三日在州議員簇擁下,於檀香山展示他所簽署的法案,該法案禁止販售含有兩種據信有害珊瑚礁之化學成分的防曬油。
Photo: AP
照片:美聯社
Authorities in other marine park locations – such as the Virgin Islands, south Florida and destinations in Mexico – have already been taking measures to encourage visitors to use sunscreens made with biodegradable chemicals such as zinc oxide and titanium oxide.
(The Guardian)
夏威夷的珊瑚礁和陽光,吸引了大批遊客造訪,但若防曬油也在這假日盛況中湊上一腳,結果可能會是對海洋環境的嚴重破壞,而海洋環境正是夏威夷讓遊客趨之若鶩的本錢。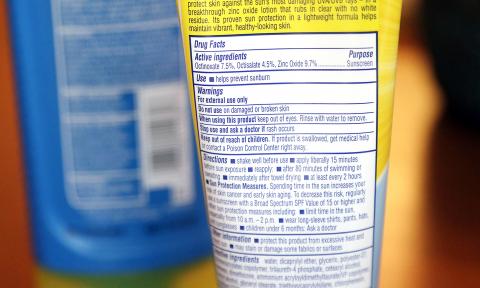 Sunscreen ingredients, including oxybenzone, are shown May 2 in San Jose, California, USA. 某廠牌防曬油之成分,包括二苯甲酮,五月二日攝於美國加州聖荷西市。
Photo: AP
照片:美聯社
夏威夷州州長大衛‧伊藝七月三日簽署了一項法案,禁止販售含有兩種特定化學成分的防曬油,因為據信這兩種化學成分會傷害珊瑚礁──這使得夏威夷成為美國禁用有害珊瑚礁之防曬油的第一個州。該禁令將於二○二一年一月生效。
該法案所針對的是許多防曬油都含有的兩種化學成分──二苯甲酮和甲氧基肉桂酸辛酯,並指它們「對夏威夷的海洋環境和生態系統造成了重大傷害」。法案指出,在遊客如織的游泳海灘和珊瑚礁地區發現了大量這些化學物質,包括在歐胡島上的威美亞海灣、恐龍灣、威基基海灘,以及茂宜島上的火奴魯阿海灘和阿希希基瑙自然保護區。
二○一五年發表在《環境污染與毒理學檔案》期刊上的一項研究發現,這些化學物質會對珊瑚造成一連串影響,包括成長中珊瑚的死亡率、珊瑚白化,以及對珊瑚和其他生物的基因損害。研究還發現這兩種化學物質都可能誘發成年雄魚的雌性化,並使生物罹患生殖疾病的風險增加──從海膽到鸚哥魚,也包括夏威夷僧海豹之類的哺乳動物。這些化學物質還可誘發魚類的神經行為變化,並可能對夏威夷水域中的許多瀕危物種(包括海龜)造成影響。
該研究發現,二苯甲酮在濃度達到兆分之六十二時會具有毒性作用──相當於六個半奧運標準游泳池中的一滴。
科學家克雷格‧唐斯說:「這是當地珊瑚礁得以恢復的第一個真正的機會」。唐斯二○一五年經同儕審查的研究,發現二苯甲酮會對珊瑚礁造成威脅。他發現每年有多達一萬四千噸的防曬乳液最後進入了珊瑚礁。「很多東西都會殺死珊瑚礁,但我們知道二苯甲酮會讓珊瑚礁無法復原。」
其他海洋公園所在地當局──如維京群島、佛羅里達州南部和墨西哥旅遊勝地,已採取措施鼓勵遊客使用以生物所能分解的化學成分(如氧化鋅和氧化鈦)所製成的防曬油。
(台北時報林俐凱編譯)
Publication Notes
TODAY'S WORDS
今日單字
1. sunscreen n.
防曬油
(fang2 shai4 you2)
2. chemical n.
化學成分
(hua4 xue2 cheng2 fen4)
3. coral reef phr.
珊瑚礁
(shan1 hu2 jiao1)
4. lotion n.
乳液;護膚液
(ru3 yi4; hu4 fu1 yi4 )
5. biodegradable adj.
生物所能分解的
(sheng1 wu4 suo3 neng2 fen1 jie3 de5)
Comments will be moderated. Keep comments relevant to the article. Remarks containing abusive and obscene language, personal attacks of any kind or promotion will be removed and the user banned. Final decision will be at the discretion of the Taipei Times.