Formosan ring-necked pheasants spotted in Tainan 西港金砂里 出現二十多隻台灣環頸雉
More than 20 members of a native subspecies of ring-necked pheasant, commonly known as the "wailing chicken," have been spotted by birdwatcher Huang San-ming within the Jinsha Borough of Tainan's Sigang District. There have also been separate sightings of Formosan ring-necked pheasants perching in Beipu Borough in Jiangjun District and in Fandian Borough in the city's Yanshuei District.
The Formosan ring-necked pheasant, Taiwan blue pheasant and mikado pheasant are the three main types of protected pheasant in Taiwan. The "wailing chicken," or Formosan ring-necked pheasant, mostly perches in flat open fields and used to be a common sight in Taiwan. However, a combination of excessive hunting and overdevelopment has meant that these days it is rare to catch a glimpse of the bird. Huang says that Formosan ring-necked pheasants will immediately take off if they catch sight of a human or hear the wind rustling through the grass, which makes watching them extremely difficult.
(LIBERTY TIMES, TRANSLATED BY EDWARD JONES)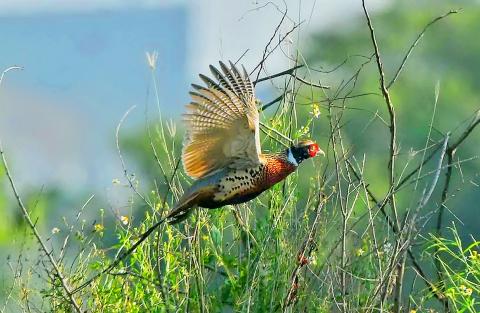 A Formosan ring-necked pheasant. 一隻環頸雉。
Photo courtesy of Huang San-ming
照片:黃三明提供
台灣特有亞種環頸雉(俗稱啼雞)在台南市西港區金砂里被鳥友黃三明發現有廿多隻出現。此外,將軍區北埔里、鹽水區飯店里也有台灣環頸雉棲息。
台灣環頸雉、藍腹鷳,和帝雉是台灣三大保育類雉雞。其中俗稱啼雞的環頸雉主要棲息在平地田野,早年常見,因濫捕加上過度開發,現在很少看到牠們蹤跡。黃三明說,因為啼雞一見人或風吹草動就跑,要看到牠們的身影不容易。
(自由時報楊金城)
Publication Notes
TODAY'S WORDS
今日單字
1. pheasant n. 雉 (zhi4) 2. birdwatcher n. 鳥友 (niao2 you3) 3. perch v. 棲息 (qi1 xi2) 4. excessive hunting phr. 濫捕 (lan4 bu3) 5. overdevelopment n. 過度開發 (guo4 du4 kai1 fa1)
Comments will be moderated. Keep comments relevant to the article. Remarks containing abusive and obscene language, personal attacks of any kind or promotion will be removed and the user banned. Final decision will be at the discretion of the Taipei Times.