Rosemary may improve students' memory 考生增強記憶 聞迷迭香有幫助
According to Mark Moss, a researcher at Northumbria University in the UK, the smell of rosemary can help improve memory.
The research team had 40 pupils aged 10 to 11 do a series of memory tests in a room either with a rosemary aroma or without. At the time, the pupils were unaware that the aroma was related in any way with the memory tests.
Moss says that the students who did the memory tests in the room with the rosemary aroma performed between 5 to 7 percent better in the memory tests, a result consistent with tests involving adults. The study results support traditional beliefs concerning the beneficial effects of rosemary on memory. He says that rosemary has been linked to memory for centuries.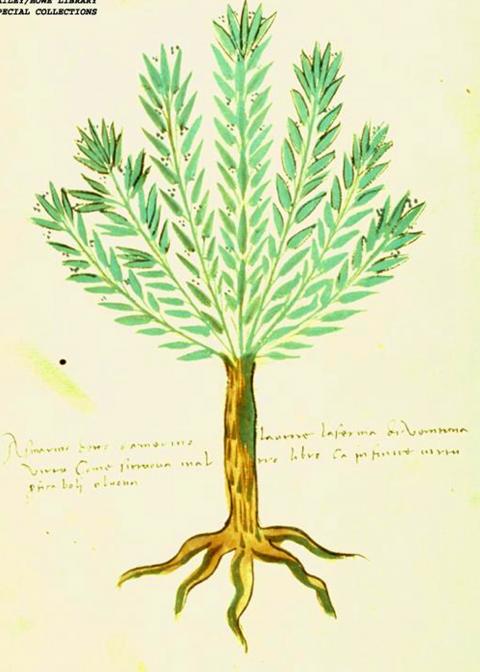 Rosemary illustration from an Italian compendium of herbs, circa 1500AD, artist unknown. 一本義大利植物誌中的迷迭香插圖,年代約為西元一五○○年,作者不詳。
Photo: Wikimedia Commons
照片:維基共享資源
However, he also says that the degree of the effect varies from person to person, with hardly any effect seen in some people. He says that he will now widen the research, carrying out a large scale study on the effects of aroma in educational settings.(CNA, translated by Paul Cooper)
英國諾桑比亞大學研究人員馬克莫斯表示,迷迭香氣味有助增強記憶力。
研究團隊讓四十名十歲到十一歲學童在分別具有迷迭香氣味與沒有氣味的空間進行一連串記憶力測試,學童當時不知道記憶力測試與香氣有關。
莫斯表示,在具有迷迭香氣味空間受試的學童,記憶力測試成績平均高出百分之五至百分之七,與成人受試結果一致。研究結果證實迷迭香有助記憶的傳統觀念。他表示,數百年來迷迭香一直都與記憶力脫不了關係。
不過他也說,迷迭香對記憶力的影響程度因人而異,有些人似乎完全不受影響。他表示,下一步應是擴大研究,在教育環境下大規模試驗氣味應用。(中央社)
Publication Notes
TODAY'S WORDS
今日單字
1. memory n.
記憶力 (ji4 yi4 li4)
2. consistent adj.
一致 (yi2 zhi4)
3. traditional belief n. phr.
傳統觀念 (chuan2 tong3 guan1 nian4 )
4. vary from person to person v. phr.
因人而異 (yin1 ren2 er2 yi4)
Comments will be moderated. Keep comments relevant to the article. Remarks containing abusive and obscene language, personal attacks of any kind or promotion will be removed and the user banned. Final decision will be at the discretion of the Taipei Times.