Hong Kong pop diva Sandy Lam tops "Singer 2017" show 香港天后林憶蓮 「歌手」總決賽奪冠
Hong Kong singer Sandy Lam won the final of "Singer 2017," singing the song "Maybe Tomorrow" in the final episode of the show, broadcast live on Hunan TV last Saturday. The 51-year-old singer, backed up by pop diva Chang Hui-mei, better known as A-mei, sang a duet in perfect harmony, with their flawless chorus and high notes winning much praise from the audience.
From the Republic of Kazakhstan, 22-year-old singer Dimash Kudaibergen was the first runner-up in the singing contest. Taiwanese singers also had outstanding performances in the final show. Rock band "Lion," led by Jam Hsiao, was the second runner-up, and singer Terry Lin won fifth place.
Hsiao said he was so nervous before the final show that he had a sensation of being unable to swallow his saliva. He explained that this was a kind of muscular symptom, adding that it would be no fun if the contest did not make him nervous.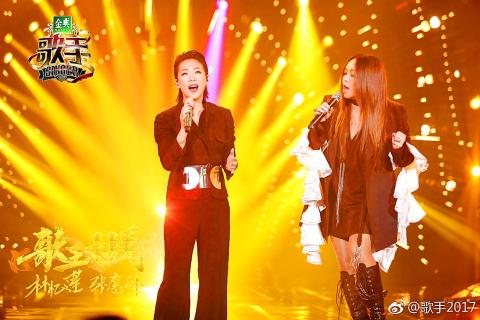 Hong Kong singer Sandy Lam, left, and Taiwanese singer Chang Hui-mei, better known as A-mei, sing together in the final show of "Singer 2017" on Saturday last week. 香港歌手林憶蓮(左)和台灣歌手張惠妹(阿妹),上週六在「歌手二○一七」節目總決賽合唱。
Photo: copied by Tsai Chen-yi, Liberty Times
照片︰自由時報記者蔡琛儀翻攝
(CNA, translated by Eddy Chang)
香港歌手林憶蓮上週六以「也許明天」一曲,在湖南衛視現場直播的「歌手二○一七」節目總決賽奪冠。現年五十一歲的林憶蓮,與助唱的流行天后張惠妹(阿妹)展現絕佳默契,和聲完美並互飆高音,讓觀眾聽得大呼過癮。
來自哈薩克共和國,年僅二十二歲的歌手迪瑪希在該歌唱比賽榮獲亞軍。台灣歌手在決賽的表現也相當精采,蕭敬騰率領的搖滾樂團「獅子合唱團」奪下第三名,歌手林志炫拿下第五名。
蕭敬騰說比賽前心情很緊張,喉嚨像有口水吞不下去,他解釋這是一種肌肉的症狀,但比賽不緊張就不好玩。
(中央社)
Publication Notes
TODAY'S WORDS
今日單字
1. final n.
決賽 (jue2 sai4)
2. duet n.
合唱 (he2 chang4)
3. first runner-up phr.
亞軍 (ya3 jun1)
4. contest n.
比賽 (bi3 sai4)
5. second runner-up phr.
季軍 (ji4 jun1)
Comments will be moderated. Keep comments relevant to the article. Remarks containing abusive and obscene language, personal attacks of any kind or promotion will be removed and the user banned. Final decision will be at the discretion of the Taipei Times.