British band Coldplay to rock Taiwan next week 「酷玩樂團」下週首度登台 嗨翻八萬粉絲
British rock band Coldplay is holding its first concerts in Taiwan on Tuesday and Wednesday next week. The concerts will take place at Taiwan High Speed Rail (THSR) Taoyuan Station Plaza, an outdoor venue able to accommodate up to 40, 000 people. Tickets are priced in seven levels from NT$1,800 to as high as NT$7,800.
The band, famous for hits such as "Viva la Vida," is on Taiwanese fans' dream list of the most anticipated foreign artists. The first concert was sold out within an hour, with diehard fans from places such as China, Hong Kong and Macau competing for tickets.
Surprised by the speedy ticket sales, members of the band said they had not expected this amount of passion from Taiwan, a place they have never been to. They decided to put on the second show to thank the fans for their support and to prevent ticket scalpers from selling at extortionate prices.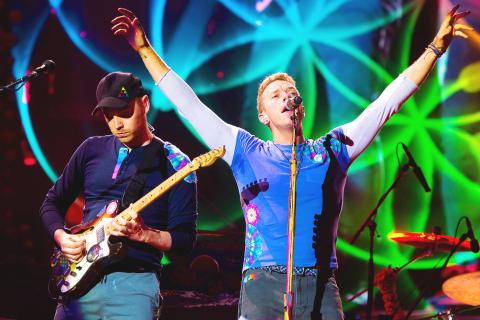 Chris Martin, right, and Jonny Buckland from British rock band Coldplay perform at a stadium during their tour in New Jersey, the US on July 16 last year. 英國搖滾天團「酷玩樂團」的克里斯馬丁(右)和強尼邦蘭,於去年七月十六日巡演時,在美國紐澤西州一座體育館演出。
Photo: AP
照片︰美聯社
(CNA, translated by Eddy Chang)
英國搖滾天團「酷玩樂團」下週二、週三將首度來台,在桃園高鐵站前廣場開唱,該戶外場地最多可容納四萬人,票價從最低的新台幣一千八百元到最高的七千八百元共七種。
「酷玩樂團」名列台灣歌迷「最想看的國外藝人夢幻名單」,以「活在當下」等經典歌曲聞名。首場門票開賣一小時內搶光,還有中國、香港、澳門各地死忠歌迷加入搶票大戰。
酷玩團員聽到門票被秒殺大呼驚奇,沒想到從未造訪過的台灣如此熱情。他們並決定加開第二場,以感謝歌迷支持,和避免黃牛抬價。
(中央社)
Publication Notes
TODAY'S WORDS
今日單字
1. plaza n.
廣場
(guang2 chang3)
2. outdoor adj.
戶外的;室外的
(hu4 wai4 de5; shi4 wai4 de5)
3. accommodate v.
容納
(rong2 na4)
4. diehard adj.
死忠
(si3 zhong1)
5. passion n.
熱情
(re4 qing2)
Comments will be moderated. Keep comments relevant to the article. Remarks containing abusive and obscene language, personal attacks of any kind or promotion will be removed and the user banned. Final decision will be at the discretion of the Taipei Times.