Pop diva Jody Chiang's farewell concert DVD selling like hotcakes 江蕙封麥演唱會DVD搶手 賣光拚趕貨
A year after her retirement from show business, Taiwanese-language pop diva Jody Chiang released the DVD of last year's farewell concerts, "Blessing," last month. The 50,000 copies of the DVD were sold out instantly. Chiang's agent Eric Chen has thanked fans for their support, saying that the manufacturer is making every effort to meet the extra demand by producing 20,000 more copies.
Chiang, known by her fans as "Second Sister," held a 25-concert farewell tour last year to mark her retirement. All the farewell concerts were packed, and it has already been a year since she locked her microphone into a crystal jewel box at the end of her final show on Sept. 13 last year.
Chiang went into showbiz about 44 years ago. Several superstars jumped at the chance to feature as special guests at her farewell concerts, "God of Songs" Jacky Cheung among them. Their duet at one of the concerts is included in her DVD.(CNA)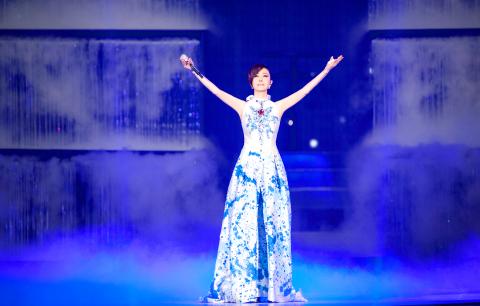 Taiwanese-language pop diva Jody Chiang bids farewell to her fans at her very last concert at K-Arena in Kaohsiung on Sept. 13 last year. 台語流行歌后江蕙於去年九月十三日,在高雄巨蛋的終場演唱會向粉絲道別。
Photo courtesy of Kuang Hong Arts
照片︰寬宏藝術
台語流行歌后江蕙「封麥」退休一年,上月推出去年「祝福」演唱會DVD,五萬張已火速賣光。她的經紀人陳子鴻感謝大家支持,廠商正在全力趕貨,將加印兩萬張。
「二姊」江蕙去年一連舉辦二十五場告別演唱會,場場爆滿、風光落幕。從去年九月十三日終場演唱會,她把麥克風鎖進水晶珠寶盒後,至今整整過了一個年頭。
江蕙在歌壇約四十四年,封麥演唱會不少重量級歌手都爭當嘉賓,「歌神」張學友是其一。他在演唱會上和江蕙的對唱,也收錄在此次的演唱會DVD中。(張聖恩譯自中央社)
Comments will be moderated. Keep comments relevant to the article. Remarks containing abusive and obscene language, personal attacks of any kind or promotion will be removed and the user banned. Final decision will be at the discretion of the Taipei Times.