Scientists announce possible breakthrough in earthquake prediction 地震預測近了?京都大學發現震前一小時電子異常
Scientists are constantly striving to perfect earthquake prediction. If it were possible to accurately indicate the time, location, scale and seismic intensity of an impending earthquake, suffering and damage could be reduced to an absolute minimum.
A Kyoto University research team, led by professor Ken Umeno, recently announced the results of its research into using ionospheric abnormalities. These abnormalities may enable the prediction of large earthquakes up to one hour before they strike.
The ionosphere is a layer of electrons spread out across the Earth's upper atmosphere. It is influenced by the sun's activity, including solar flares and charged particles within the solar wind, which may interact with the Earth's magnetic field and lead to disturbances within the ionosphere.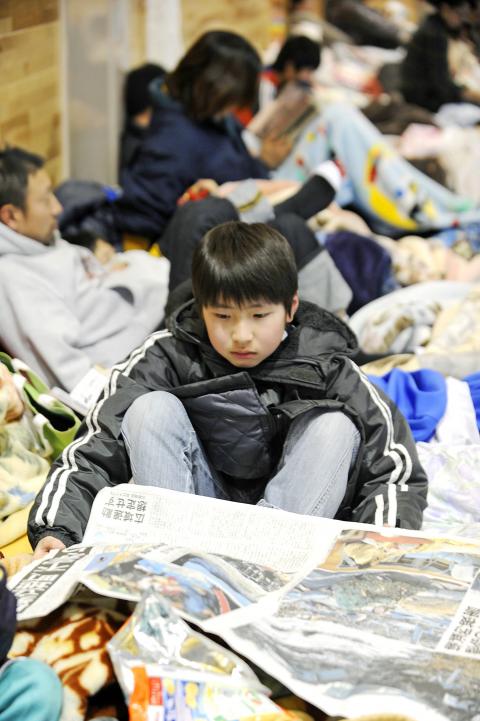 A boy reads a newspaper at an evacuation shelter in Japan's Fukushima Prefecture the day after the Tohoku earthquake on Mar 12, 2011. 二零一一年三月十二日,東日本大震災的隔天,一位男孩於日本福島縣一間避難屋看報紙。
Photo: AFP
照片: 法新社
The problem is that since the method for measuring electrons within the ionosphere is through dozens of GPS weather stations across the globe using real-time interrelated data. At the present, computer analysis consumes too much time. If instantaneous computer processing were possible, then it may be possible to successfully predict earthquakes.
Using the measurement technique employed by Ken's research team, it is no longer necessary to compare numerical values taken both before and after an earthquake. Instead, the discrepancy from normal values is calculated so that abnormalities can be identified. Ken says, "It may be possible to use this [technique] within future earthquake warning systems."
(Liberty Times, translated by Edward Jones)
地震預測一直是科學家們努力的目標,如能明確地指出地震發生的時地、規模、震度就能將地震帶來的災害減到最小。
日本京都大學梅野健教授團最近發表研究成果,表示利用電離層的異常或許可以在一小時前就能預測強震的來襲。
電離層是電子廣泛分佈的大氣層,也會受太陽影響而有所變化,包含太陽耀斑和太陽風中的帶電粒子可能與地球磁場相互作用,導致對電離層的擾亂。
由於電離層內電子數測量方式是根據數十處全球定位系統觀測站當時的資料相互關係而來,目前問題在於電腦分析耗時較長,如果電腦運算速度及時,就有可能成功預測地震。
用該梅野小組的方法則不必去比較地震前後的數值,只要比較與平時值的差別就能辨出異常,梅野表示:「或許能運用到未來地震預警系統之中」。
(自由時報)
Comments will be moderated. Keep comments relevant to the article. Remarks containing abusive and obscene language, personal attacks of any kind or promotion will be removed and the user banned. Final decision will be at the discretion of the Taipei Times.