Visa identifies growth potential for mobile payment 行動支付來臨 Visa看好手機繳水電費
The era of mobile payment is upon us. Macro Ma, Visa International country manager in Taiwan, says Taiwan is in a strong position to capitalize on the mobile payment market. As well as medical bills, the payment of utility bills such as water, electricity and gas is a potential growth market for mobile payment, he says.
According to Ma, the popularization of smartphones has altered peoples' lifestyles, and has led to a change in the way the public parts with its cash. There is already a trend for using mobile phones to carry out transactions and payments for every kind of expense, Ma says.
According to statistics provided by Visa, over 80 percent of the Taiwanese public use EasyCards, iPass, credit cards or other types of sensor-based payment methods. These existing consumer habits will help consumers adopt mobile payment, according to Ma.(CNA, translated by Edward Jones)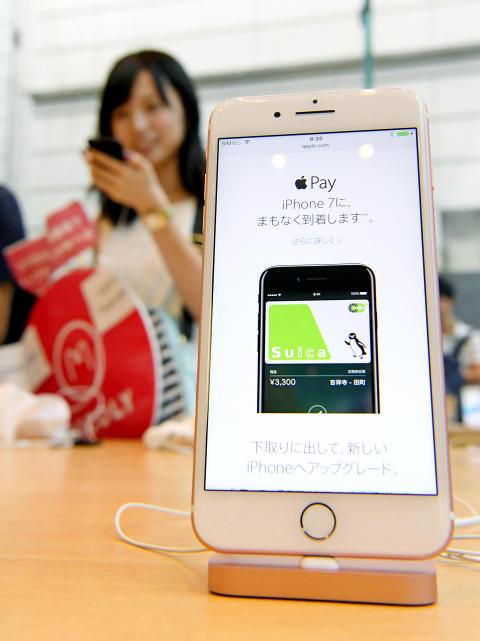 An iPhone displaying Apple Pay is pictured in Tokyo on Friday. 圖為:一台iPhone顯示著Apple Pay行動支付,攝於周五在東京。
Photo: AP
照片:美聯社
行動支付時代來臨,你今天嗶了嗎?Visa台灣區總經理麻少華表示,台灣具有發展行動支付的優勢,除醫療外,公共事業如水電、瓦斯等費用,是行動支付未來可發揮的市場。
麻少華表示,智慧手機的普及改變民眾生活型態,進而改變了支付型態,用手機支付、用手機繳交各項費用已是趨勢。
根據Visa統計,台灣超過八成民眾曾使用過悠遊卡、一卡通、信用卡等感應支付,這種消費習慣有利消費者使用行動支付服務。(中央社)
Publication Notes
TODAY'S WORDS
今日單字
1. mobile payment n. phr. 行動支付
(xing2 dong4 zhi1 fu4)
2. popularization n. 普及
(pu3 ji2)
3. trend n. 趨勢
(qu1 shi4)
4. consumer habit n. phr. 消費習慣
(xiao1 fei4 xi2 guan4)
Comments will be moderated. Keep comments relevant to the article. Remarks containing abusive and obscene language, personal attacks of any kind or promotion will be removed and the user banned. Final decision will be at the discretion of the Taipei Times.