Abe announces 28 trillion yen stimulus package 安倍晉三推逾二十八兆日圓刺激方案
On Wednesday last week, Japanese Prime Minister Shinzo Abe announced an economic stimulus package worth more than 28 trillion yen (US$265 billion), designed to jump-start Japan's economy.
According to reports by Bloomberg and Koydo News agencies, on Wednesday in Fukuoka, Abe announced that his government would have a stimulus package drawn up by the following week.
The package will then be handed over to the National Diet; a mere formality since Abe's ruling coalition holds a majority in both the upper and lower houses, which guarantees that the economic bill will pass through parliament.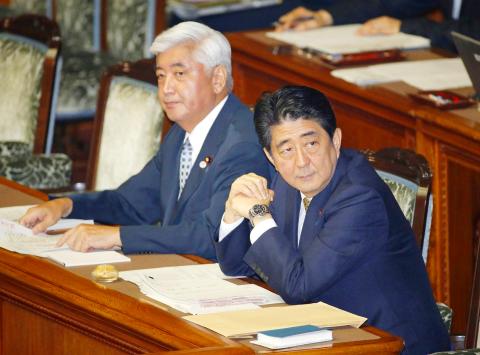 Japanese Prime Minister Shinzo Abe, right, attends a session of the Japanese National Diet in an undated photo. 日本首相安倍晉三(右)出席日本國會,拍照日期不明。
Photo: CNA
照片:中央社
AFP reported that prior to Abe's announcement of the stimulus package, the yen fell sharply against the US dollar following a report that Japan's government was about to implement a package of stimulus measures designed to boost the country's depressed economy.
(CNA, TRANSLATED BY EDWARD JONES)
日本首相安倍晉三上週三宣布規模超過二十八兆日圓(兩千六百五十億美元)經濟刺激計畫提振經濟。
根據彭博及共同社報導,安倍晉三上週三在福岡表示,下週會編制這項計畫。
送交國會只是走個形式,因為執政聯盟在兩院占有多數,經濟方案必定會過關。
法新社報導,在安倍晉三宣布經濟方案前,日圓兌美元重貶,因有報導指出日本政府將祭出刺激計畫,提振委靡不振的經濟。
(中央社)
Comments will be moderated. Keep comments relevant to the article. Remarks containing abusive and obscene language, personal attacks of any kind or promotion will be removed and the user banned. Final decision will be at the discretion of the Taipei Times.