Taoyuan builds accessible hiking trails in Hutoushan ecological park 虎頭山都會生態公園設無障礙步道
Following the inauguration of the first half of an all-age-friendly accessible hiking trail in Hutoushan ecological park, the 400-meter-long second half of the trail is expected to be completed by the end of September. Combined, the two sections will form a 1km-long loop trail. On July 11, Taoyuan Mayor Cheng Wen-tsang visited the park to inspect the construction. According to Cheng, in addition to the hiking trail, the government will build a car park, a storage room and toilets, while making sure there is stable phone reception in the park to increase the convenience for visitors.
Cheng says the park has three key features: a system of entertaining and healthy hiking trails, a unique natural landscape and public facilities. At present, the Taoyuan City Government is also carrying out a city rezoning project, which will turn the area of the Minglun Sansheng Temple into a designated area for religious use, and the unused space in front of the temple will become a parking lot. This way, visitors to the park can park their cars close by and the government can more easily regulate local vendors.
Yang Sheng-ping, director of Taoyuan City Government's Department of Tourism, says a creative squirrel house, a tree house and a flower tunnel have been built along the hiking trail, adding that in the future the park will provide environmental education classes and tours to encourage visitors to learn to coexist with nature while enjoying the park.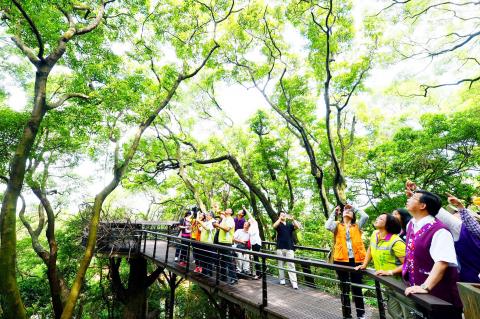 Taoyuan Mayor Cheng Wen-tsang, right, visits the Hutoushan ecological park in Taoyuan District on July 11 to inspect the progress of construction. 桃園市長鄭文燦七月十一日至桃園區虎頭山都會生態公園視察工程進度。
Photo courtesy of Taoyuan City Government
照片:桃園市政府提供
(LIBERTY TIMES, TRANSLATED BY TU YU-AN)
虎頭山都會生態公園的全齡友善無障礙步道,四月中已啟用前半段,後半段的四百公尺預計九月底完工,屆時將成為全長一公里的循環步道。桃園市長鄭文燦十一日視察工程,表示除步道外將另增設停車場、置物間、廁所,並確保園內手機訊號暢通,讓遊憩民眾更為便利。
鄭文燦說,生態公園分有休閒健康步道系統、自然景觀特色、公共設施三大發展方向。市府目前正進行都市計畫變更,明倫三聖宮將變更為宗教專用區、明倫三聖宮對面的空地變更為停車場用地,讓遊客方便停車,也能有效納管攤商。
市府觀旅局長楊勝評表示,步道設有創意松鼠窩、樹屋及花廊隧道等,未來將配合環境教育課程及導覽,讓遊客遊覽之餘也能學習與大自然共處。
(自由時報記者陳昀)
Publication Notes
TODAY'S WORDS
今日單字
1. trail n. 步道 (bu4 dao4) 例: We should take the longer hiking trail because it is more scenic. (我們應該走比較長的那條健行步道,因為那條路的風景比較好看。) 2. at present phr. 目前;現在 (mu4 qian2; xian4 zai4) 例: At present, the economy is doing well. (經濟景氣目前還不錯。) 3. coexist v. 共處 (gong4 chu3) 例: You should learn to peacefully coexist with your enemy. (你應該學習與敵人和平共處。)
Comments will be moderated. Keep comments relevant to the article. Remarks containing abusive and obscene language, personal attacks of any kind or promotion will be removed and the user banned. Final decision will be at the discretion of the Taipei Times.