Staff threatens manager with news report on gas station fire 加油站員工傳縱火新聞恐嚇主管
A 36-year old man surnamed Huang working at a chain gas station in New Taipei City's Yingge district had a dispute with his manager over salary. On the morning of January 9, Huang sent his manager, surnamed Fan, a Line message including a link to a news report about a gas station fire set by its employee, together with the comment "so I am afraid I might do this if I'm pushed too far." The manager felt intimidated and decided to report it to the police and press charges.
New Taipei District Court found Huang guilty of threatening to endanger the safety of others, sentencing him to imprisonment for 55 days – which may be commuted to a fine of NT$55,000 – and three years of probation and an additional fine of NT$40,000 to be paid to the government. Huang can appeal.
According to the court, Huang believed the station manager was deliberately giving him a hard time by looking for reasons to fire him and not giving him permission to take sick leave, and when he received a legal attest letter from the company he lost his temper and sent the news link to his station manager. The judge did not think the fact that he was provoked in the first place was sufficient reason to absolve him, but allowed him probation on the grounds that he no longer worked at the gas station and would have learned his lesson by the end of the investigation and trial.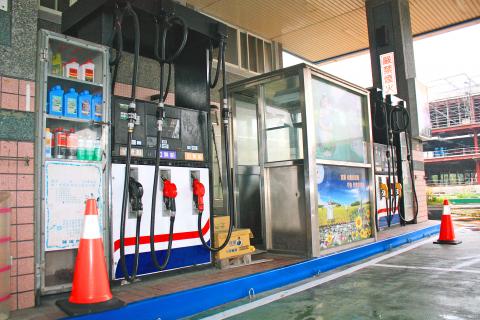 A gas station is pictured on January 11 last year. Photo unrelated to article. 圖為加油站示意圖,與文無關,攝於去年一月十一日。
Photo: Chu Tse-wei, Liberty Times
照片:自由時報記者朱則瑋
(LIBERTY TIMES, TRANSLATED BY TU YU-AN)
三十六歲的黃姓男子在新北市鶯歌某連鎖加油站工作,與站長發生薪資糾紛後,一月九日上午透過LINE傳「加油站工縱火燒加油站」的新聞報導網址連結給范姓主管,並加註「所以我怕我受到刺激怕會這樣做」,主管嚇得報警提告。
新北市地方法院依恐嚇危害安全罪判黃男拘役五十五日,得易科罰金五萬五千元,緩刑三年,另得上繳國庫四萬元,可上訴。
判決指出,黃男認為加油站站長惡意找理由解雇他,不准他請病假,後接獲公司存證信函,一時情緒失控,才會傳送新聞網址連結給站長。法官認為,不得以犯罪前所受刺激作為脫免罪責的理由,但審酌其已不在加油站工作,經此偵、審程序後應有所警惕,因此予以緩刑宣告。
(自由時報記者陳慰慈)
Publication Notes
TODAY'S WORDS
今日單字
1. dispute n.
糾紛 (jiu1 fen1)
例: You should read the contract carefully before signing it to avoid labor disputes.
(簽約前應仔細閱讀合約,以避免勞資糾紛。)
2. probation n.
緩刑 (huan3 xing2)
例: He was sentenced to two years' probation and 200 hours of community service.
(他被宣判兩年緩刑以及兩百小時的社區服務。)
3. absolve v.
脫免;免除 (tuo1 mian3; mian3 chu2)
例: The fact that her landlord breached the contract first absolved her of her obligation to pay rent.
(她的房東違約在先,因而免除了她支付房租的義務。)
Comments will be moderated. Keep comments relevant to the article. Remarks containing abusive and obscene language, personal attacks of any kind or promotion will be removed and the user banned. Final decision will be at the discretion of the Taipei Times.