Philosophical frauds 哲學騙子
Yu Huang-chieh, professor and head of the Department of Philosophy at Fu Jen Catholic University, recently posted an article on his Facebook page titled "the most humiliating day for the Department of Philosophy," saying that this year the number of students applying for transfers from the Department of Philosophy to other departments reached 57, equivalent to the number of students in one class. This number has hit a historic high. He complained that the university entrance program can be likened to a big joke or a fraud, which has caused severe harm to academic departments that take their academic work seriously.
Yu said that 44 of the 57 students who applied for a transfer this year are first-year students, 12 are second-year students and one is a fourth-year student. When these students entered the university, 28 got admitted through applications, one through the Fanhsing university direct entrance program, two were overseas compatriot students assigned to this department, one was a transfer student from another department and 25 entered the department because their university entrance examination scores stood around the department's level. Yu said this phenomenon proves that the existing multifaceted university entrance examinations, which were designed to allow students to enter their ideal departments, have completely failed.
He wrote that, during university admission interviews, students demonstrated their passion for philosophy with eloquence in front of admission committee members, but today these people are more like fraudsters.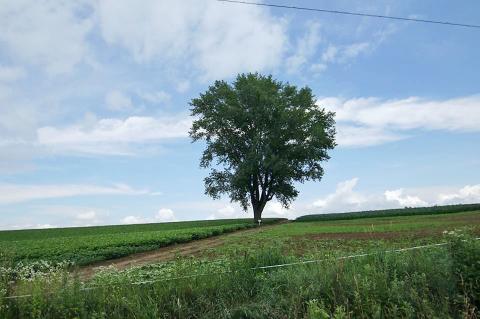 Hokkaido's tree of philosophy is pictured on Feb. 25 in Japan. 日本北海道的哲學之木,攝於二月二十五日。
Photo courtesy of Derek Wu
照片:讀者Derek Wu 提供
(Liberty Times, translated by Ethan Zhan)
輔仁大學哲學系教授兼系主任尤煌傑日前在臉書發文「一個令哲學系最不堪的日子」,直指輔大哲學系今年申請轉出的人數高達五十七人,相當於一個班級,是歷年之最。他感嘆,申請入學制度猶如一個天大笑話或詐騙案,嚴重破壞認真辦學的學術單位。
尤煌傑指出,今年輔大申請轉系的五十七人中,四十四人是一年級生,十二名是二年級生,一名是四年級生;這些學生入學時,有廿八名是申請入學,一名是繁星推薦、兩名是分發僑生、一名他系轉學生,廿五名為考試分發。「這個現象證明現在的多元入學考試、讓學生進入理想科系的設計完全破功。」
他寫道,當初申請入學面試時,學生們在考試委員面前以如簧之舌展示對哲學愛好,如今看來像詐騙集團。
(自由時報葉冠妤)
Publication Notes
TODAY'S WORDS
今日單字
1. humiliating
adj.
不堪 (bu4 kan1)
例: The teacher treated her students in a humiliating way.
(這個老師以不堪的方式對待她的學生。)
2. hit a historic high
phr.
是歷年之最 (shi4 li4 nian2 zhi1 zui4)
例: The divorce rate has hit a historic high this year.
(今年的離婚率是歷年之最。)
3. eloquence
n.
如簧之舌;舌粲蓮花
(ru2 huang2 zhi1 she2; she2 can4 lian2 hua1)
例: Everyone in the audience is engrossed in his eloquence.
(現場每一位觀眾都陶醉於他的舌粲蓮花。)
Comments will be moderated. Keep comments relevant to the article. Remarks containing abusive and obscene language, personal attacks of any kind or promotion will be removed and the user banned. Final decision will be at the discretion of the Taipei Times.