Flamingo atop a cloud 雲 鶴
The Sony World Photography Awards, the biggest international photography contest in the world, announced this year's national award winners on Tuesday last week, and the first place in the Taiwan National Award category went to Wang Tai-ran, an amateur photographer from New Taipei City. Not only will Wang receive a Sony A7RII digital camera, worth almost NT$100,000, he will also get to go to London to accept the award in person. On top of that, his work will be put on display in London's Somerset House beginning from April 22.
Wang, currently an Internet visual designer, says that he used to study visual communication and when he was a sophomore he would practice photography on outdoor excursions. He is particularly adept at capturing subjects reflected in water, and is especially interested in nature photography. This award-winning photo was taken when he visited Taipei Zoo to take pictures of the animals.
Because photography equipment is too costly, Wang, who does not come from a wealthy family, followed his teachers' advice and borrowed photography equipment from the school to take most of his pictures. This award-winning picture was shot with a Canon 60D, which Wang borrowed from his schoolmate.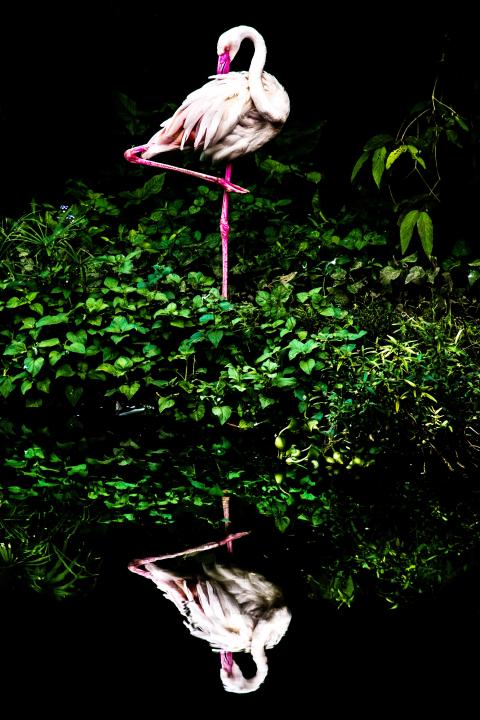 A flamingo stands on one leg near a pond in Taipei Zoo in this undated photo. 一隻紅鶴金雞獨立地站在台北市立動物園的水池旁,攝影日期不明。
Photo courtesy of Wang Tai-ran
照片:王泰然提供
Wang says that when he was taking pictures of the flamingo there was too much foliage around the bird, which made it difficult to get a good composition. After discovering that there was a pool, he took in the reflections of the foliage in the water to create a symmetrical picture, giving the impression that the flamingo was standing on a cloud.
Wang attributes his success to Shih Ying-ting, who taught him about photography skills and know-how. Wang says he will continue to improve this hobby, which is a good complement to his designing job.
(Liberty Times, translated by Ethan Zhan)
全球規模最大的國際攝影競賽「索尼世界攝影大獎」,上週二公布二○一六年區域國家獎得獎名單,新北市的業餘攝影師王泰然獲得台灣分區國家獎首獎,除可獲得價值近十萬元的Sony A7RII數位相機,更可前往倫敦接受頒獎,其作品也會從四月廿二日起在倫敦索麥塞宮展出。
目前擔任網路視覺設計師的王泰然表示,他學的是視覺傳達,大二起經常藉戶外活動練習攝影,對於鏡射構圖特別有心得,尤其喜愛大自然題材,這次則是特地去木柵動物園拍攝動物。
因攝影器材太貴,家境並不寬裕的王泰然聽取老師建議,大部分的攝影都是向學校借用攝影器材所拍攝的。這次獲獎作品則是跟同學借Canon 60D相機拍的。
王泰然說,拍攝紅鶴時,周遭有太多雜草叢,不易取景,後來發現旁邊有個水池,便透過水池草叢倒影營造對稱構圖,宛如紅鶴站在雲朵上一般。
對於能獲大獎,王泰然感謝傳授拍照技巧知識的施盈廷老師,將來也會繼續鑽研這個與設計相輔相成的嗜好。
〔自由時報記者陳炳宏/台北報導〕
Comments will be moderated. Keep comments relevant to the article. Remarks containing abusive and obscene language, personal attacks of any kind or promotion will be removed and the user banned. Final decision will be at the discretion of the Taipei Times.