There's more to cleaning than meets the eye 清潔專業化 家扶開家事管家班
Everyone knows how to do the cleaning, but how do you get the most out of cleaning equipment and cleaning products? And what's the best method for getting the job done? The Hualien County branch of the Taiwan Fund for Children and Families (TFCF) has designed a special "Happy mothers domestic management course" to provide training for single-parent mothers to gain proficiency in cleaning. The course gives guidance to dozens of single mothers, in order to provide them with some pointers for employment in the future.
Hualien's TFCF says Hualien has a large number of tourist hotels and many single-parent mothers make a living from cleaning, but sweeping away stubborn stains and grime requires not only the right cleaning products and equipment, but also the correct methods. Therefore, the TFCF has invited Tsao Sheng-chao, an expert from the cleaning industry, to take up duties as a lecturer. Tsao has worked in the cleaning industry since 1981 and has been employed as a cleaner at many famous hotels.
Tsao personally brings a multitude of products to his lectures and explains how each range of products is used. Taking glass as an example, Tsao says many people believe a simple wipe is fine, but mistakenly use a cleaning cloth which may make the glass more dirty the more it is wiped. Tsao says cleaning appears simple but in fact every process requires its own technique. One often sees a black ring around hotel lavatories — this is not dirt, but is caused by the incorrect use of cleaning products, says Tsao, and demonstrates the importance of using both the correct product and the correct technique.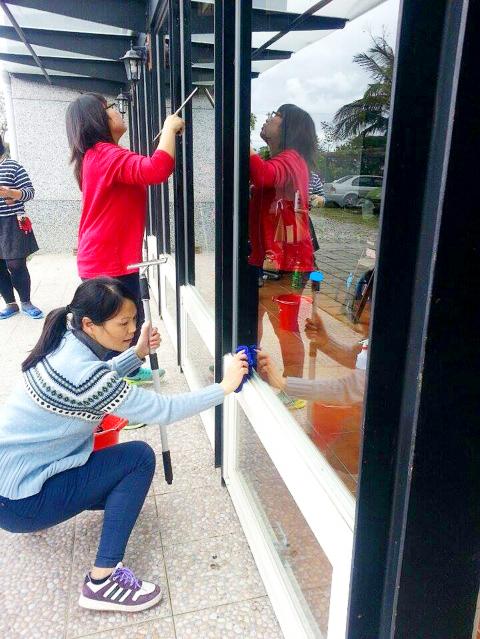 Cleaning students practice cleaning glass windows on March 6 in Hualien County. 清潔班的學生們於三月六日,在花蓮縣練習清洗玻璃窗。
Photo: Wang Chin-yi, Liberty Times
照片:自由時報記者王錦義
(Liberty Times, translated by Edward Jones)
清潔工作人人會,但如何有效運用工具、用品,還需要對的方法。花蓮家扶中心為培訓十多名單親媽媽一技之長,特地開設「幸福媽媽家事管家課程」,為其提供未來就業方向。
花蓮家扶指出,花蓮觀光飯店林立,許多單親媽媽以打掃為業,但要讓頑垢的髒汙一掃而空,除適當的清潔品及工具,還需要對的方法。因此邀請清潔業達人曹勝兆擔任講師,他自一九八一年即投入該行業,承接多加知名飯店清潔工作。
曹勝兆親自準備眾多用品,介紹各種品項的使用,他以玻璃為例,許多人認為簡單好擦拭,但錯誤的拿抹布,很可能會導致愈擦愈髒。他說,清潔工作看似簡單,但每一項都具技巧,常看到飯店廁所有一條黑汙,這並非髒垢,而是不當清潔品的使用導致,因此用對清潔品及方法很重要。
(自由時報記者王錦義)
Publication Notes
TODAY'S WORDS
今日單字
1. proficiency n. 一技之長 (yi1 ji4 zhi1 chang2) 例: After many years of practice, John gained proficiency in written Chinese. (經過許多年的練習,中文書寫成為了約翰一技之長。) 2. sweep away v. phr. 一掃而空 (yi1 sao3 er2 kong1) 例: Travel and a change of scene is an excellent way to sweep away melancholy thoughts. (藉由旅遊轉換環境是能把憂愁一掃而空的好方法。) 3. technique n. 技巧 (ji4 qiao3) 例: It takes years of training to master the techniques required to sing Beijing opera. (要掌握京劇的歌唱技巧,需要多年的訓練。)
Comments will be moderated. Keep comments relevant to the article. Remarks containing abusive and obscene language, personal attacks of any kind or promotion will be removed and the user banned. Final decision will be at the discretion of the Taipei Times.