Wang Dan: Taiwan's future more important than school 王丹:台灣的未來比課業重要多了
As final exams approach, so do the elections. National Cheng Kung University professor Lee Jung-shian has posted an article on Facebook, saying, "Dear colleagues, please do your best to allow young students to go home on Thursday and Friday so that they can cast their votes. Allow them this opportunity to use their votes to decide their future. Please, so far as you can, move your classes and final exams on Thursday and Friday to Monday, Tuesday or Wednesday evening. I earnestly urge you to do so."
Netizens responded with zeal, commenting: "I strongly agree!" They also urged the teachers to avoid giving final exams on the afternoon of Jan. 15, so that students can travel back home to vote.
Lee says, young people who are over 18 years old are granted the right to vote in democracies around the globe, except Taiwan, which only allows people aged over 20 to vote. Taiwan has been unfriendly enough to young people, says Lee.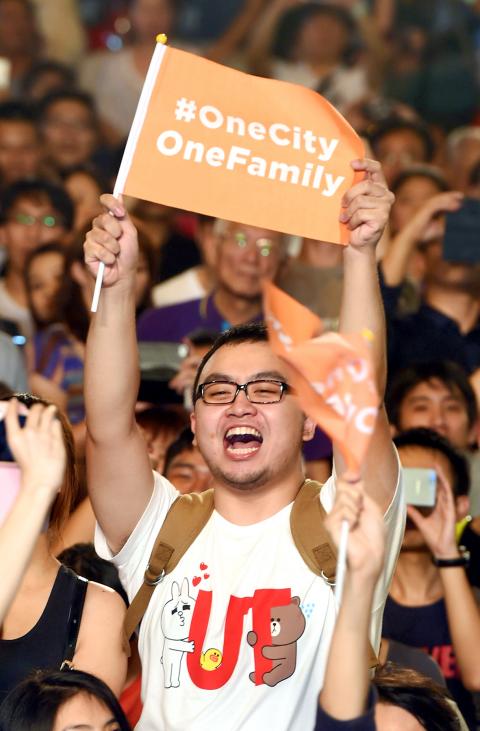 A young man cheers on Nov. 29, 2014 in Taipei as Ko Wen-je wins the Taipei mayoral election. 二○一四年十一月二十九日柯文哲當選台北市長,一名年輕人興奮歡呼。
Photo: Wang Min-wei, Taipei Times
照片:自由時報記者王敏為攝
Shih Hsin University issued an official document, demanding its professors "complete" final exams no sooner than Jan. 15, which has caused the public to wonder if the school is attempting to influence its students' rights to vote. Exiled Chinese democracy activist Wang Dan announced that all of his classes in National Chung Cheng University and National Tsing Hua University will be completed before Jan. 11 and that he will not arrange any exams to be held right after election day. "Allowing first-time voters to vote without worry is very important to Taiwan's future for the next four years, and is more importnat than a week's school," said Wang. "Do you not agree, Mr. Principal of Shih Hsin University?"
Netizens also posted pictures, showing that some professors in National Taiwan University have moved their final exams to an earlier date to make it more convenient for students to go home and vote.
Netizens are urging the public to go home and vote, saying people should not assume that since the chance of winning is high, they do not need to vote. The primary battlefield of this election is in the legislature. Even if the chance of winning is high in some districts, voters have to cast party votes as well. There are also many districts in a tight race. "Chances are that if you go home and vote, you might be able to overturn the result," say netizens.
(Liberty Times, translated by Ethan Zhan)
期末考快到了,選舉也要到了。成大教授李忠憲在臉書發文呼籲:「請各位教授同仁,儘量讓年輕人週四、五可以回家去投票,至少讓他們有一票決定自己未來的機會。週四、五的課程及期末考試儘量移至一、二、三晚上期末考。拜託大家了!」
臉友熱烈迴響,紛紛留言:「大推!大推!」並建議教師期末考避開一月十五日下午時段,以方便學生返鄉投票。
李忠憲表示,世界各民主國家只剩台灣還要二十歲以上才可以投票,其他都十八歲以上就可以;台灣已經對年輕人夠不友善了。
而世新大學發公文要求教授期末考「考好考滿」到一月十五日,遭質疑影響學生投票權。社運人士王丹宣布,他在中正及清大的課程,都會在一月十一日前上完課,並不會安排任何投票日之後的考試。「讓首投族安心投票,關乎台灣未來四年的命運,比區區一週的課業重要多了。」王丹還反問:「你說是不是呢,世新大學的校長先生?」
網友也發佈照片,指出台大已有教授將期末考提前,讓學生能順利返鄉投票。
網友呼籲大家,務必要回去投票,不要以為會贏就不回去投了;這次選舉的主要戰場在國會,選情穩定的地區也還有政黨票要投,並舉出許多選區戰情膠著,「可能回家投票就翻盤了。」
〔自由時報記者洪瑞琴等綜合報導〕
Publication Notes
TODAY'S WORD
今日單字
1. cast one's vote phr. 投票
例: In order to make the final decision, we need you all to cast votes.
(為了做出最後的決定,我們需要所有人投票。)
2. first-time voters phr. 首投族
例: 首投族選舉中扮演關鍵的角色。)
3. in a tight race phr. 戰情膠著
例: Bill and Michael are locked in a tight race in this year's.
(比爾與麥可在今年的立委選舉中戰情膠著。)
Comments will be moderated. Keep comments relevant to the article. Remarks containing abusive and obscene language, personal attacks of any kind or promotion will be removed and the user banned. Final decision will be at the discretion of the Taipei Times.