Big bike ride gives kids a thrill 哈雷騎士送愛 家扶學員體驗飆風快感
On Dec. 12, 30 Harley-Davidson heavy-duty motorcycles assembled at the Taiwan Fund for Children and Families' (TFCF) Yunlin County Hope Center, where the riders shared their big bike experiences with the students and then gave the children a ride along the Provincial Highway 78 East-West Expressway so that they could enjoy the thrill of riding the wind.
Liao Chih-wen, director of the TFCF's Yunlin center, says that the Hope Center provides placements for 21 students. He says the center arranges various kinds of art and craft activities to foster the children's interests, and it encourages the children to take part in walking, hill climbing and road running events so they can have plenty of contact with outsiders, explore new things, absorb other people's life struggles and experiences and become more competitive in the process.
About 30 members of the Harley-Davidson Free Riders' Team and the Yunlin Big Bike Association, coordinated by TFCF committee member Lee Mei-hui, arranged to visit the TFCF in Yunlin and spread some good vibes. When one of the students, "Xiao Lin" (not his real name), heard the rumble of the big bike engines, he said his heart was pounding and he felt really excited.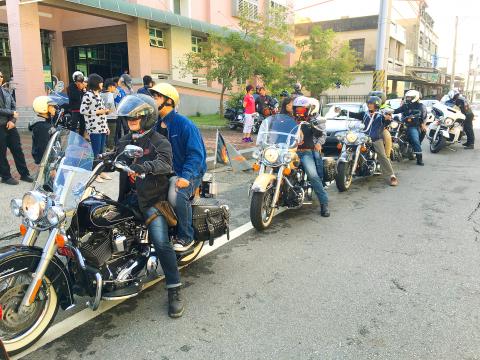 A group of big bike riders take students from the Taiwan Fund for Children and Families' Yunlin County Hope Center for a highway ride on Dec. 12. 一群重機騎士於十二月十二日,搭載雲林家扶希望學員上公路飆風。
Photo: Huang Shu-li, Liberty Times
照片:自由時報記者黃淑莉
Before the ride, the big bike enthusiasts had a sit-down talk with the students, sharing their experiences of setting up businesses, working, everyday living and riding heavy motorbikes. Then they gave the children a ride on the expressway to find out what it feels like to cruise at speed with the wind in your face. For all the students, this was the first time they had ever ridden big bikes. Most of them felt very thrilled, but there were also one or two students who said it was "a bit scary."
(Liberty Times, translated by Julian Clegg)
三十部哈雷重型機車十二月十二日齊聚在雲林家扶希望學園,騎士們與學員分享騎重機的經驗,也搭載孩子上台七十八線東西快速道路,享受飆風的快感。
家扶中心主任廖志文表示,希望學園現安置二十一名學員,學園安排各項才藝課程讓孩子能培養興趣,也鼓勵孩子參加健行、登山、路跑,與外界多接觸、多探索、多吸取他們的人生奮鬥經歷,提昇自己的競爭能力。
哈雷自由騎士車隊、雲林重機協會約三十位成員,在家扶委員李美惠居中牽線下,相約到雲林家扶送愛,聽到重機轟隆隆的引擎聲,學員「小林」(化名)說,心臟也跟著碰碰跳,好興奮。
重機車友先與學員座談,分享創業、工作、人生和騎重機的經驗,並搭載孩子上快速道路體驗飆速、飆風的感覺。每位學員都是第一次搭乘重機,多數人覺得好刺激,但也有學員說,「有點恐佈!」
(自由時報記者黃淑莉)
Publication Notes
TODAY'S WORDS
今日單字
1. rumble n. 轟隆隆 (hong1 long2 long2) 例: When the fox heard the rumble of horses' hooves, it ran away. (狐狸聽到轟隆隆的馬蹄聲就逃跑了。) 2. thrilled adj. 刺激;興奮 (ci4 ji1, xing4 fen4) 例: Jenny was thrilled to see her favorite idol. (珍妮看到最喜歡的偶像而感到興奮。) 3. scary adj. 恐佈 (kong3 bu4) 例: Why did you take me to see such a scary movie? (你為什麼帶我去看那麼恐怖的電影?)
Comments will be moderated. Keep comments relevant to the article. Remarks containing abusive and obscene language, personal attacks of any kind or promotion will be removed and the user banned. Final decision will be at the discretion of the Taipei Times.