Suspected clothes thief blames it on stress
工作壓力大? 電子工程師變偷衣賊
Recently there have been a succession of thefts of outer garment from department stores in Taipei's Xinyi District, including one outer garment of high-end brand name worth almost NT$50,000. Police consulted CCTV footage and homed in on a 36-year-old male, surnamed Chiu, as being implicated in the cases. When police headed to Chiu's house to find him, he was not at home. Little could they have imagined that a person who was seen pacing up and down outside the police station in a suspicious manner in the middle of the night later that very day would, following questioning, turn out to be none other than Chiu.
Chiu said that when he found out that the police had come knocking on his door, he became worried that his family would discover that he had been stealing things, and that was why he decided to go to the police of his own accord and turn himself in.
The police discovered that the suspect, Chiu, would pretend that he wanted to make a purchase, but when the shop assistant wasn't looking, he would hide the item of clothing under his armpit or stuff it into his bag. Then Chiu would, allegedly, secretly take the item out of the shop, believing no one would be the wiser. Chiu, who lives on Fude Street close to the Xinyi commercial district, and describes himself as an engineer within an electronics company, says he carried out the thefts due to work-related stress. Chiu says he put all the stolen clothes he is accused of stealing in his home and has not sold them on.
(Liberty Times, Translated by Edward Jones)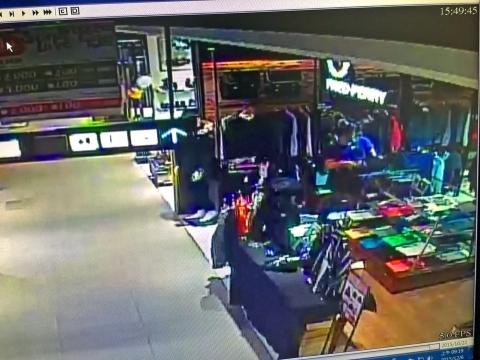 Chiu is captured on CCTV pretending to buy clothes at a department store in Taipei's Xinyi District in an undated photo. 邱男在台北市信義區某家百貨公司被監視器拍到正在佯裝買衣。
Photo: Yao Yueh-hung, Liberty Times
照片:自由時報記者姚岳宏
近來台北市信義區百貨公司連續發生多起外套遭竊案,其中不乏近五萬元的高檔名牌外套被偷,警方調閱監視器,鎖定三十六歲邱姓男子涉案,前往他家尋人時,對方不在家,沒想到當天深夜,竟有人在派出所外徘徊,形跡可疑,當下盤查發現竟是邱男。
他說知警方找上門,怕家人發現自己偷東西,才想要主動上警局投案。
警方查出,邱男都是先假意要購買,卻趁店員不注意時,把外套藏在腋下或塞入包包內偷出來,以為神不知鬼不覺,家就住信義商圈附近福德街的邱男,自稱是電子公司工程師,表示因工作生活壓力大,才會行竊,偷來衣物都放在家裡,並無變賣。
(自由時報記者姚岳宏)
Publication Notes
TODAY'S WORDS
今日單字
1. pace up and down phr.
徘徊 (pai2 huai2)
例: She paced up and down the corridor for a full five minutes before coming to a decision.
(她在走廊徘徊五分鐘才做出決定。)
2. of one's own accord phr.
主動 (zhu3 dong4)
例: Tom is a really good guy, he always helps others of his own accord.
(湯姆人很好,他總會主動幫助別人。)
3. no one will be the wiser phr.
神不知鬼不覺 (shen2 bu4 zhi1 gui3 bu4 jue2)
例: I often used to borrow pens from my colleagues, mistakenly believing that no one would be the wiser.
(我之前常常會借用我同事的筆,錯以為神不知鬼不覺。)
Comments will be moderated. Keep comments relevant to the article. Remarks containing abusive and obscene language, personal attacks of any kind or promotion will be removed and the user banned. Final decision will be at the discretion of the Taipei Times.