This is your military-standard pillow 國軍規格的枕頭
Green Party Taiwan Taoyuan City Councilor Xavier Wang has posted a picture of a dirty pillow on Facebook, saying that it was a military pillow shot by a friend of his when he was serving his short-term reserve training duty at the Armor Training Command And Armor School in Hsinchu County's Hukou Township. The picture has provoked heated discussions among netizens. Having just offered help in a case involving Jian Chih-lung, a rookie soldier in a military police training center in Taoyuan who was infected with Leptospirosis and died as a result of sepsis, Wang asked, "How can rookie soldiers avoid getting sick in an environments of this sanitary standard? What's the matter with the military?"
A netizen commented that, "when I did my military service in the past it was this filthy." Others said that, "Items for the short-term reserve training are kept for years in a warehouse" and that "Filthy is normal. If they give you brand new stuff, then something really is wrong." Someone else asked, "Do you expect to be welcome as if you were at a five star hotel? You are here to fulfill your military duty, not to take a vacation." However, one also said, "Pathetic. So many people take it for granted and think that it is normal for soldiers to use filthy and defective things." They think the public should stop regarding abnormalities as the normal state of affairs and stop taking unreasonable things for granted if they want the military to make improvements.
(Liberty Times, translated by Ethan Zhan)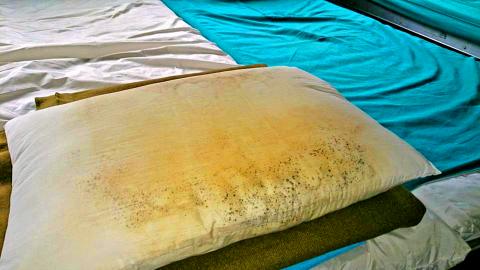 A picture of a filthy military pillow is pictured in an undated photyo on Taoyuan City Councilor Xavier Wang's Facebook. 桃園市議員王浩宇在臉書貼出的國軍髒枕頭的照片。 桃園市議員王浩宇在臉書貼出的國軍髒枕頭的照。
Photo from Xavier Wang's Facebook profile
照片取材自王浩宇臉書
綠黨桃園市議員王浩宇在臉書貼出一張髒枕頭的照片,指出是朋友到新竹湖口裝甲兵學校教召時所拍下的國軍枕頭,引起網友熱議。才剛協助處理桃園市憲兵訓練中心新兵簡志龍感染「細鉤端螺旋體病」導致敗血症不治的案例,他感慨質疑:「如此衛生環境,新兵怎麼可能不生病?國軍,你怎麼了?」
有網友留言「以前當兵都這樣髒髒臭臭的」,「教召的物品都是長年放在倉庫的」, 「有髒兮兮這正常的,全新的給你才有鬼」,「不然要像住五星級飯店歡迎住宿嗎?進來當兵不是進來度假的」。不過也有網友認為「好慘,大家都把軍人使用髒東西、爛東西視為理所當然和正常。」他們認為不應該把不正常視為正常,也不該把不合理視為理所當然,才能夠慢慢地改進讓軍隊更好。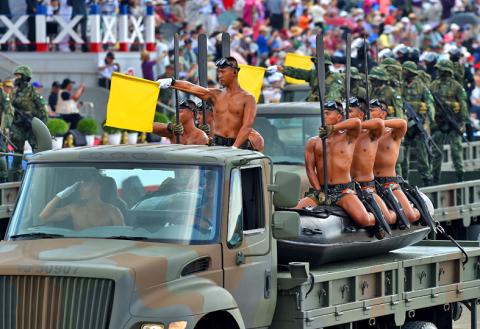 Members of the marine corps display the results of their training on June 23 in Taipei. 海軍陸戰隊隊員六月二十三日於台北展示他們的訓練成果。
Photo: Chien Jung-fong, Taipei Times
照片:自由時報記者簡榮豐攝
(自由時報記者李容萍)
Publication Notes
TODAY'S WORDS
今日單字
1. military police phr. 憲兵 (xian4 bing1) 例: Although this man is a military police officer, he acts like a little family cat when he is at home. (雖然這個傢伙是憲兵,但他在家里簡直就像一隻小家貓一樣。) 2. filthy adj. 髒兮兮 (zang1 xi1 xi1) 例: Your clothes are filthy. Could you clean them please? (你的衣服髒兮兮的,可以請你把它清乾淨嗎?) 3. take a vacation phr. 度假 (du4 jia4) 例: I want to take a vacation to see sumo tournaments in Japan next year. (我好想明年去日本度假看相撲比賽。)
Comments will be moderated. Keep comments relevant to the article. Remarks containing abusive and obscene language, personal attacks of any kind or promotion will be removed and the user banned. Final decision will be at the discretion of the Taipei Times.