Descendents of Hengchun's historic Chang mansion seek its preservation 恆春張家後代爭取保護祖厝
The historic 130-year-old Chang mansion in Hengchun's Beimen area was diligently maintained by a descendent of the family, Chang Wei-chi. Pingtung County Cultural Affairs Department head Wu Chin-fa and many members of the cultural heritage committee went to survey the Chang mansion and were left deeply impressed by the old well and the red tile walls of the house.
The site of the historic Chang mansion at Beimen dates from the Qing Dynasty, and includes the original Qing Dynasty site, the extension built during the Japanese colonial period and the post- retrocession extension. Chang's descendants hope that in the future the post-retrocession part of the building will be demolished and the Qing part and the Japanese colonial era extension will be maintained. They also hope that the cultural vista of the bamboo moat and courtyard doors can be restored, creating the traditional appearance of a Hengchun style house.
Chang pointed out that portions of the site of the mansion overlap with land which is to be re-developed. The ownership of the house was complex, thus it was difficult to maintain it. He said he had the rights from the majority of owners of the house and hoped that the county would recognize it as a historic building as soon as possible.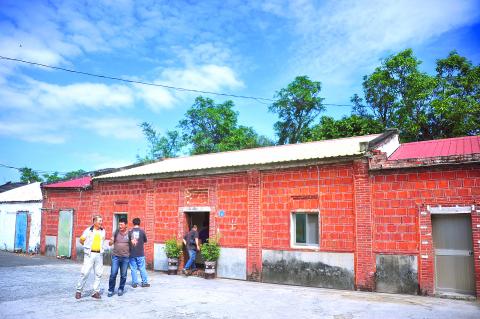 Members of the Pingtung County cultural heritage committee stand outside the Chang mansion in Beimen area on Oct. 30 after finishing their survey. 十月三十日屏東縣文化資產審議委員會人員會勘後站在恆春北門張家祖厝外。
Photo: Tsai Chong-Hsien, Liberty Times
照片:自由時報蔡宗憲
Pingtung County councilor Chang Rong-chih who is also head of the Chang clan said the Chang ancestral house is precious and the spirit displayed by young people returning to their hometown to maintain their property was moving. The older Chang generation were glad of their assistance, said Chang.
After the survey, Wu said that the well, the bamboo moat and the house itself had the beauty of an old mansion, and supported the Chang clan diligently seeking to have the house classified as a historic building. However, he said the cultural assets would still be considered in accordance with the provisions of the cultural heritage committee.
(Liberty Times, translated by Clare Lear)
一百三十多年歷史的恆春北門張家祖厝,經後代子孫張洧齊努力爭取保存,屏東縣文化處長吳錦發及多名文資委員到張家古厝會勘,對古厝的水井、斗子牆印象深刻。
歷史悠久的北門張家古厝包括清朝古厝地、日治擴建部分、光復後擴建部等時期,張家子孫希望未來將拆除光復後擴建部分,保留清朝現址與日治擴建部分,並還原竹塹與門埕之文化景觀,營造恆春傳統民宅風貌。
張洧齊指出,祖厝土地與附近土地重建部分重疊,加上古厝所有權人複雜,保存困難,目前已經取得古厝多數所有權人授權,期待縣府盡快確認為歷史建築。
身兼恆春張氏宗親會理事長的屏東縣議員張榮志說,張氏祖厝相當珍貴,返鄉年輕人保留家鄉資產的精神令人感動,張氏耆老們將鼎力協助這樁美事。
吳錦發會勘後表示,當地的水井、竹塹及建築本體都很有老厝之美,也認同張家子孫爭取為歷史建築的用心,但依規定仍須由文化資產審議委員會審議。
(自由時報記者蔡宗憲)
Publication Notes
TODAY'S WORDS
今日單字
1. descendent n.
後代 (hou4 dai4)
例: The descendents of Eygptians lost the technology for constructing pyramids.
(埃及人後代失去了構建金字塔的技術。)
2. demolish v.
拆除 (chai1 chu2)
例: To earn money construction companies must demolish people's old houses and build luxury apartments.
(為了賺錢,建築公司必須拆除民眾的老房子建造豪宅。)
3. diligently adv.
用心 (yong4 xin1)
例: She diligently stretched her ligaments to achieve a 180 degree leg extension.
(她用心拉韌帶,為了成功雙腿開展180度延伸。)
Comments will be moderated. Keep comments relevant to the article. Remarks containing abusive and obscene language, personal attacks of any kind or promotion will be removed and the user banned. Final decision will be at the discretion of the Taipei Times.