Taiwan may have half the world's megamouth sharks 全球半數以上巨口鯊 以台灣海域為家
A report published a few days ago says that the sea southeast of Taiwan may be a birthplace of whale sharks, but, apart from whale sharks, another super-rare kind of shark is present in the seas around Taiwan, namely the megamouth shark, of which only 107 specimens have been found in the whole world up to now. Of these, 40 have been discovered around the coast of Taiwan's Hualien and Taitung counties, so that even researchers from other countries come to Taiwan to chase sharks.
According to the report in the United Daily News, Hsu Hua-hsun, a post-doctoral researcher at National Taiwan Ocean University's shark sustainability research center, says that a megamouth sharks' external appearance resembles a "giant tadpole," and they can exceed seven meters in length. Because they are very rare, there is very little research data about them worldwide concerning things like how fast megamouth sharks grow and how many young they carry.
Hsu says that the places where megamouth sharks are most frequently caught internationally include the vicinities of Japan, the Philippines and other East Asian archipelagoes, but fewer are found there than in the Hualien and Taitung region. From this it can be seen that the sea off Taiwan's east coast is the main region in which megamouth sharks exist. Hsu suggests that the reasons why the seas adjacent to Hualien and Taitung are an important habitat for megamouth sharks may involve factors of terrain and ocean currents. At present, most of the megamouth sharks caught around Taiwan have been young ones. Conservation groups call on fisheries to include megamouth sharks on the list of species that humans are forbidden to catch, so that they can live happily around Taiwan.
(Liberty Times, translated by Julian Clegg)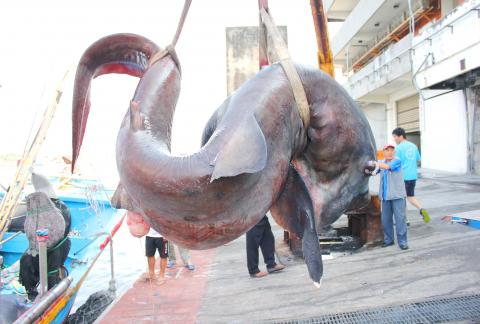 Fishermen unload a megamouth shark at a quay in Hualien on May 8, 2012. 二○一二年五月八日,漁民在花蓮碼頭卸下一條巨口鯊。
Photo: Yu Tai-lang, Liberty Times
照片:自由時報記者游太郎
日前有報導指出,台灣東南海域可能是鯨鯊誕生地,但除了鯨鯊,台灣周遭海域還有一種超罕見鯊魚,就是目前全球僅發現一百零七條的巨口鯊;其中有四十條是在台灣花東海岸發現,連國外學者都來到台灣追鯊。
《聯合報》報導,國立台灣海洋大學鯊魚永續研究中心博士徐華遜指出,巨口鯊外形像「巨大蝌蚪」,體長可超過七公尺;由於相當罕見,全球研究資料十分稀少,像是巨口鯊的生長速度、胎數皆成謎。
徐華遜表示,國際間以日本、菲律賓等東亞群島附近最常捕獲巨口鯊,但仍少於花東,可見台灣東部海域是巨口鯊主要生存區。徐華遜推測,花東海域之所以為巨口鯊重要棲地,可能是因為地形、洋流因素。目前台灣捕獲的巨口鯊多數是幼鯊,保育團體呼籲漁業署將巨口鯊列入禁捕名單,讓牠們快樂的住在台灣。
(自由時報)
Publication Notes
TODAY'S WORDS
今日單字
1. namely adv.
就是 (jiu4 shi4)
例: Two members of our team have been slacking off, namely Peter and Marjory.
(我們小組中有兩個人最近工作很懶散,就是彼得和瑪喬麗。)
2. tadpole n.
蝌蚪 (ke1 dou3)
例: Tadpoles grow hind legs first, then forelegs.
(蝌蚪先長後腿再長前腿。)
3. vicinity n.
附近 (fu4 jin4)
例: There are several convenience stores in the vicinity.
(這附近有幾家便利商店。)
Comments will be moderated. Keep comments relevant to the article. Remarks containing abusive and obscene language, personal attacks of any kind or promotion will be removed and the user banned. Final decision will be at the discretion of the Taipei Times.