Paris "wee-wee ladies" rise up in protest 巴黎「尿尿女士」群起抗議
For a month now, 11 public toilet attendants in Paris have staged daily protests in the tourist haven of Montmartre after they were laid off by managers who want to transform their workplaces into trendy "boutique restrooms."
"They want to create luxury stores and say we don't have the profile they're looking for, they want us to speak several languages," says Mahliya Fiokouna, one of the protesting "dames pipi," or "wee-wee ladies" as they are known in France.
For seven years, Fiokouna has been cleaning toilets in popular tourist sites in the French capital such as the Sacre-Coeur basilica perched on a hill in Montmartre, the Notre-Dame cathedral and the Place de l'Etoile at the top of the upmarket Champs-Elysees avenue. At 45, she is the youngest of the protesters, a majority of whom are around 60 and have been working as toilet attendants for decades, but they were all laid off in July when Dutch company 2theloo took on a handful of toilets that had until then been managed by a French firm.
(AFP)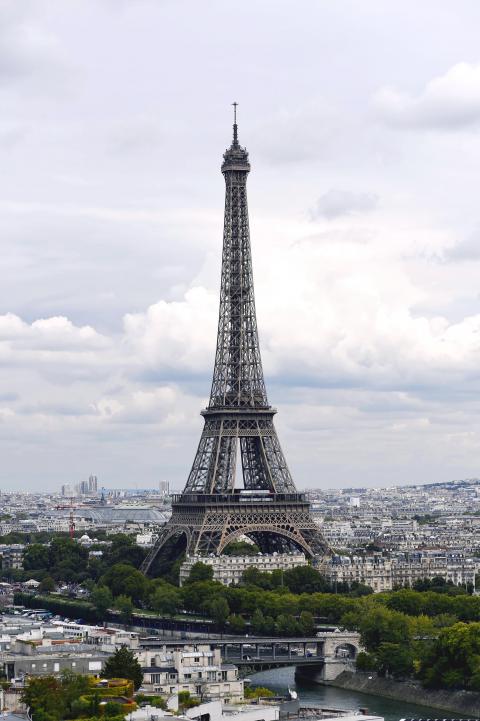 A file picture taken on Sept. 4 in Paris shows the Eiffel tower. 九月四日拍攝的巴黎鐵塔資料照。
Photo: AFP
照片:法新社
一個月來,十一名巴黎的廁所清潔員自從被解僱後,天天都在蒙馬特這個旅遊聖地示威抗議。起因於他們的經理打算將這些廁所改造成新潮的「精品廁所」。
「他們想要打造高級商店,說我們的條件不符需求,要我們能說各種語言。」瑪莉亞菲歐庫娜表示。她是參與示威的其中一名清潔員。法國人稱呼他們為「小號小姐」或「尿尿女士」。
七年來,菲歐庫娜一直都在法國首都的幾個知名景點打掃廁所,譬如蒙馬特丘上的聖心堂、聖母院、還有星辰廣場,而星辰廣場所在的位置就是那個精品店充斥的香榭麗舍大道。她今年四十五歲了,是示威清潔員裡年紀最小的;裡面大多數的人都已屆耳順之年,且在各大盥洗室服務長達十多年的歷史。然而七月時,荷蘭商「2theloo」從原本負責經營管理的法國公司那邊接手了數間廁所,她們就被解僱了。
(法新社/翻譯:自由時報國際新聞中心)
Publication Notes
TODAY'S WORDS
今日單字
1. tourist haven n.
旅遊勝地 (lu3 you2 sheng4 di4)
例: Alishan and Sun Moon Lake are two of Taiwan's best-known tourist havens.
(阿里山和日月潭是台灣最負盛名的兩個旅遊勝地。)
2. lay off v. phr.
解僱 (jie3 gu4)
例: The recent economic crisis has led to many staff being laid off.
(最近的經濟危機導致大批員工被解僱。)
3. capital n.
首都 (shou3 du1)
例: Manila is the capital of the Philippines.
(馬尼拉是菲律賓的首都。)
Comments will be moderated. Keep comments relevant to the article. Remarks containing abusive and obscene language, personal attacks of any kind or promotion will be removed and the user banned. Final decision will be at the discretion of the Taipei Times.