A stranger in need 尋找軍中貴人
"Were it not for the hunchbacked seasoned soldier who phoned my family in the middle of the night, I could not have lived to this day," says Hsueh Chao-chi, former chief of staff in then-Kaohsiung mayor Yeh Chu-lan's administration. Hsueh hopes that he can find his savior from his army days and express his gratitude to him with NT$1 million.
Hsueh, who is 48 years old, says that as he reached middle age and reflected on his past years, he felt especially strongly about the nice things that have happened in his life, which could not have been possible without a phone call placed 23 years ago.
It was in the fall of 1992 that Hsueh was chosen to be dispatched to a special forces unit in Penghu, where he endured special rookie drills and, as a result, suffered multiple symptoms, including hematuria. He was then sent to a military clinic, where he lay on a bed, dying.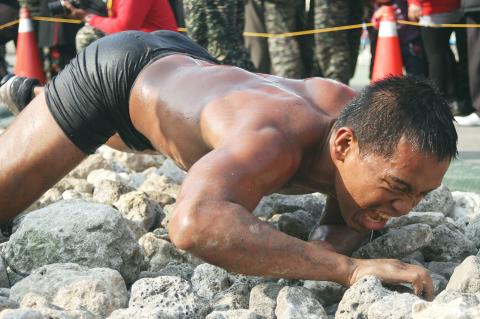 A soldier crawls over rocks under the baking sun during a military training drill on Dec. 30 last year in Kaohsiung. 軍事特訓中,軍人頂著艷陽在岩石上匍匐前進。攝於去年十二月三十日,高雄。
Photo: Tsai Ching-hua, Liberty Times
照片:自由時報記者蔡清華
He faintly recalls that in his most helpless hours a seasoned soldier came to his side, speaking to him in Hoklo, "Give me a phone number. I assure you I will make the call. If your family cannot save you from the military, you will most certainly draw your last breath here."
The man went on, "You see, as hunchbacked as I am, I am still required to complete my military service until the last day. I am about to be discharged, so I have nothing to lose. I assure you I will make the phone call for you."
A few days later, in the middle of the night, Hsueh's family received the call. They spared no effort throughout the night to try to save Hsueh's life. At last he was sent back to Taipei and treated in the Tri-Service General Hospital. The diagnosis confirmed that it was an acute kidney injury. Had treatment been delayed any further, Hsueh's condition would have become incurable.
Hsueh's father kept this matter in mind and frequently reminded his son that he must remember to thank this man. Despite trying various avenues to search for his savior, however, Hsueh's efforts were still in vain.
He conjectures that his savior was probably discharged in September or October 1992, that he was possibly two years older than himself and might have suffered from injuries that made him hunchbacked. Hsueh says bluntly that if his savior had not placed the phone call at his own risk, he could not have had the life he has now. He is very concerned about the life his savior is leading and will willingly give him NT$1 million as a token of his gratitude. He would like to thank the man's family too, if he has one.
If you know this savior or are the savior yourself, please contact Hsueh via his Facebook account.
(Liberty Times, translated by Ethan Zhan)
「如果不是『駝背老兵』半夜打電話給我家人,我不可能活到現在!」前高雄市長葉菊蘭辦公室主任薛兆基希望找到當兵時的救命恩人,並願以一百萬元答謝。
今年四十八歲的薛兆基說,人到中年,回顧過往,對於眼前幸福感受特別深刻,一切關鍵則是廿三年前的一通電話。
一九九二年秋天,薛兆基被選兵到澎湖某特種部隊,結果遭遇菜鳥特訓,出現血尿等諸多症狀,人被丟到部隊診間,躺在床上奄奄一息。
他依稀記得在最無助時刻,有位老鳥走近身旁,以台語對他說:「把電話告訴我,我一定幫你打出去。你家人要是無法到部隊救你,你一定會死在這邊。」
對方還說:「你看我背都彎成這樣,也是要當兵到退伍。我就快退伍了,什麼都不怕,一定幫你打電話。」
幾天後的半夜,薛家接到求救電話,連夜動員救人,把薛兆基接回台北三軍總醫院。診療後確定是急性腎衰竭,再慢就難以挽回了。
薛父將此事銘記在心,頻頻提醒兒子一定要報恩。薛兆基數度透過管道找尋恩人,卻都無下文。
他推算恩人大概在一九九二年九月或十月退伍,可能比他大兩歲,身體應受過傷才會駝背。薛兆基直言,若不是恩人冒險打電話,不可能有現在的一切。他很掛念恩人現在的生活,願拿一百萬元酬謝;如果對方有家庭,也要向其家人致謝。
若您知道關於這位恩人的消息,或如您本人即是這位恩人,請上薛兆基的臉書與他聯絡。
〔自由時報記者王榮祥〕
Publication Notes
TODAY'S WORDS
今日單字
1. draw (one's) last breath phr. 死;香消玉殞 (si3; xiang1 xiao1 yu4 yun3) 例: After his girlfriend drew her last breath, he cried for a month. (他在女友香消玉殞之後,整整哭了一個月。) 2. conjecture v. 推算 (tui1 suan4) 例: Love cannot be conjectured, but only experienced. (愛情是無法推算的,只能體驗。) 3. as a token of (one's) gratitude phr. 拿…酬謝;表示謝意 (na2 … chou2 xie4; biao3 shi4 xie4 yi4) 例: Jack offered to be Bob's tour guide in Taipei as a token of his gratitude. (傑克願意當鮑勃的台北嚮導以對他表示謝意。)
Comments will be moderated. Keep comments relevant to the article. Remarks containing abusive and obscene language, personal attacks of any kind or promotion will be removed and the user banned. Final decision will be at the discretion of the Taipei Times.