Insurance tips in case of dengue fever 染患登革熱 保險理賠秘訣報你知
As this year moved into summer, indigenous dengue fever started to wreak havoc. According to the latest statistics from the Centers for Disease Control (CDC), since May there have been over 6,200 cases of the illness and 31 deaths suspected to have been caused by dengue fever. Given the situation, Taiwanese people cannot help but panic. Many people want to know whether they can claim insurance if they become infected with dengue fever. An industry representative says that if you are so unfortunate as to be infected, there are some insurance claim tips worthy of attention.
Fubon Life reminds the public that, first of all, because the CDC has designated dengue fever as a second-category notifiable infectious disease, if people are unfortunately infected and hospitalized they can claim payments from their medical insurance. If a patient has the old kind of health insurance policy whose terms exclude liability for notifiable infectious diseases, the insurer may handle the claim leniently and make payments according to the contractual terms originally agreed for each item of liability, offering provision for medical care in hospital, so that policyholders can receive treatment without worry. Furthermore, if someone dies due to dengue fever, it can be covered by a payment from their life insurance.
People would also like to know whether they can claim accident insurance if they are bitten by a dengue vector mosquito. Fubon Life says that since dengue fever is a notifiable infectious disease and accident insurance applies to accidents arising from external causes other than illness, no such claim can be made in such cases.
(Liberty Times, translated by Clare Lear)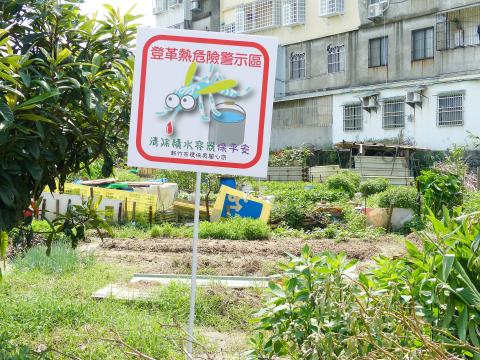 A notice displayed in Hsinchu on Sept. 8 warns that vessels containing water may allow dengue-carrying mosquitoes to breed. 新竹的一個告示牌警告民眾,積水容器可能滋生病媒蚊。攝於九月八日。
Photo: Hung Mei-hsiu, Liberty Times
照片:自由時報記者洪美秀
今年入夏本土登革熱肆虐,根據疾管署最新統計,今年五月至今已破六千二百例,而疑似因登革熱死亡病例有三十一例,讓台灣民眾不免感到恐慌,想了解感染登革熱是否能獲得相關保險理賠?業者說,若不幸感染,有幾個保險理賠秘訣要留意。
富邦人壽提醒,首先,因疾管署將登革熱列為第二類法定傳染病,若不幸感染住院,醫療險是可以理賠的,但若民眾投保的「醫療險」是早期有將法定傳染病列為除外責任的,業者將從寬理賠,依契約條款各項原定給付項目約定負保險責任,提供住院醫療保障,讓保戶安心接受治療。再者,若因染登革熱而身故,「壽險」也可以給付。
另外,民眾想知道若被病媒蚊叮咬導致登革熱,可否申請「意外傷害險」理賠?富邦人壽指出,由於登革熱屬「法定傳染病」,而「意外傷害險」是針對「非疾病引起的外來突發事故」,因此無法理賠。
(自由時報記者廖千瑩)
Publication Notes
TODAY'S WORDS
今日單字
1. indigenous adj.
本土 (ben2 tu3)
例: Indigenous species are under pressure from foreign species
(本土物種受到外來物種的壓力。)
2. cannot help but v. phr.
不免;忍不住
(bu4 mian3; ren3 bu2 zhu4)
例: When I see a big spider I cannot help but panic.
(看到大蜘蛛,我忍不住恐慌起來。)
3. if ... due to phr.
若因…而 (ruo4 yin1... er2)
例: If you fail to graduate from university due to poor exam results, it would be a pity .
(若因考試成績太差而無法畢業,是很可惜的。)
Comments will be moderated. Keep comments relevant to the article. Remarks containing abusive and obscene language, personal attacks of any kind or promotion will be removed and the user banned. Final decision will be at the discretion of the Taipei Times.