Jobless pair convicted for selling government land 缺錢缺很大 他們竟連公有地都拿來賣
The year before last, a woman surnamed Lin and a man surnamed Chang in New Taipei City were short of money, so they dishonestly claimed to have ownership of a plot of Aboriginal reserve land, further claiming that it was in an advantageous location that was suitable for commercial use. In this way, they succeeded in defrauding a buyer surnamed Wu of a deposit of NT$100,000.
Lin and Chang, who were both unemployed with no income, knew perfectly well that the plot of land next to Sinwu Road in Sindian District was state-owned land reserved for use by Aborigines and that the Aborigine surnamed Ruan who had ownership of any buildings on the land had no intention of selling them. In spite of this, in May of the year before last, they stealthily mounted a for-sale sign outside the door of the house that attracted the buyer surnamed Wu to come forward and negotiate.
When Lin and Chang saw that they had hooked a big fish, they not only claimed to have property rights to the house and land, but also boasted about how well built the house was and how suitable the location was for doing business. Finding it hard to resist the pair's persuasive sales pitch, Wu forked out NT$100,000 on the spot to pay the deposit.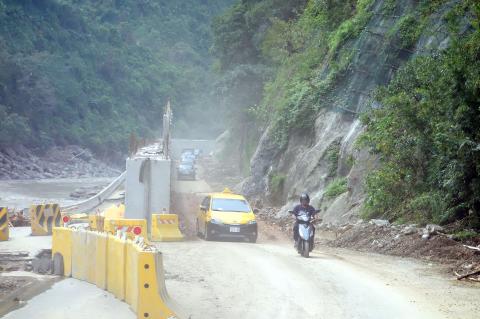 Vehicles raise dust as they drive along a typhoon-damaged section of Sinwu Road in New Taipei City on Aug. 12. 車輛八月十二日經過新北市新烏路在颱風中受創的路段而捲起沙塵。
Photo: Chiang Hsiang, Liberty Times
照片:自由時報記者姜翔
Later, when chatting with friends, Wu heard that a for-sale board had once more been set up on the site, upon which he went there to check. Only then did Wu realize that he had been tricked, and he angrily took Lin and Chang to court. Following a trial at the Taipei District Court, the judges found that both Lin and Chang had no income and that they had reached a settlement with the buyer. On July 28 the court sentenced each of the two defendants to three months imprisonment suspended for two years, with leave to appeal.
(Liberty Times, translated by Julian Clegg)
新北市林姓女子與張姓男子,因缺錢花用,前年間竟謊稱擁有新店區一處國有原住民保留地的所有權,並強調該處地段優、適合經商,藉此向一名吳姓買家詐得十萬元訂金。
失業、無收入的林女與張男,明知新店區新烏路旁一塊土地是國有的原住民保留地,擁有地上建物所有權的阮姓原住民也無意賣掉屋子,卻於前年五月間私自在房屋門外張貼出售廣告,吸引吳姓買家前來商談。
林、張兩人見大魚上鉤,不僅自稱擁有房屋及土地的產權,更極力鼓吹該處房子堅固、地段適合做生意,在兩人的慫恿下,吳姓買家果然難以抗拒,當場掏出十萬元支付訂金。
吳姓買家後來與朋友聊天時,聽聞該處又再度貼出出售廣告,前往確認後才得知受騙,氣得向林、張兩人提告。台北地院審理後,審酌林、張兩人均無收入,且已與買家達成和解,七月二十八日判兩人各三個月徒刑,緩刑兩年,仍可上訴。
(自由時報記者黃欣柏)
Publication Notes
TODAY'S WORDS
今日單字
1. short of phr.
缺 (que1)
例: I was short of cash so I sold some shares.
(我缺現金,所以拿出一些股票來賣。)
2. have no intention of phr.
無意 (wu2 yi4)
例: I have no intention of getting married before I turn 30.
(我無意在三十歲以前結婚。)
3. fork out phr.
掏出 (tao1 chu1)
例: Sandra forked out several hundred US dollars to buy a fancy handbag.
(珊卓掏出幾百塊美金來買一個時髦的手提包。)
Comments will be moderated. Keep comments relevant to the article. Remarks containing abusive and obscene language, personal attacks of any kind or promotion will be removed and the user banned. Final decision will be at the discretion of the Taipei Times.