Much ado about biking 租借單車釀衝突 男大生與婦人互毆
At about 10:00pm on the evening of May 18, a male college student surnamed Lin was standing in line outside Exit Four of National Taiwan University Hospital MRT Station, waiting to hire a YouBike. After a member of the public returned a bicycle, Lin went forward to take it. At the same time, a woman surnamed Yang scurried up beside him and, without consulting Lin, moved in front to take the bicycle. Feeling perturbed, Lin rushed forward to swipe his EasyCard. As Lin was preparing to take the bike out and leave, Yang placed some items she was carrying into the bike's front basket. Lin angrily admonished Yang, saying: "You didn't wait in line." They then traded blows, after which they each reported the incident to the police, with Yang accusing Lin of damaging her mobile phone and Lin accusing Yang of injuring his left forearm.
The Taipei District Protectors' Office summoned both parties to court. Lin expressed his desire that the matter could be resolved peacefully and, as a gesture of goodwill, dropped his complaint. Seeing that Lin did not wish to pursue his charges, Yang said she was willing to forgive the young man, and she too withdrew her complaint. In view of this, prosecutors did not indict either of them.
(Liberty Times, translated by Edward Jones)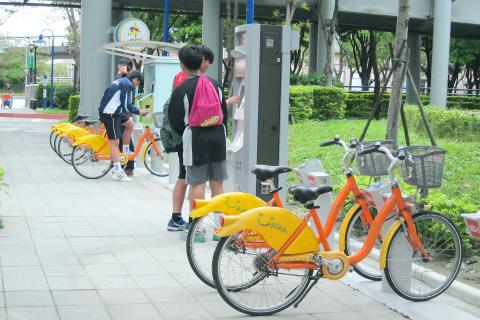 Teenagers use a YouBike rental station in New Taipei City on Aug. 7. 青少年八月七日在新北市使用YouBike微笑單車租借站。
Photo: He Yu-hua, Liberty Times
照片:自由時報記者何玉華
五月十八日晚間十時許,林男大生在台大醫院捷運站四號出口外排隊,準備租借YouBike微笑單車,一位民眾還車後,林男上前牽車,此時卻有一名楊姓婦人從他身旁竄出,逕自上前牽車,林男不滿搶先刷卡,準備牽車離去,楊婦卻將隨身物品放進腳踏車前置物籃,林男不滿大罵:「妳沒排隊。」雙方大打出手,兩人報案後,楊婦指控林男扯壞她手機,林男則稱楊婦打傷他左前臂。
台北地檢署傳喚兩人開庭,林男盼此事和平落幕,主動釋出善意,對楊婦撤回告訴,楊婦見對方不追究,也表示願意原諒年輕人,也撤回告訴,檢察官因而將兩人不起訴。
(自由時報記者謝君臨)
Publication Notes
TODAY'S WORDS
今日單字
1. rush v. 搶先 (qiang3 xian1)
例: People often rush to buy up food before a typhoon hits.
(颱風來襲前,民眾通常會搶先買食物。)
2. admonish v. 大罵 (da4 ma4)
例: Peter was admonished by his wife for forgetting her birthday yet again.
(彼得又忘記妻子的生日而被大罵了。)
3. trade blows v. phr. 大打出手 (da4 da3 chu1 shou3)
例: The couple traded blows after disagreeing on which movie to see.
(夫妻對於看哪一部電影意見不一致就大打出手。)
Comments will be moderated. Keep comments relevant to the article. Remarks containing abusive and obscene language, personal attacks of any kind or promotion will be removed and the user banned. Final decision will be at the discretion of the Taipei Times.