Teaching French cooking in an Atayal village 泰雅部落中傳授法式料理
French chef Guillaume Brissaud has stayed in Taiwan for eight years and married a Taiwanese woman. He sees Taiwan as his second home and runs a French restaurant in New Taipei City's Sindian District. At the invitation of the Taiwan Fund for Children and Families, Brissaud visits Tranan Village in Wulai District every month to teach French cuisine to youngsters interested in cooking, by which he hopes that he can help disadvantaged youngsters living in remote areas to realize their dreams.
Lin Chih-yu, a social worker at the fund, said Brissaud used to be an English teacher, but last year he discussed with his wife about changing career paths by making use of the French cuisine that he had learned since childhood to open a French specialty restaurant by Sindian's Yanzih Lake. Brissaud enjoys sharing his cuisine with others. Moreover, he has a great curiosity about Taiwan's aboriginal culture, and he hopes that while teaching cooking skills he can obtain a deeper understanding of Aboriginal life.
The fund set up a branch in Tranan Village years ago. Tranan is in a remote mountainous area of Wulai, and three buses daily are the only way to get in and out of the village. Most adults go to Taipei to work, and some disadvantaged children have to do part-time jobs in the city to support their families. In view of this, the fund invites professionals from various fields to teach practical skills in the village, thereby giving Atayal youngsters a chance for the future.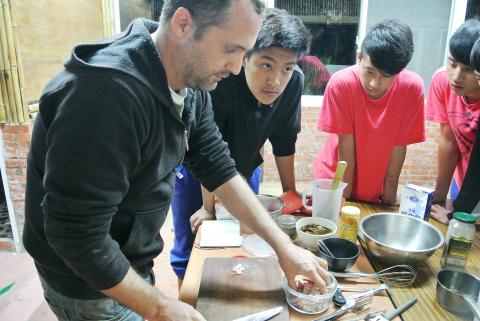 Atayal teenagers watch as Guillaume Brissaud, left, demonstrates French cooking techniques in New Taipei City's Wulai District in an undated photo. 泰雅族青少年看著法籍廚師阿勇(左)示範法國料理。攝於新北市烏來區,拍攝日期不明。
Photo courtesy of the Taiwan Fund for Children and Families
圖由台灣兒童暨家庭扶助基金會提供
Lin said the fund will help them open a small shop for teeangers in the village where they can sell food and Atayal handicrafts. As a result, children will once again see possibilities for the future and build up their confidence to pursue their dreams.
(Liberty Times, translated by Ethan Zhan)
法國籍廚師阿勇(Guillaume Brissaud)來台八年,娶了台灣太太,把台灣當成第二個家鄉。他在新北市新店區經營法國廚房,受家扶基金會的邀請,每個月到烏來區福山部落教導對廚藝有興趣的青少年法式料理,希望幫助偏鄉弱勢青少年實現夢想。
家扶中心社工師林芷?說,阿勇原本在台灣擔任英語老師,去年和太太商量轉換職場跑道,用自己從小學到的法式料理,在新店區燕子湖旁經營法國私房菜餐廳,也樂於將自身所會的料理分享給他人。加上他對台灣原住民文化充滿好奇,希望能藉著傳授廚藝的機會,深入了解原住民的生活。
Atayal children from Yilan's Nanao Township perform traditional Atayal dance on September 14 last year in Taipei. 宜蘭南澳鄉的泰雅族小朋友去年九月十四日在台北表演傳統泰雅舞蹈。
Photo: Liao Chen-huei, Taipei Times
照片:自由時報記者廖振輝
家扶中心在福山部落成立工作站多年,福山部落位於烏來深山,對外聯絡靠每天三個班次的客運,部落裡成年人多外出台北工作;有些弱勢家庭子女,還得外出打工協助家計。因此家扶中心希望邀請各領域的專業人士,來福山傳授實用技藝,開展當地泰雅族青少年的未來機會。
林芷?說,家扶將協助他們在部落裡開間屬於青少年的小店,店裡可以賣餐點、泰雅文化手工藝品,讓這群孩子重新看見未來可能性,築起他們追夢的信心。
(自由時報記者翁聿煌)
Publication Notes
TODAY'S WORDS
今日單字
1. at the invitation of phr. 受…的邀請 (shou4…de1 yao1 qing3) 例: He danced with the villagers at the invitation of the village leader. (他受部落領袖的邀請與族人共舞。) 2. have a great curiosity about phr. 對…充滿好奇 (dui4…chong1 man3 hao4 qi2) 例: She has a great curiosity about how airplanes work. (她對飛機的運作充滿好奇。) 3. obtain a deeper understanding phr. 深入了解 (shen1 ru4 liao2 jie3) 例: What should I do to obtain a deeper understanding of your love? (我該怎麼做才能深入了解你的愛?)
Comments will be moderated. Keep comments relevant to the article. Remarks containing abusive and obscene language, personal attacks of any kind or promotion will be removed and the user banned. Final decision will be at the discretion of the Taipei Times.