Charity food cart circles Taiwan 胖卡環島送愛 家扶兒喜嚐冰淇淋
Two guys, who were not originally acquainted, teamed up to contribute to society, one selling ice cream and the other selling Mexican burritos at a buy one, get one free deal. When people buy an ice cream or a burrito at their food trucks, they give one away for free to children at the next Taiwan Fund for Children and Families (TFCF) center that the food trucks stop at. Last Sunday morning, children from Taitung's TFCF saw the playful-looking ice cream truck driving up and excitedly shouted "Thank you Mr. Ice and A-chien" and gave them self-made thank-you cards in exchange for ice-cold ice cream cups.
Kao Chien-hua works in Hsinchu and Lin Hsin-chien is a food truck entrepreneur in Taoyuan. Early in the morning on Sunday last week, Kao and Lin departed from Kenting in Pingtung and arrived at Taitung's TFCF at around noon. They immediately parked their food trucks and prepared their ice cream and burritos for the kids.
Kao, who often travels around throwing events in his food truck, said it has been a dream for him to drive around the island. To make an island-wide trip more meaningful, he proposed the idea to his company and won strong support from his boss. He then got in touch with the nearby Hsinchu TFCF. Kao wanted to do something nice for the TFCF kids by giving away one for each ice cream he sold. In other words, he wanted to visit popular attractions and for every ice cream sold, he would give a free ice cream to the kids at the next TFCF on the journey.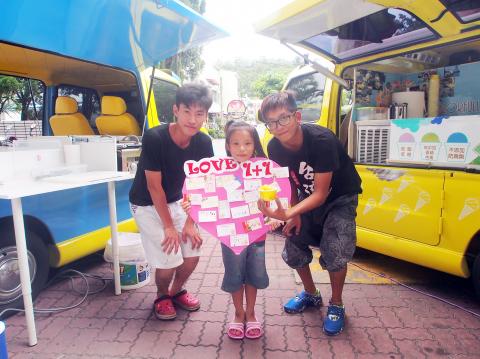 Kao Chien-hua, right, and Lin Hsin-chien, left, stand with a girl holding a thank-you card next to their food trucks at the Taiwan Fund for Children and Families in Taitung County on Sunday last week. 高建華(右)、林信賢(左)與一名手持賀卡的小女孩在他們的的胖卡車旁合影。攝於上週六,台東家扶中心。
Photo: Wang Hsiu-ting, Liberty Times
照片:自由時報記者王秀亭
Kao's companion on the journey around the island, Lin, said he has wanted for a long time to use his food truck for charity, but has been unable to find a method or means. At a food truck gathering, Lin met Kao and the idea struck him that they can achieve more working together, which was when he started to drive his burrito food truck with Kao.
(Liberty Times, translated by Zane Kheir)
兩個原本不相識的人,因為想為社會做點事而湊在一起;一個賣冰淇淋、一個賣墨西哥捲餅,以買一送一的方式,民眾買一個冰淇淋或捲餅,就在下一站的家扶中心相對送出一份給學童享用。上週日上午,台東家扶中心學童看到充滿童趣的冰淇淋胖卡車到來,相當興奮,大喊「冰哥、阿賢,謝謝你!」並送上自繪感謝卡,換一杯冰涼的冰淇淋吃。
在新竹工作的高建華與在桃園以胖卡車創業的林信賢,兩人上週日清晨從屏東墾丁出發,近午抵達台東家扶中心,隨即將兩輛胖卡車就定位,準備要給小朋友享用的冰淇淋與捲餅。
常開胖卡車四處辦活動的高建華表示,環島是夢想,想讓環島更具意義,於是向公司提出這個想法,獲得老闆大力支持,就近向新竹家扶中心聯繫,想以一加一方式送愛給家扶學童,也就是環島至熱門景點,每賣出一球冰淇淋,就會在下個抵達地的家扶中心,送出所賣出的冰淇淋數量給學童享用。
陪著高建華環島的林信賢說,每月一次以胖卡車做公益的想法,存在心中已久,卻苦尋不到方法與管道;一次胖卡車聚會上,認識高建華,心想一起做的力量大,便開著墨西哥捲餅胖卡車一起參加。
(自由時報記者王秀亭)
Publication Notes
TODAY'S WORDS
今日單字
1. acquaint v. 相識 (xiang1 shi4) 例: They got married after only being acquainted for one year. (他們只相識一年就結婚了。) 2. meaningful adj. 具意義,有意義的 (ju4 yi4 yi4, you3 yi4 yi4 de5) 例: A meaningful job is by far more enjoyable. (有意義的工作讓人更能樂在其中。) 3. get in touch v. 聯繫 (lian2 xi4) 例: He decided to get in touch with his friend after many years. (多年之後,他決定與他的朋友聯繫。)
Comments will be moderated. Keep comments relevant to the article. Remarks containing abusive and obscene language, personal attacks of any kind or promotion will be removed and the user banned. Final decision will be at the discretion of the Taipei Times.