NTHU Volunteers To Kenya 清大國際志工團 出發肯亞
International volunteers from National Tsing Hua University (NTHU) are going to the east African nation of Kenya this year for the first time. They will provide services such as assisting with local community construction, information education and cultural exchanges. Knowing that NTHU students are willing to provide service in his home country, Father Mathews Odhiambo Owuor, who came from Kenya to preach in Taiwan, not only provided students with information, but also made this volunteer trip possible, hoping that it would change the future of the children in Kenya.
Father Owuor said the gap between the rich and poor in Kenya is wide; students do not have classrooms, water and electricity. Education is a luxury for them. He highly commended the NTHU students for spending thirty-five days of their summer vacation in Kenya, providing public services and doing volunteer work. He will accompany the volunteers to Kenya with the hope that a volunteer platform will be established to give Kenyan students a glimpse of hope.
It has been eight years since the NTHU set up international volunteer groups. Each summer a group of NTHU students would travel abroad, providing services and doing volunteer work. This year they travel to Tanzania, Malaysia, Belize and Kenya. Whether the Nepal group will go or not depends on the local conditions; if a red alert is issued, the trip will be canceled.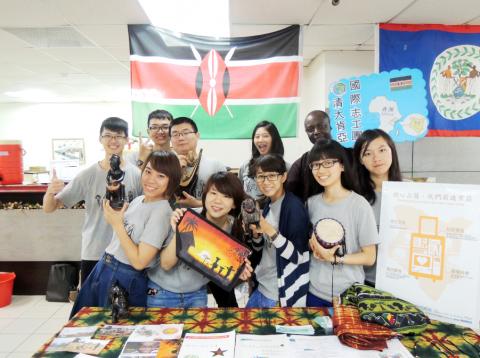 NTHU students cheer for their trip to Kenya this summer as volunteers on May 29 in Hsinchu County. 清大學生為他們的暑期肯亞志工行雀躍;攝於五月二十九日,新竹縣。
Photo: Hung Mei-hsiu, Liberty Times
照片:自由時報記者洪美秀
The Kenya group is the first group of NTHU students to go to Kenya and will conduct thirty-five days of volunteer work. The NTHU students will set up computer classrooms in Kenya's schools and offer information education. The NTHU students have collected seventy used computers, relevant accessories and equipment and will set up computer classrooms in two junior high schools and elementary schools and train prospective teachers for the purpose of linking Kenya's students with the world.
(Liberty Times, Translated by Ethan Zhan)
清大國際志工今年首度前往東非國家肯亞,提供當地社區營造、資訊教育和文化交流等服務。來台灣傳教的肯亞神父歐瑪竇看到清大學生願意到家鄉服務,不僅提供資訊,也促成此次國際志工服務之行,期許改變肯亞孩子的未來。
肯亞神父歐瑪竇說,肯亞貧富差距大,學生沒教室、沒水沒電,接受教育對孩子來說,是不可多得的。對清大學生要利用暑假三十五天前往肯亞服務及擔任志工,他給予大大的讚。他也會跟著回家鄉,期許建立志工模式,讓肯亞的學生也看到希望。
清華大學成立國際志工團隊八年,每年暑假都有一批清華學生到國外服務擔任志工。今年有坦尚尼亞、馬來西亞和貝里斯和肯亞。而尼泊爾團則會視當地狀況出團,若是紅色警戒燈號,才會取消出團。
首度出團的肯亞團,會進行三十五天的志工服務,清大學生會在當地學校建立電腦教室,並提供資訊教育服務;學生也募集七十台二手電腦與相關零件設備,會在服務的兩所國中和國小建立電腦教室並培訓種子教師,讓肯亞的學生與世界接軌。
(自由時報記者洪美秀)
Publication Notes
TODAY'S WORDS
今日單字
1. volunteer n.
志工 (zhi4 gong1)
例: If you want to know what sharing and giving feel like, be a volunteer.
(如果你想知道分享與付出的感覺是什麼,去當志工吧。)
2. red alert phr.
紅色警戒 (hong2 se4 jing3 jie4)
例: You don't have to be on red alert all the time, even when your boyfriend speaks to a stranger's cat or dog.
(你不用每次男友一跟陌生人的貓狗說話就在亮起那紅色警戒。)
3. set up phr.
建立 (jian4 li4)
例: Do you know how to set up a wireless connection via command line in Linux?
(你知道如何在 Linux 底下透過指令列建立無線網路連線嗎?)
Comments will be moderated. Keep comments relevant to the article. Remarks containing abusive and obscene language, personal attacks of any kind or promotion will be removed and the user banned. Final decision will be at the discretion of the Taipei Times.