Full lunar eclipse plays out on Children's Day
兒童節上演月全食
A full lunar eclipse played out in the sky on April 4, adding something special to the public's celebration of Children's Day.
The Central Weather Bureau (CWB) said that a lunar eclipse is an astronomical phenomenon that happens when the Moon, while traveling around its orbit, enters the shaded area facing the dark side of the Earth. As a result, the Moon does not receive the direct light from the Sun that it normally reflects, so that it is partly or wholly hidden from view. During the course of the April 4 eclipse, the entire face of the Moon entered the Earth's umbra, causing the rare event of a full lunar eclipse.
In this eclipse, when the first contact with the Moon's surface occurred — that is to say when the first part of the Moon started to be hidden — because it was not long after moonrise and the Moon was still low in the sky, the view could easily be obscured by land features or clouds.People were advised to choose observation points where the land to the east was flat or where objects on the Earth's surface would not get in the way too much. The whole process of a lunar eclipse can be observed with the naked eye or magnified with a telescope.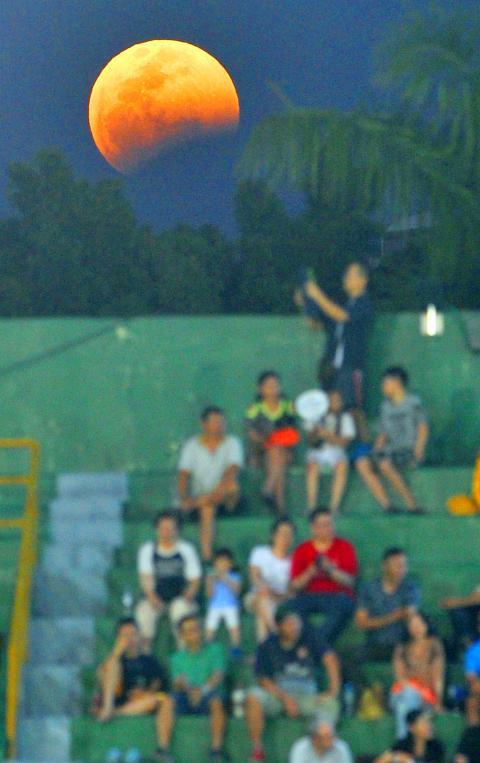 The partially obscured Moon is seen at a baseball stadium in Tainan on the night of April 4 as a full lunar eclipse takes place. 台南棒球場的一名觀眾在四月四日的夜晚轉身觀看月全蝕過程中部分隱晦的月亮。
photo: Huang Chih-yuan, Liberty Times
照片:自由時報記者黃志源
There will be 85 full lunar eclipses this century, of which 63 will be visible from Taiwan. The CWB noted that the previous full lunar eclipse that could be seen from Taiwan took place on Oct. 8 last year, and we will have to wait until Jan. 31, 2018 for the next one.
(Liberty Times, translated by Julian Clegg)
四月四日的天空上演了一場月全食,與民眾一同歡度兒童節。
中央氣象局指出,月食是月球在軌道上公轉運行時,進入地球背光面的影子區內,造成月面無直照太陽光可反射而有缺角或隱沒的天文現象。這次的月食過程中,月面整個沒入地球本影而造成難得的月全食。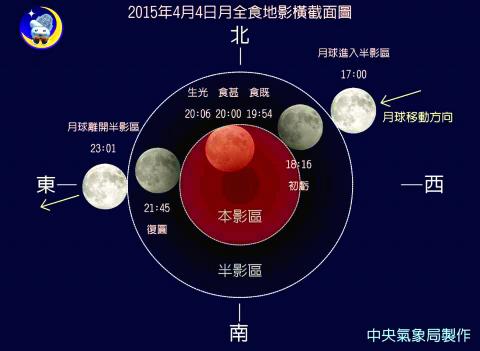 A diagram released by the Central Weather Bureau explains the timetable for the full lunar eclipse that took place on April 4. 由中央氣象局發佈的圖示可見四月四日月全蝕的時間歷程。
Illustration courtesy of the Central Weather Bureau
圖片由中央氣象局提供
這次月食在月面初虧(開始有缺角)時,因剛月出不久,月亮位置偏低,容易受地形或雲層影響,民眾可以挑選東方地平附近,或是地物影響較少的地方觀賞。肉眼即可欣賞月食,用望遠鏡放大則可觀看全程。
本世紀全球總計發生八十五次月全食,其中台灣可見到六十三次。氣象局指出,台灣上次可見的月全食發生於去年十月八日,下次則要等到二零一八年一月三十一日。
(自由時報記者林嘉琪)
Comments will be moderated. Keep comments relevant to the article. Remarks containing abusive and obscene language, personal attacks of any kind or promotion will be removed and the user banned. Final decision will be at the discretion of the Taipei Times.