Love in the hospice 安寧醫護情 病房拍婚紗
"I thought I will never get married," said Chen Yenhua, who comes from a broken family and is easily depressed; she even fears her patients' death. While providing care for patients at the hospice, she saw how patients bonded with — and were accompanied by — their family members near the end of their lives, and began to relearn the relationship between life and family. She learned for the first time how to forgive past wounds and experienced the importance of love and seizing the moment. She began to mend her relationship with her parents and accepted the pursuit of Tien Minghung, an intern who worked in the same wards with her.
To Tien, it was love at first sight. He found Chen to be quite different from the other nurses, in that Chen was willing to spend a lot of time with her hospice patients, who suffered from serious physical and mental pain. "She is very considerate and sympathetic," said Tien. However, Chen was preoccupied by providing care for her patients and had no interest in Tien in the beginning. She only noticed that this young man, who was two years younger than she, would quietly bring her drinks or cards. Then, there was this one time when they were chatting and Chen talked about her parents' separation, Tien had tears in his eyes. "His kind and gentle heart touched me," said Chen.
The two saw each other for two years and considered getting married. Tien planned to practice medicine in Taipei and the couple had a disagreement about the future. A hospice patient surnamed Chang, who treated Chen like a mother to her child, did not want to see her suffer for the relationship, so she spoke to Tien on the phone, telling him that Chen is a nice girl, worth holding on to. Chen also reflected on herself and asked herself, "Do our disagreements still matter when one day we also have to face death?" With Mrs. Chang's mediation and blessing, the two decided to make peace and spend the rest of their lives together. However, Mrs. Chang passed away in June last year because of gastric cancer and could not live to see Chen in her wedding gown.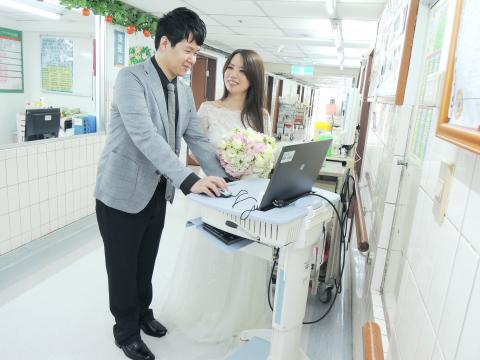 Nurse Chen Yenhua and Doctor Tien Minghung take wedding photographs in the hospice where they used to work together on April 4 in Taichung. 護理師陳妍樺與醫師田名弘四月四日在台中的安寧病房拍攝婚紗照。
Photo: Tsai Shu-yuan, Liberty Times
照片:自由時報記者蔡淑媛攝
The couple will tie the knot in June this year. They had their wedding photographs taken in the hospice. Mrs. Chang's husband, Mr. Chang went to the hospital to give them his blessings and thank Chen for taking care of his wife. To avoid disturbing the patients, the couple took wedding photos in the hospice's prayer room, corridor and the hospice's very important "spa room" to recapture what it was like when they worked together and remember every life story that they have encountered. Chen said, "There is not enough time to waste. I will not care for my husband only when he is about to pass away. I will seize twenty-four hours a day, everyday to take good care of him."
(Liberty Times, Translated By Ethan Zhan)
「原本以為自己這輩子不會結婚了!」來自破碎家庭的陳妍樺原本個性較憂鬱,甚至害怕病人過世。她說,透過安寧療護的過程,看見病人與家人在臨終時的親密感情與陪伴,重新認識人生與家人的關係,第一次學習到原諒過去遭受的傷痛,體驗到「愛與把握」很重要,主動修補親子關係,也接受了當時同在病房服務、實習醫師田名弘追求。
田名弘幾乎是對陳妍樺一見鐘情,發現她與其他護理師很不同,安寧病人在身心都有嚴重的傷痛,陳妍樺卻肯長時間陪伴,「非常體貼、很有同理心」;而陳妍樺全心投入照護病人,一開始對田名弘並不來電,只覺得這小她兩歲的田名弘會默默地「順道」請喝飲料或是送上小卡片,直到一次空檔談起父母離異,對方竟然流淚,「這顆善良、柔軟的心打動了我!」
兩人交往兩年多論及婚嫁,田名弘計劃到台北當醫生,對未來發生歧見爭吵。安寧病患張太太像媽媽一樣疼愛陳妍樺,不忍她為情所苦,在電話中告訴田名弘「妍樺是個好女孩,值得堅持和把握」。陳妍樺也反省「當面臨死亡,爭吵還重要嗎?」在張太太溝通和祝福下,兩人和好並決定共度一生。不過張太太去年六月胃癌過世,來不及看到妍樺披上婚紗。
兩人將於今年六月結婚,昨天在安寧病房拍攝婚紗,張先生特地到醫院祝福,也感謝她對太太的照顧。陳妍樺和田名弘避免影響病人,在病房的祈禱室、走廊和安寧療護重要利器spa洗澡房取景,重現當時工作情景,記住每段經歷到的生命故事。她說,「我沒有時間浪費,不會等到對方臨終時才照顧,會把握每天二十四小時,把丈夫照顧好。」
(記者蔡淑媛/台中報導)
Publication Notes
TODAY'S WORDS
今日單字
1. mend v.
修補 (xiu1 bu3)
例: Will you help me mend the wound in my heart?
(你可否願意為我修補這顆受傷的心?)
2. disagreement n.
岐見,爭吵 (qi2 jian4, zheng1 chao3)
例: We had a big disagreement about how we should kiss each other.
(我們對如何跟對方親吻有很大的岐見。)
3. worth adj.
值得 (zhi2 de2)
例: The journey will be bloody difficult, but it's worth it.
(這趟旅程將會無比艱鉅,但值得。)
Comments will be moderated. Keep comments relevant to the article. Remarks containing abusive and obscene language, personal attacks of any kind or promotion will be removed and the user banned. Final decision will be at the discretion of the Taipei Times.