Golden wheat field is a photography hot spot 黃金麥田超美 成攝影熱點
After winning a Champion Rice award last year, rice farmer Tien Shou-hsi has this year tried planting a hectare of wheat. Unexpectedly, his wheat field turned out to be a popular location for local photography enthusiasts vying for the best shots, and photographers were once more attracted to take pictures on the day he harvested the wheat.
Very few farmers in Hsinchu County plant wheat, so when the wheat in Tien's field in the Donghai area of Jhubei City started coming into ear, and as the ears turned yellow, it became a target site for photography enthusiasts looking for a good shot. The golden wheat field really makes a lovely scene, but some of the wheat got trampled by careless people who trod too close, causing quite a lot of wheat spikes to drop off.
Tien joyfully harvested his wheat at the end of last month. While operating the harvester, he had to keep reminding the photography buffs to look out for their safety. Tien said that although it was a bit of a bother, he enjoyed quite a sense of achievement.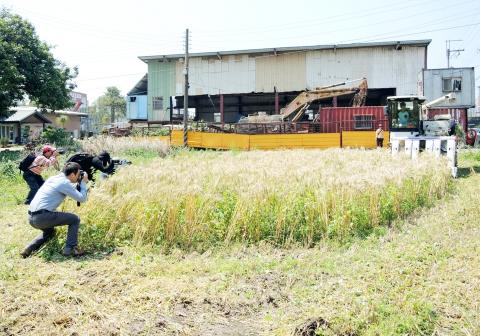 Photographers crouch to take pictures as farmer Tien Shou-hsi harvests wheat in a field in Jhubei City, Hsinchu County on March 29. 新竹縣竹北市冠軍米得主田守喜於三月二十九日收割小麥,吸引不少攝影玩家前往拍照。
Photo: Tsai Meng-shang, Liberty Times
照片:自由時報記者蔡孟尚
(Liberty Times, translated by Julian Clegg)
新竹縣竹北市稻農田守喜去年拿下冠軍米殊榮,今年改試種一公頃小麥,沒想到麥田意外成為當地攝影愛好者爭相取景的人氣景點,收割當天又吸引攝影愛好者前往拍照。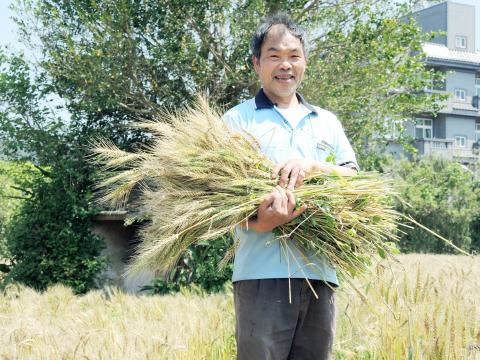 Farmer Tien Shou-hsi holds a bundle of freshly harvested wheat in a field in Jhubei City, Hsinchu County on March 29. 新竹縣竹北市冠軍米得主田守喜試種小麥,三月二十九日歡欣收割。
Photo: Tsai Meng-shang, Liberty Time
照片:自由時報記者蔡孟尚
新竹縣內種植小麥的農民非常少,田守喜在竹北市東海地區的這處麥田,自從小麥抽穗轉黃後,就成為不少攝影愛好者取景的目標,黃金麥田的景觀的確十分好看,但麥田被一些沒公德心的人靠近踩踏,麥穗也掉落不少。
田守喜上個月底歡欣收割小麥,操作機具的他一邊收割一邊提醒攝影玩家小心安全,他雖然覺得有些麻煩,但也很有成就感。
(自由時報記者蔡孟尚)
Publication Notes
TODAY'S WORDS
今日單字
1. vie for v. phr.
爭相取得 (zheng1 xiang1 qu3 de2)
例: Fans are vying for tickets to the tennis final.
(球迷爭相想要取得網球決賽的門票。)
2. trample v.
踩踏 (cai3 ta4)
例: Tourists keep trampling the flowers and grass.
(觀光客們一直踩踏花草。)
3. buff n.
玩家;專家 (wan2 jia1; zhuan1 jia1)
例: Morris is a geography buff; he can draw a detailed map of Africa from memory.
(莫里斯是地理專家,光憑記憶就能畫出詳細的非洲地圖。)
Comments will be moderated. Keep comments relevant to the article. Remarks containing abusive and obscene language, personal attacks of any kind or promotion will be removed and the user banned. Final decision will be at the discretion of the Taipei Times.