Protecting the right to hunt 捍衛狩獵權
Late last year, the Papulu People of Pinnyumayan were arrested and detained by police during their hunting festival, Mangayaw. On Feb. 23, people from 10 Pinnyumayan tribes and representatives from the Paiwan, Bunun and Seediq peoples gathered at the Papulu Tribe in Taitung County and practiced the ritual of sending smoke signals and firing guns in a bid to make their voices heard and protect the Indigenous peoples' cultural rights.
Father Tai Ming-hsiung, a representative of the Lalalulan People of Paiwan, said that this was not a single problem of a particular tribe, and that the government has not educated itself about the Indigenous culture. As a result, the police find the hunting ritual of the Indigenous culture a likely violation of the law, and make arrests to meet their performance requirements. Tai says that all the Indigenous peoples from various villages should participate in the protests to educate the government. Father Kavas, a representative of the Bunun people, shouted with fury that the Indigenous peoples should express their determination to obtain autonomy by not voting in next year's presidential and legislative elections.
Lin Chih-hsing, convener of the Pinnyumayan people's national council, said the lack of understanding of the Pinnyumayan people in the society concerns the tribes when they engage in their cultural activities and pursue their own traditions, which shows that the indigenous peoples lack an autonomous system and the political resource to govern themselves in today's society. That is why the Indigenous people are practicing the ritual of sending smoke signals to express their vehement protest to the government.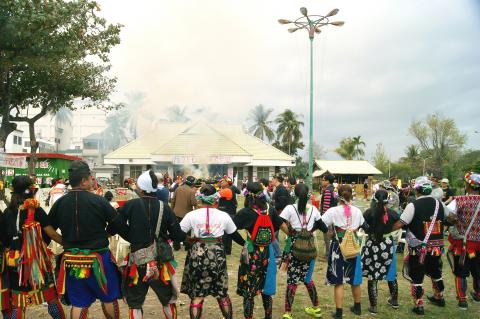 Members of the Beinan, Bunun and Paiwan peoples send smoke signals to make their voices heard and protect their culture at the Beinan Papulu Tribe on Feb 23. 包括卑南族、布農族、排灣族等族群,二月二十三日齊聚卑南族巴布麓部落,捍衛文化權,透過施放狼煙向世界發聲。
Photo: Wang Hsiu-ting, Liberty Times
照片:自由時報記者王秀亭
(Wang Hsiu-ting, Liberty Times. Translated by Perry Svensson)
卑南族巴布麓部落族人去年底大獵祭期間遭警拘捕移送。二月二十三日卑南族十個部落串聯,排灣、布農、賽德克族代表也齊聚台東縣巴布麓部落聲援,一起施放狼煙、鳴槍,為捍衛原住民族的文化權,向世界發聲。
排灣族拉勞蘭部落代表戴明雄牧師指出,這非單一部落問題,政府始終沒學會認識原住民文化,以致原住民從事文化狩獵活動時,警方認為有「違法空間」,為「考績」拘捕,各族群應以抗爭教育不受教的政府;布農族代表卡法司牧師則憤怒喊出二○一六年總統、立委選舉時以拒絕投票表達原住民自主決心。
卑南族民族議會召集人林志興表示,卑南族人從事文化活動,追求自己的傳統生活之際,卻因社會對卑南族的不認識,造成部落不安,顯現原住民在現今社會缺乏自主體制及自治能量,唯有透過狼煙行動,向政府表達嚴正的抗議。
(自由時報記者王秀亭)
Publication Notes
TODAY'S WORDS
今日單字
1. representative n. 代表 (dai4 biao3) 例: Legislators are the public's elected representatives. (立法委員是人民選出的代表。) 2. determination n. 決心 (jue2 xin1) 例: He will never get anywhere, he completely lacks determination. (他完全缺乏決心,永遠也不會成功。) 3. autonomy n. 自主 (zi4 zhu3) 例: You need personal freedom to be able to make autonomous decisions. (你需要個人自由,才能自主做決定。)
Comments will be moderated. Keep comments relevant to the article. Remarks containing abusive and obscene language, personal attacks of any kind or promotion will be removed and the user banned. Final decision will be at the discretion of the Taipei Times.