Central Weather Bureau forecasts mild winter 氣象局:今年冬季整體偏暖、少雨
Despite the recent spate of cold, wet weather, the Central Weather Bureau (CWB) is forecasting that the weather overall for this winter in Taiwan will tend to be mild and dry. The CWB has said that the coming winter will be mild, with rainfall being on the low side, and the occasional cold snap. The CWB emphasized that a mild winter did not mean that cold weather wouldn't occur. Figures from the last two decades show that there have been, on average, 3.5 cold fronts coming over every year, anywhere from once to four or six times a year, and that January was generally the coldest, the month most likely to have cold snap.
According to the CWB's Weather Forecast Center Director Cheng Ming-tien, the reason this winter is expected to be mild is because of the influence of ocean temperatures around the world this fall, which will make the winter warmer in general. Cheng emphasized that, although the winter will be mild on the whole, negative Arctic Oscillations mean that there will still be cold fronts or cold snaps over from the Asian mainland, and during the time this cold air effects Taiwan the temperature will plummet, and the public should be prepared for the cold when it comes.
(Liberty Times, translated by Paul Cooper)
雖然最近天氣轉為濕冷型態,但中央氣象局仍預估台灣今年冬天的天氣情況整體是偏暖少雨。氣象局指出,未來一季暖冬,且雨量偏少,偶爾會有寒流,但是氣象局強調,暖冬並不代表不會有寒流發生,根據近二十年統計,每年平均有三點五次寒流來襲,少則一次,多則四到六次,通常一月份最冷,最容易有寒流報到。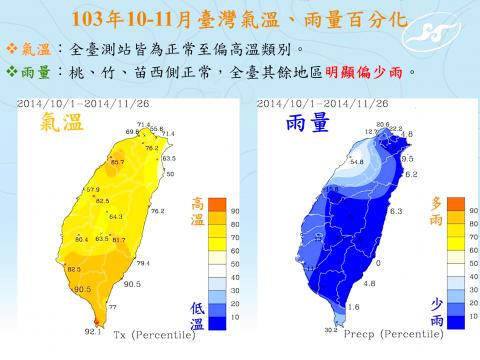 Central Weather Bureau (CWB) chart showing temperature and rainfall for October and November. The CWB forecasts a mild winter for Taiwan this year. 圖片為中央氣象局今年十月、十一月氣溫與雨量天氣圖。氣象局預估台灣今年冬天是偏暖少雨。
Photo courtesy of the Central Weather Bureau
中央氣象局提供
為什麼今年冬季偏暖?氣象局預報中心主任鄭明典表示,受到今年秋季全球海溫偏熱影響到冬季,因此造成今年冬季整體偏暖。鄭明典強調,雖然今年冬季整體偏暖,但在負北極震盪影響下,仍然會有大陸冷氣團或寒流來襲,一旦在冷空氣影響台灣期間,氣溫就會驟降,民眾別忘適時做好禦寒準備。
(自由時報記者林嘉琪)
Publication Notes
TODAY'S WORDS
今日單字
1. cold snap n. phr.
寒流 (han2 liu2)
例: There will be a cold snap over the next two days, so wear something warm.
接下來兩天將會有寒流,穿暖和一點。
2. mild adj.
溫暖的、溫和的 (wen1 nuan3 de5, wen1 he2 de5)
例: Winters tend to be mild in this part of the country.
在該國的這個區域冬天通常偏暖。
3. plummet v.
驟降 (zhou4 jiang4)
例: Temperatures will plummet as a result of a cold front.
溫度將因為冷鋒而驟降。
Comments will be moderated. Keep comments relevant to the article. Remarks containing abusive and obscene language, personal attacks of any kind or promotion will be removed and the user banned. Final decision will be at the discretion of the Taipei Times.