1,500 macaques the upper limit for Shoushan, say academics 壽山獼猴估一千五百隻 學者警告達負載上限
A recent survey by academics shows that about 1,000 macaques would be a reasonable upper limit for Shoushan Mountain, where there currently are 1,500 monkeys. Of those 1,500, about one-third have come there because humans feed them. The Shoushan National Nature Park Preparatory Office is calling on the public to stop feeding monkeys and it is also increasing its effort to collect evidence of feeding and issue fines.
The office has entrusted academics at National Pingtung University of Science and Technology with conducting a survey of the park's 915 hectares. The survey shows that there are between 31 and 36 troops of Formosan Macaques in the park, consisting of between 1,300 and 1,400 monkeys in total. This does not include the Northern Shoushan Military Control Area.
At a forum on macaque health and group management, Kurtis Pei, a professor in the Institute of Wildlife Preservation at National Pingtung University of Science and Technology, said that based on the largest area that a macaque does not share with other monkeys, Shoushan could hold about 31 groups with 22 to 47 monkeys each — about 1,000 monkeys. Pei also said that the largest number would be 1,500 and the lowest 750.
(Liberty Times)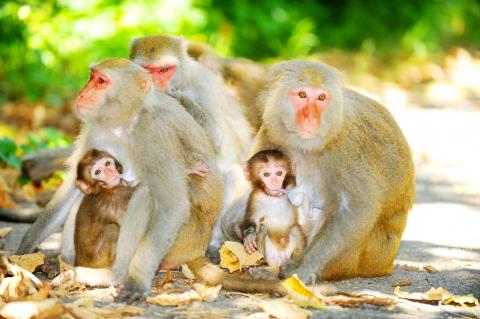 Macaques nurse their young at Shoushan Mountain in Greater Kaohsiung on Oct. 31. 壽山獼猴十月三十一日在高雄市壽山撫育小獼猴。
Photo: Chang Chung-yi, Liberty Times
照片:自由時報記者張忠義
根據學者最新調查,壽山獼猴合理負載量約一千隻,目前已達一千五百隻的負載上限,其中約三分之一導因於人為餵食;壽山國家自然公園籌備處呼籲民眾別再餵食,將加強蒐證開罰。
壽山國家自然公園籌備處委託屏科大學者調查,壽山九百一十五公頃範圍內,台灣獼猴約有三十一至三十六個族群,數量介於一千三百至一千四百隻,還未包括北壽山軍事管制區。
屏科大野生動物保育研究所教授裴家騏在「獼猴健康與族群經營管理研討會」上表示,以一隻獼猴不與其他獼猴分享的最大面積估計,壽山約可存在三十一群獼猴,每群約二十二至四十七隻,大概可容納一千隻,最高容納量為一千五百隻,最少七百五十隻。
(自由時報記者葛祐豪)
Publication Notes
TODAY'S WORDS
今日單字
1. academic n.
學者 (xue2 zhe3)
例: Most academics at our school have doctoral degrees.
(本校大多數學者擁有博士學位。)
2. stop v.
停止 (ting2 zhi3)
例: You should stop exploiting your section members.
(你應該停止剝削你的組員。)
3. entrust v.
委託 (wei3 tuo1)
例: The doctor took good care of all the patients that were entrusted into her care.
(該名醫師將託給她的病患照顧得很好。)
Comments will be moderated. Keep comments relevant to the article. Remarks containing abusive and obscene language, personal attacks of any kind or promotion will be removed and the user banned. Final decision will be at the discretion of the Taipei Times.