Ceramic sky lanterns convey disabled people's wishes 「希望不要被減班...」身心障礙者天燈訴心願
New Taipei City's general disability welfare services building, which is located on Section 2 of Guangfu Road in Sanchong District, is expected to be finished and go into service in December. The building's exterior walls will feature a public artwork jointly created by disabled people. The design incorporates ceramic sky lanterns carrying pictures and written wishes, which will be attached to the wall as if slowly rising into the sky.
On her pottery sky lantern, 29-year-old Chen Yen-ni wrote the couplet "Smooth work; happy every day." She explained that she had recently been being assigned fewer shifts by the fast-food catering establishment where she works, which is worrying because she has less money coming in. Chen said she hoped that her work could go more smoothly, which would make her happier.
This public artwork was conceived by Liou Chen-chou, former dean of the College of Design at the National Taiwan University of Art. Liou says that in Taiwan releasing sky lanterns is a way of praying for good fortune. Liou hopes that the mural can express disabled people's visions and dreams of the future. "These sky lanterns will never fade," says Liou, "They will be here forever."
(Liberty Times, translated by Julian Clegg)
Visitors inspect the general disability welfare services building in New Taipei City's Sanchong District on Oct. 30. The center is expected to open next month. 訪客十月三十日參訪新北市身心障礙者綜合福利服務大樓,預計將在下月竣工啟用。
Photo: Lee Ya-wen, Taipei Times
照片:自由時報記者李雅雯
位於新北市三重區光復路二段上的新北市身心障礙者綜合福利服務大樓,預計將在十二月竣工啟用,由各個身心障礙者協力創作的公共藝術作品將妝點外牆,陶作造型天燈上滿布畫作和祈福字句,在外牆上呈現緩緩升空樣貌。
二十九歲的陳燕妮在陶作造型天燈上寫下「工作順利,天天開心」,她說最近工作的餐飲速食店排班數減少了,對此好擔心,因為收入也會相對減少,盼望工作上可以更順心,這樣就能夠更開心。
發想此公共藝術創作的國立台灣藝術大學設計學院院長劉鎮洲表示,在台灣來說,放天燈代表的是祈福,盼望藉此創作,能彰顯身心障礙者對未來的想像和憧憬,「而且這個天燈不會褪色,會永遠存在」。
(自由時報記者李雅雯)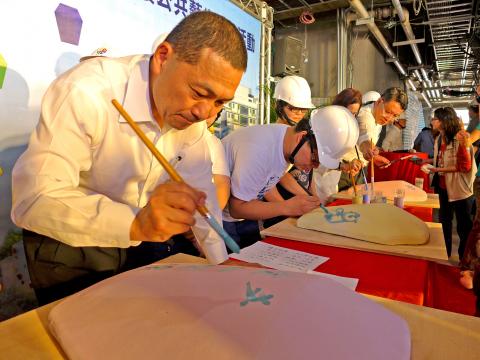 New Taipei City Deputy Mayor Hou You-yi writes a message on a ceramic sky lantern at the soon-to-be-opened general disability welfare services building in Sanchong District on Oct. 30. 新北市副市長侯友宜十月三十日到現場參與公共藝術創作。
Photo: Lee Ya-wen, Taipei Time
s照片:自由時報記者李雅雯
Publication Notes
TODAY'S WORDS
(今日單字)
1. jointly adv.
協力地 (xie2 li4 de5)
例: Turbines jointly developed by Irish and Taiwanese partners will generate electricity from ocean currents.
(由愛爾蘭與台灣協力研發的渦輪能夠藉洋流發電。)
2. shift n.
排班 (pai2 ban1)
例: Nurses have to work night shifts and spend a lot of time standing and walking.
(護士要值夜班,並經常久站及走動。)
3. mural n.
壁畫 (bi4 hua4)
例: Some tourists visit San Francisco just to see its spectacular outdoor murals.
(有些遊客造訪舊金山即是為了要一睹精彩的戶外壁畫。)
Comments will be moderated. Keep comments relevant to the article. Remarks containing abusive and obscene language, personal attacks of any kind or promotion will be removed and the user banned. Final decision will be at the discretion of the Taipei Times.