Putin is 'self-centred,' says Dalai Lama 達賴喇嘛:普廷「自我中心」
Tibet's exiled spiritual leader the Dalai Lama criticized Russia's President Vladimir Putin as "self-centered" in a German newspaper interview on Sept. 7, saying Putin seems to want to "rebuild the Berlin Wall."
"His attitude is: 'I, I, I'," the Dalai Lama said, pointing out that Putin had served as Russian president, then prime minister and then president again. "That's a bit too much," he told the Welt am Sonntag newspaper. "This is very self-centered."
The Buddhist leader also had more criticism for Russia, now in the worst standoff with the West since the Cold War, than for China, which has ruled Tibet since its 1950 invasion.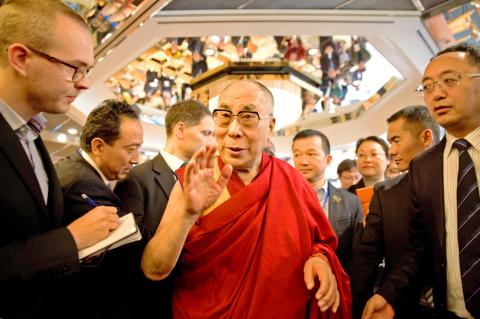 Tibetan spiritual leader the Dalai Lama, center, talks with journalists as he attends a conference in Hamburg, Germany on Aug. 27. 西藏精神領袖達賴喇嘛(中)八月二十七日在德國漢堡出席一場會議時,與記者談話。
Photo: AFP
照片:法新社
"China and Russia, these are two very different cases," said the Dalai Lama, voicing hope that "the modern world supports China becoming a democratic country".
"China wants to be part of the global political system and will be ready to accept the international rules in the long run," he said. "I don't have the impression that this accounts for Russia and President Putin, as well, at the moment.
"We had become accustomed (to the fact) that the Berlin Wall has fallen," he said, alluding to the shattering of the Communist bloc begun 25 years ago. " Now President Putin seems to want to rebuild it. But he is hurting his own country by doing this. Isolation is suicide for Russia."
(AFP)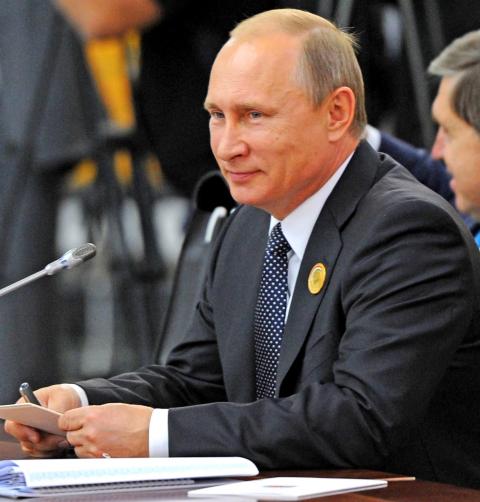 Russian President Vladimir Putin attends the SCO Heads of State Council meeting in Dushanbe, Tajikistan on Sept. 12. 俄羅斯總統弗拉吉米爾‧普廷九月十二日在塔吉克杜尚別出席一場上海合作組織成員國元首裡是會會議。
Photo: AFP
照片:法新社
西藏流亡精神領袖達賴喇嘛在九月七日一份德國報紙專訪中,批評俄羅斯總統弗拉吉米爾‧普廷「自我中心」,他說普廷似乎想「重建柏林圍牆」。
達賴喇嘛說:「他的態度是『我,我,我』。」並指出普廷此前已擔任過俄國總統,接著出任總理,然後再度擔任總統,「那有點過份了,」他告訴《週日世界報》表示︰「這非常自我中心。」
對於目前與西方陷入自冷戰以來最嚴重僵持的俄國,這位佛教領袖的批評也更甚於自一九五0年入侵以來統治西藏的中國。
「中國與俄國是兩個迥異的案例,」達賴喇嘛說,表達出「現代世界支持中國成為民主國家」的希望。
「中國想要成為全球政治體系的一部分,終究將準備接受國際規則,」他說。「我對俄國與普廷總統此刻沒有這樣的觀感。」
「我們已經對柏林圍牆倒塌變得習以為常,」他說,提及二十五年前開始的共黨陣營崩解。「現在普廷總統似乎想要重建它。然而,他這麼做傷害的是自己的國家。孤立對俄國而言是自殺。」
(法新社/翻譯:魏國金)
Publication Notes
TODAY'S WORDS
今日單字
1. self-centered adj. 自我中心的 (zi4 wo3 zhong1 xin1 de5) 例: He is quite self-centered. (他相當自我中心。) 2. become accustomed to v. phr. 對…變得習以為常 (dui4 … bian4 de2 xi2 yi3 wei2 chang2) 例: I've become accustomed to staying up late. (我對晚睡習以為常了。) 3. allude to v. 暗指;略提;提及 (an4 zhi3; lue4 ti2; ti2 ji2) 例: Do not ask her about her failure; do not even allude to it. (別問她有關她失敗的事,連提都不要提。)
Comments will be moderated. Keep comments relevant to the article. Remarks containing abusive and obscene language, personal attacks of any kind or promotion will be removed and the user banned. Final decision will be at the discretion of the Taipei Times.