'Ball of bees' on trees typical swarming behavior: expert 樹上見蜂球 專家︰蜜蜂分巢
Over a thousand honeybees forming an elliptical shape as they gather on a cherry tree instead of staying in a beehive was something that farm owner Tsai Cheng-ming had never seen in the several decades that he has lived on Jinjhen Mountain in Taitung County's Taimali Township. After observing the bees for nearly two hours, the following day when he went back the bees were nowhere to be found. Tsai Nu-jen, head of Taitung District Agricultural Research and Extension Station's Department of Crop Environment, says that this is a natural swarming phenomenon among China's wild honeybees, typically occurring in the spring. It means that the local ecological environment is doing well, he says.
Tsai Cheng-ming, owner of Chingshan Farm on Jinjhen Mountain, says that on the morning of Feb. 23 when he was cleaning up his farm he came across a ball-shaped object on a tree by the side of the road. After walking closer to it, he discovered that it was a swarm of over a thousand bees. The "ball of bees" was squirming around on the 3m-tall cherry tree, approximately 1.5 from the ground, Tsai says, adding that the elliptical shape was about 20cm in diameter.
Tsai Nu-jen says that this particular swarm of honeybees from China was in the middle of swarming. Once a group of honeybees grows large and strong enough, it produces a new queen, he says, adding that the old queen leaves the colony and takes a swarm of bees with her, which gathers on a tree until the swarm is complete. Then it prepares to move to a suitable location to make a new colony, while the old colony is left to the new queen bee. The phenomenon of swarming is most commonly seen in the spring, particularly among wild Chinese honeybees. The so-called ball of bees is only a temporary gathering — a natural phenomenon that should not alarm people. Swarming means that a group of honeybees is gradually getting stronger. Seeing a group of bees swarming in the wild is good news, especially in recent years with increasing numbers of bee colonies disappearing.
(Liberty Times, Translated by Kyle Jeffcoat)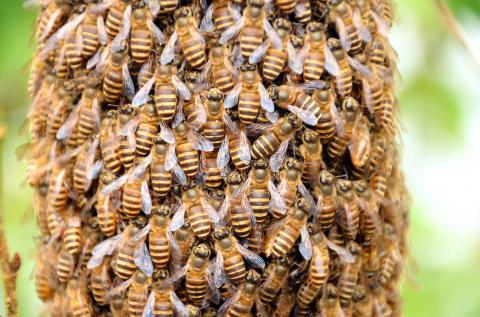 A swarm of honeybees gathers on a tree at Jinjhen Mountain in Taitung County's Taimali Township on Feb. 25. 一群蜜蜂二月二十五日聚集在台東縣太麻里金針山一株櫻花樹上。
Photo: Wang Hsiu-ting, Liberty Times
照片:自由時報記者王秀亭
上千隻蜜蜂沒在蜂窩裡,卻是聚集在櫻花樹上,形成一團橢圓形蜂球,台東太麻里鄉農園主人蔡政銘說,在金針山生活三、四十年,首見這種情形,觀察了將近兩小時,隔日再看已不見蹤影,台東農業改良場作物環境課長蔡恕仁表示,這是中國野蜂分巢的自然現象,多發生在春天,顯示當地自然生態良好。
金針山青山農園主人蔡政銘表示,二月廿三日上午整理園裡環境時,發現路邊的櫻花樹上有一團球狀物體,走近一看竟是上千隻蜜蜂聚集在一起,「蜂球」附著三公尺高的櫻花樹上蠕動著,離地約一點五公尺,是個長約二十公分的橢圓形球體。
蔡恕仁表示,此一蜂群是中國野蜂正在分巢,每當蜜蜂族群壯大到一定程度,產生新的蜂后時,舊蜂后即會帶走一群蜜蜂,到樹上集結,待集結完成,便準備到下一個適合做巢地點,準備做下一個巢,舊巢就留給新的蜂后;分巢現象常見於春天,特別是中國野蜂,樹上的蜂球只是短暫集結,為一自然現象,民眾不必太過恐慌,分巢顯示蜂群逐漸壯大,特別是近年來蜂群消失時有所聞,野外蜂群有分巢是個好消息。
(自由時報記者王秀亭)
A swarm of honeybees gathers on a tree at Jinjhen Mountain in Taitung County's Taimali Township on Feb. 25. 一群蜜蜂二月二十五日聚集在台東縣太麻里金針山一株櫻花樹上。
Photo: Wang Hsiu-ting, Liberty Times
照片:自由時報記者王秀亭
Publication Notes
TODAY'S WORDS 今日單字
1. elliptical adj. 橢圓形的 (tuo3 yuan2 xing2 de5) 例: The moon follows an elliptical path around the earth. (月球依循橢圓形的軌道繞地球。) 2. ecological adj. 生態的;生態學的 (sheng1 tai4 de5; sheng1 tai4 xue2 de5) 例: Destruction of the rain forests is a major ecological problem. (破壞雨林是個嚴重的生態學問題。) 3. temporary adj. 暫時的;短暫的 (zan4 shi2 de5; duan3 zan4 de5) 例: This is only a temporary setback. We'll be back on our feet in no time. (這只是暫時的挫折。我們定會快速恢復。)
Comments will be moderated. Keep comments relevant to the article. Remarks containing abusive and obscene language, personal attacks of any kind or promotion will be removed and the user banned. Final decision will be at the discretion of the Taipei Times.