Local religious imagery to play major role in Lujhou commercial district tourism 蘆洲廟口商圈 拚觀光市集
Yonglian, Baohe and Dazhong temples are all located in the vicinity of the area officially known as "Lujhou temple entry commercial community" in New Taipei City's Lujhou District, which at night transforms into a bustling night market. The nominal commercial district, however, lacks the unique characteristics that would typically draw in tourists. The New Taipei City Government will be guiding local industries this year in using Lujhou's shenjiang (heavenly generals) culture to develop creative products, hopefully putting the area on par with the market area surrounding Senso-ji — a temple in Japan dedicated to Kannon (Avalokitesvara) — and turning the commercial district into a New Taipei City landmark.
New Taipei City Economic Development Department Deputy Director-General Huang Cheng-cheng says that the Lujhou commercial district near the temples is concentrated at the intersection of Chenggong Rd and Desheng St and neighbors Sanmin Senior High School MRT Station, giving the area strong development potential. Last year the local government assisted the Lujhou District Commercial District Prosperity Association in applying for local industry development funding from the Ministry of Economic Affairs. An educational program will be set up to help innovate traditional industries by infusing them with shenjiang imagery, introducing creative and design concepts, and offering classes on related subjects.
Huang Chin-fu, president of the association, says that since the MRT Luzhou (Lujhou) Line opened it has definitely brought more visitors to the commercial district surrounding the temples. It is a pity that the number of return visits, however, is kept so low because the area has nothing locally that would attract tourists from other areas, Huang says. He also hopes that the century-long history of local shenjiang culture can be used to create a distinguishable imagery and even become part of a cultural symbolism that belongs uniquely to New Taipei City.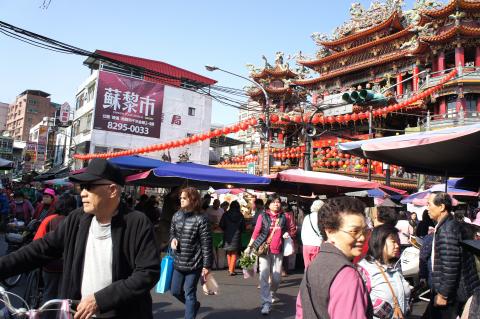 People gather in the commercial district surrounding several temples in New Taipei City's Lujhou District on Feb. 10. 民眾二月十日聚集在新北市蘆洲廟口形象商圈。
Photo: Lai Hsiao-tung, Liberty Times
照片:自由時報記者賴筱桐
Huang says that the project, which includes collaborating with local companies to develop shenjiang creative products and souvenirs, is expected to commence next month. Special areas will also be set up to display and sell agricultural products from New Taipei City, which will provide job opportunities to disadvantaged people who will serve as vendors, Huang says. Between 80 and 100 temple lanterns will be hung outside of local shops to give the commercial district a more historic atmosphere, Huang says, adding that the market area around Japan's Senso-ji will serve as their primary object of study in trying to attract more tourists.
The bureau says that the "Lujhou District shenjiang cultural industries development project" is a three-year project that aims to combine shenjiang imagery with local life, consolidate local industries, help businesses combine their networking resources and reach consensus on various issues. In the process, strengthening local industries and stimulating consumer spending should help the commercial district become a veritable tourist market, the bureau says.
(Liberty Times, Translated by Kyle Jeffcoat)
新北市蘆洲區廟口形象商圈周邊有湧蓮寺、保和宮及大眾廟等廟宇,夜晚變成熱鬧夜市,但商圈缺乏鮮明特色,難以吸引外地遊客駐足。今年市府將以蘆洲神將文化為主題輔導產業,開發文創商品,盼仿造日本淺草觀音寺市集,形塑新北市地標。
新北市經濟發展局副局長黃正誠指出,蘆洲廟口形象商圈集中成功路及得勝街口,鄰近三民高中捷運站,具發展潛力,去年市府協助蘆洲區商圈繁榮促進會向經濟部申請地方產業發展基金,將透過輔導機制,協助傳統產業創新化,並融合神將意象,引進文創及設計概念,開設相關課程。
新北市蘆洲區商圈繁榮促進會理事長黃金福表示,捷運蘆洲線通車後,確實為廟口形象商圈帶來人潮,不過,因當地缺乏吸引外地遊客的誘因,導致回流率不高,相當可惜,希望以在地流傳百年的神將文化為主軸,打造指標性意象,甚至創造新北市的文化圖騰。
黃金福說,預計下個月起執行相關計畫,將與廠商合作開發神將文創產品或伴手禮,並設立新北農特產品展售專區,邀請弱勢族群擺攤,提供就業機會。此外,近期將於商家門口懸掛八十至一百盞宮燈,讓商圈增添古色古香的氣氛,以日本淺草觀音寺市集為學習對象,盼帶動觀光人潮。
經發局說明,為期三年的「蘆洲區神將文化特色產業發展計畫」,希望將神將意象融入地方生活,並統整產業組織,幫助商家串聯資源網絡、凝聚共識,進而強化產業能量,刺激消費,朝觀光市集的目標邁進。
(自由時報記者賴筱桐)
Publication Notes
TODAY'S WORDS 今日單字
1. bustling adj.
活躍的;忙亂的;熙攘的
(huo2 yue4 de5; mang2 luan4 de5; xi1 rang3 de5)
例: This ghost town was a bustling city of miners in the 19th century.
(這個鬼鎮在十九世紀可是個繁忙的礦工之城。)
2. distinguishable adj.
可區別的;可辨別的
(ke3 qu1 bie2 de5; ke3 bian4 bie2 de5)
例: As far as pop songs go, this one isn't that distinguishable from the rest of the lot.
(在流行歌中,這是首了無新意的芭樂歌。)
3. souvenir n.
伴手禮;紀念品 (ban4 shou2 li3; ji4 nian4 pin3)
例: Although the island is a well-known tourist destination, I never saw souvenirs being sold anywhere.
(雖然那個島嶼是大家知道的熱門觀光景點,但我沒看到任何有賣紀念品的地方。)
Comments will be moderated. Keep comments relevant to the article. Remarks containing abusive and obscene language, personal attacks of any kind or promotion will be removed and the user banned. Final decision will be at the discretion of the Taipei Times.