Dinosaurs, basic astronomy stump Australians 恐龍、基礎天文學難倒澳洲人
One in four Australians believe humans co-existed with dinosaurs, while one in three think it takes just one day for the earth to orbit the sun, according to a "worrying" survey published last week.
The Auspoll survey of 1,515 adults for the Australian Academy of Sciences showed that basic scientific knowledge was declining on key questions, including human influences on evolution and the earth's reserves of fresh water.
Only 59 percent of those surveyed knew that it took the earth one year to orbit the sun, a fall of two percentage points from the same survey three years ago — with 30 percent saying it took just one day.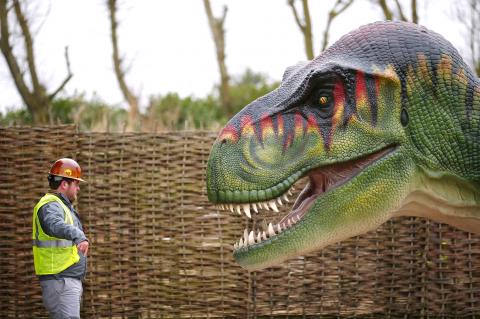 A worker directs the removal of a replica Tyrannosaurus Rex dinosaur from a lorry at a zoo in England on March 1. 一位員工三月一日於英國某一家動物園指導暴龍恐龍的撤回工作。
Photo: Reuters
照片:路透社
Some 27 percent said the earliest humans lived at the same time as the dinosaurs, down from 30 percent in the previous survey, while 70 percent said they knew evolution was currently occurring.
Ten percent said evolution was not occurring, nine percent said they did not believe in evolution and another 12 percent said they were not sure — a similar result to 2010.
"It's a worrying wake-up call to see scientific literacy declining among young adults, and to a lesser degree among the broader Australian adult population," said Les Field, secretary for science policy at the academy.
(AFP)
根據一份上週公布、「令人憂心」的調查顯示,有四分之一的澳洲人以為,人類與恐龍曾同時存在,三分之一的澳洲人認為,地球繞太陽公轉只要花一天。
Auspoll為澳洲科學院調查一千五百十五名成年人,發現澳洲人對重要問題的基礎科學知識持續下滑,包括人類對演化的影響,以及地球的淡水存量等。
只有五成九受訪者知道地球繞太陽公轉一周需時一年,比三年前同一調查減少兩個百分點,其中還有三成受訪者認為,地球繞太陽轉一圈只要一天。
約百分之二十七受訪者表示,最早出現的人類曾與恐龍存活在同一時期,少於前次調查的三成;七成受訪者知道演化還在進行。
有一成的人表示目前沒有發生演化,百分之九受訪者不相信演化,另有百分之十二不確定,與二0一0年的調查結果類似。
澳洲科學院的科學政策處長菲爾德表示:「年輕人以及部分澳洲成年人的科學素養每況愈下,是個令人憂心的警訊。」
(法新社/翻譯:陳維真)
Publication Notes
TODAY'S WORDS 今日單字
1. stump v.
難倒 (nan2 dao3)
例: John was stumped by the unexpected question
(約翰被這個意想不到的問題難倒了。)
2. orbit v.
環繞 (huan2 rao4)
例: Mercury orbits the sun.
(水星環繞太陽而行。)
3. wake-up call n. phr.
警鐘 (jing3 zhong1)
例: Today's statistics will be a wake-up call for the administration.
(今天出爐的統計數據將是執政團隊的一記警鐘。)
Comments will be moderated. Keep comments relevant to the article. Remarks containing abusive and obscene language, personal attacks of any kind or promotion will be removed and the user banned. Final decision will be at the discretion of the Taipei Times.