Low fertility leaves 46 hectares of land expropriated for schools in disuse 少子化 四十六公頃校地荒廢
According to an investigation conducted by the Ministry of the Interior, there are 120 plots of land covering 46 hectares that were expropriated by the government for yet-to-be-built schools, and 103 of those plots have been sitting there waiting to be developed for more than 20 years. Most of the plots have been left unused as fallow land, while some have been turned into simple sports grounds, green parks, or, in some cases, are being occupied by local residents.
The ministry says that, due to the fertility crisis, land that was expropriated for building schools more than 20 years ago will probably never actually see schools built. Hsinchu City, Chiayi City, Taitung County, Penghu County, Kinmen County and Lianchiang County are the only municipalities that have used all expropriated land that was originally intended for building schools. Among the other municipalities, Greater Taichung, with 39 plots, has the greatest amount of unused land that was initially expropriated for building schools. Greater Kaohsiung comes in second place with 16 plots, while Taipei comes in third with 10 unused plots of land.
Despite this, local governments would still like to keep 80 plots of land to build schools, and are only willing to put 25 of the plots up for city planning review to possibly change the use of the land for other purposes.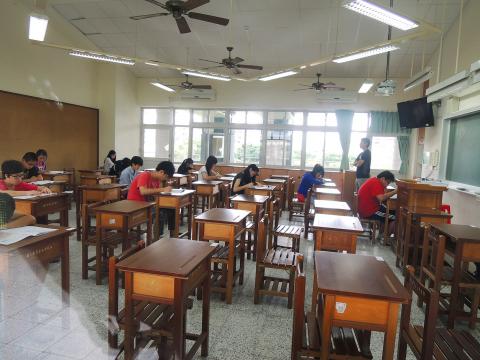 Students take a test in Yilan County on June 9. 學生六月九日於宜蘭縣考試。
Photo: Hu Chien-sen, Liberty Times
照片:自由時報記者胡健森
The ministry says that its Urban Planning Commission will be gradually re-examining and improving the situation, comprehensively looking at unused plots of land that were intended for the construction of schools from an urban planning perspective so that the land can hopefully be used for a merited purpose.
(Liberty Times, Translated by Kyle Jeffcoat)
根據內政部調查,全國約有一二○處已徵收卻未興建學校的學校用地,面積逾四十六公頃,其中一○三處徵收時間超過二十年,卻仍遲未開闢,目前多數土地現狀為荒蕪未使用,或做簡易運動場、綠美化公園,甚至部分遭民眾佔用。
內政部表示,面對少子化衝擊,各縣市手中逾二十年未開闢卻已徵收的學校用地,未來將更難興建學校。目前僅新竹市、嘉義市、台東縣、澎湖縣、金門縣、連江縣等縣市內沒有已徵收尚未使用的學校用地,其餘縣市均有,以台中市最多,約有三十九處;高雄次之,約有十六處;台北市有十處,是已徵收、但閒置學校用地第三多的縣市。
就算如此,各縣市政府仍認為其中八十處應保留做為開闢學校用途,僅二十五處願意列入都市計畫檢討,欲變更為其他使用分區用地。
內政部表示,將透過內政部都市計畫委員會逐步審議與改善,將閒置學校用地納入都市計畫通盤檢討,期望達到地盡其用及符合土地正義的目標。
(自由時報記者徐義平)
Publication Notes
TODAY'S WORDS 今日單字
1. review v. 檢討 (jian2 tao3) 例: We need to review the situation again before making a final decision. (做最後決定之前,我們需要再檢討整個情形。) 2. commission n. 委員會 (wei3 yuan2 hui4) 例: The gaming commission has imposed a fine against the casino. (賭博委員會處分賭場罰款。) 3. comprehensively adv. 通盤地;全面地 (tong1 pan2 de5; quan2 mian4 de5) 例: The article comprehensively outlines the growing problems of deforestation. (這篇文章全面敘述森林濫墾日益嚴重的問題。)
Comments will be moderated. Keep comments relevant to the article. Remarks containing abusive and obscene language, personal attacks of any kind or promotion will be removed and the user banned. Final decision will be at the discretion of the Taipei Times.