Eating more fruit and veggies can help prevent dementia 每週五次蔬果防失智
After analyzing a survey — "A Longitudinal Study of the Mental and Physical Health of Social Life among Taiwan's Middle-Aged and Senior Citizens" — released by the Bureau of Health Promotion, which included 4,440 people over the age of 53, Alan Tsai, a professor in the Department of Healthcare Administration at Asia University, found that people eating fruit and vegetables at least five times every week are 23 percent less likely to suffer from cognitive decline four years later, while people who consumed dairy products at least three times per week were 17 percent less likely to suffer from the syndrome than those consuming dairy products less than twice a week.
The analysis also showed that, over a relatively short period of time, ingesting certain foods can lower one's risk of cognitive decline. People who ate fruit and vegetables at least five times per week were 31 percent less likely to suffer cognitive decline than those only eating them four times per week. People who ate eggs at least three times a week were 19 percent less likely to suffer from the syndrome than those eating eggs only twice a week. Eating beans can also lower one's risk of cognitive decline by 20 percent, while drinking tea can lower risk by 21 percent.
Absorbing nutrients from your diet is a long-term process. The main reason that eating more fruit, vegetables and dairy products can lower the risk of cognitive decline is because fruits and vegetables contain large amounts of antioxidants, which fight against free radicals. Dairy products, on the other hand, contain vitamin B12, which is crucially important to nervous tissue function and enhances memory and attention as well. However, Tsai says that it is best to limit one's intake of fruit since they are rich in sugar, and instead eat plenty of leafy dark green vegetables or a diversity of vegetables.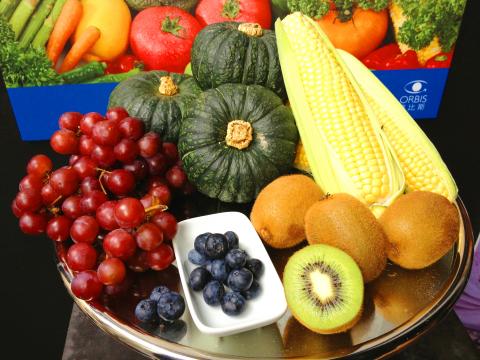 Vegetables and fruit on display in Taipei on March 11. 三月十一日於台北展示的一盤蔬果。
Photo: Chiu Yi-chun, Liberty Times
照片:自由時報記者邱宜君
Aside from dietary habits, Tsai also stresses the importance of exercising regularly and having normal living habits, which can also help prevent cognitive decline. He recommends exercising for at least 40 minutes three or four times every week, or at least 150 minutes per week. For seniors especially, he suggests walking more or speed walking to help enhance one's capacity to move around and to improve the body's ability to maintain homeostasis.
(Liberty Times, Translated by Kyle Jeffcoat)
亞洲大學健康產業管理學系教授蔡仲弘針對國健局「台灣中老年身心社會生活狀況長期追蹤調查」四千四百四十名五十三歲以上民眾進行分析,結果發現,每週攝取超過五次以上蔬果的人,追蹤四年後認知退化風險減少百分之二十三,而每週攝取乳品超過三次以上者比低於二次的人,四年後認知退化風險則減少百分之十七。
在短期攝取食物降低認知功能退化風險上,分析亦發現,每週攝取蔬果大於五次的人,比起四次的人可以降低百分之三十一的認知退化風險;每週攝取蛋類超過三次者,比二次者可降低百分之十九的認知退化風險,攝取豆類則可以減少百分之二十,茶類則可以減少百分之二十一的認知退化風險。
飲食攝取是長期的事,多吃蔬果及乳品對於降低認知功能退化有幫助,主因為蔬果含有大量又多種的抗氧化物質,可對抗自由基,乳品類則含維生素B12,對神經組織有重要影響,且能增強記憶力及注意力;不過,蔡仲弘建議,最好是多攝取深色葉菜類或大量多樣蔬菜,水果因含糖量高,攝取比例則應下降。
除了飲食習慣,蔡仲弘亦強調,平時養成規律運動及正常生活習慣,也可以預防認知功能惡化,他建議每週運動三、四次,每次四十分鐘,每週至少一百五十分鐘,尤其老人家可以多走路或快走,可訓練走路行動能力,讓協調變好。
(自由時報記者魏怡嘉)
Publication Notes
TODAY'S WORDS 今日單字
1. decline n.
下降;下跌;減少 (xia4 jiang4; xia4 die1; jian2 shao3)
例: Earnings for steel companies declined this quarter.
(鋼鐵公司這季的利潤下跌了。)
2. dairy product n. phr.
乳製品 (ru3 zhi4 pin3)
例: Dairy products such as yogurt, cheese and milk are all great sources of calcium.
(乳酪、起司和牛奶等乳製品都是鈣質的好來源。)
3. plenty n.
豐富;充足;大量 (feng1 fu4; chong1 zu2; da4 liang4)
例: Eat up. There's plenty to go around.
(快吃吧。這麼多菜,夠大家吃。)
Comments will be moderated. Keep comments relevant to the article. Remarks containing abusive and obscene language, personal attacks of any kind or promotion will be removed and the user banned. Final decision will be at the discretion of the Taipei Times.