Summer babies less likely to be CEOs: study 夏天出生的寶寶較不可能當上CEO
People born during the summer are less likely to be CEOs, according to a new study from the University of British Columbia.
根據(加拿大)英屬哥倫比亞大學一項新研究,夏天出生的人較不可能當上企業的執行長(CEO)。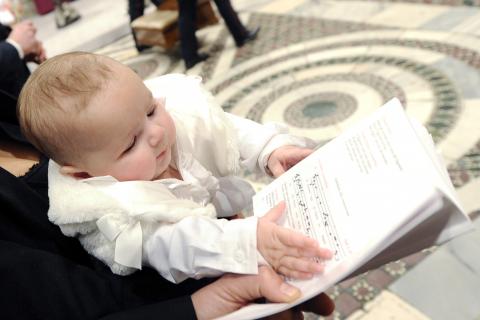 A baby is seen at The Vatican on Jan. 13. 這是一月十三日攝於梵諦岡的一張嬰兒照片。
Photo: AFP
照片:法新社
The study investigated the birth month of 375 CEOs from S&P 500 companies and found a significantly lower amount of CEOs were born in June and July compared to other months.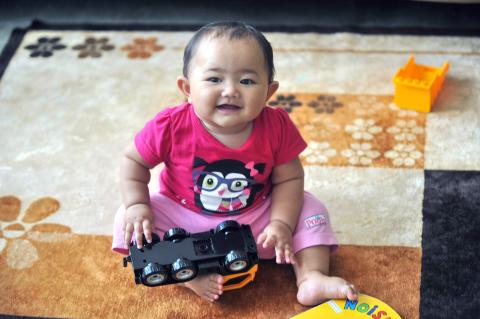 A young Singaporean baby plays at her home in Singapore on Jan. 21. 一位新加坡嬰兒一月二十一日在新加坡家中玩耍。
Photo: AFP
照片:法新社
這項研究調查了標準普爾五百指數成分股公司的三代七十五位CEO,結果發現,相較於其他月份,出生於六、七月的CEO人數明顯低了許多。
June babies accounted for six percent of CEOs, while July babies made up only five percent.
六月出生的CEO佔百分之六,而七月出生的只佔百分之五。
Babies born in March and April were most likely to be CEOs, accounting for 12 percent and 10 percent of the sample respectively.
三月及四月出生的寶寶最可能成為CEO,在樣本中分別佔百分之十二及百分之十。
Sauder School of Business professor Maurice Levi explained the "birth-date effect," a phenomenon based on the way children are grouped by age in school, was to blame for the discrepancy.
尚德商學院的教授莫利斯.利維解釋了所謂「出生日期效應」的現象,在學校裡把學生按年齡分組,是造成這種差異的主因。
The pattern is due in part to the cutoff dates that US schools use to determine when children start kindergarten.
這個模式要部分歸因於美國學校系統接收小孩進幼兒園的截止日期。
Because the cutoff generally falls between September and early January, summer babies are usually the youngest in their class. Those born in April enjoy a somewhat higher likelihood of becoming a CEO because children born in that month are sometimes held back a year, making them the oldest in their class.
由於入學截止日期通常在九月和一月初之間,夏天出生的小孩通常都是班上最小的。而那些在四月份出生的小孩通常會推遲一年入學,這樣使得他們成為班上年紀最大的學生。這種狀況使得他們將來更有可能成為CEO。
"Older children within the same grade tend to do better than the youngest, who are less intellectually developed," Levi said. "Early success is often rewarded with leadership roles and enriched learning opportunities, leading to future advantages that are magnified throughout life."
(Liberty Times)
利維說:「同年級中年紀較大的小孩通常會比最年幼者表現較好,因為後者智力較未發展」、「孩提時候的成功通常會獲得領導地位的獎賞,進一步豐富學習的機會,奠定未來的優勢,終其一生受用無窮。」
(自由時報/翻譯:陳成良)
Comments will be moderated. Keep comments relevant to the article. Remarks containing abusive and obscene language, personal attacks of any kind or promotion will be removed and the user banned. Final decision will be at the discretion of the Taipei Times.